Disclaimer: this post may contain affiliate links. If you make a purchase from one of them I will recieve a small commision at no extra cost to you, which allows me to keep this blog up and running!
---
I had an absolutely amazing time in Belgium. While I didn't travel on the strictest budget of all time, by giving myself a little extra wiggle room I was able to really experience the country (and all of it's delicious food) despite the fact that I was only there for three days (plus a half day after traveling there).
I didn't do as good as, say, my daily budget in Thailand would be. But I think I did a fairly good job of traveling Belgium on a budget. In total, I spent €299.60 over four days including flights, amounting to a daily budget of €74.90 per person including flights or €62.62 a day of in-country expenses.
So, where exactly did all of this money go? Let me break it down for you!
Belgium on a Budget
Transportation
Flights
I bought a one way ticket from Edinburgh to Brussels Charleroi for €49.12 (I continued on to the Netherlands after that and then flew home). Cheap flights from the UK and other parts of Europe to Brussels are plentily available. If you're flying from elsewhere, check out this guide to finding a cheap flight.
In-Country Transportation
I didn't spend too much money on in-country transportation. In total, I spent €12.40 on a return ticket to Bruges for a day trip, €14 on a bus ticket from Brussels Charleroi to Brussels City Center when I first got there, and €6.30 on public transportation in Brussels.
Transportation Total: €49.12 (Flights) + €32.70 (In-Country Transportation) = €81.82
Accommodation
After not having the greatest time in hostels in Switzerland, I was a little bit wary about staying solo in a hostel again. But I went for it because it was the cheapest option, and actually loved my time there! I booked a bed at the MEININGER Brussels for three nights at €24.86/night and was more than happy with this price (Check out my full review of MEININGER Brussels here!).
Accommodation total: €24.86/night x 3 = €74.58
Food
Probably the thing I spent the most money on in Belgium was food. Anyone sensing a pattern here?. Oh well, I just really like food. Two of my bigger costs were a sit down dinner at Chez Leon and the ten pounds of chocolate I bought (this is an exaggeration, but only slightly).
Food total: €15.35 (Mussels dinner at Chez Leon) + €6 (coffee, juice, and pastry breakfast special) + €17.15 (groceries) + €12.57 (chocolate) + €1.06 (bottle of water) + €8 (Hot Chocolate and Chocolate Nibs at Old Chocolate House, Bruges) + €10 (chocolate in Bruges) + €5.50 (Fries and juice) + €1 (street waffle) + €14.87 (Chocolate on my Brussels Chocolate Tour) = €91.20 or €30.40/day
Entertainment
I also spent a decent amount of money on entertaining myself over the three days — though I also did a fair amount of wandering and hunting for comic strip walls!
Entertainment total: €28 (Brussels Waffle Workshop) + €8 (Bruges Boat Tour) + €5 (Brussels Museum of Cacao and Chocolate) = €41
Souvenirs
I don't usually spend a lot of money on souvenirs, but this time around I couldn't help but buy a mini Atomium for my science nerd dad and a Mannekin Pis keychain for a friend with a keychain collection and the sense of humor of a ten year old (€9 total). I also bought a few postcards for a total of €2.
Souvenir total: €11
Tips on how to save money while traveling Belgium on a Budget
Cut back on activities
For example, don't take the €28 Waffle Workshop. You can buy 28 whole €1 waffles off the street for that price! Sure, the workshop is all you can eat… But apparently the record is only 8. That means that you could save 20 whole euros by not taking the workshop but still eat 8 waffles! That's a lot of waffles. Even I only ate three during my time in Belgium. Or, you could take on the challenge and try to eat 29 waffles at the Waffle Workshop to make sure you get your money's worth.
On that note, in a lot of tourist places you'll see signs advertising €1 waffles. Where they get you is the toppings – those all cost extra! Instead, eat your street waffles the way the locals do and only get sugar on top. Then your indulgent little snack will really only cost you €1.
No, I'm not being paid to promote this app. In fact, it's friggin' free. How's that for a budget tip? I talked all about this app in my post about finding the Brussels Comic Strip Walls, but it's full of loads of other helpful/awesome information as well for loads of cities in Belgium – especially if you love finding local hidden gems.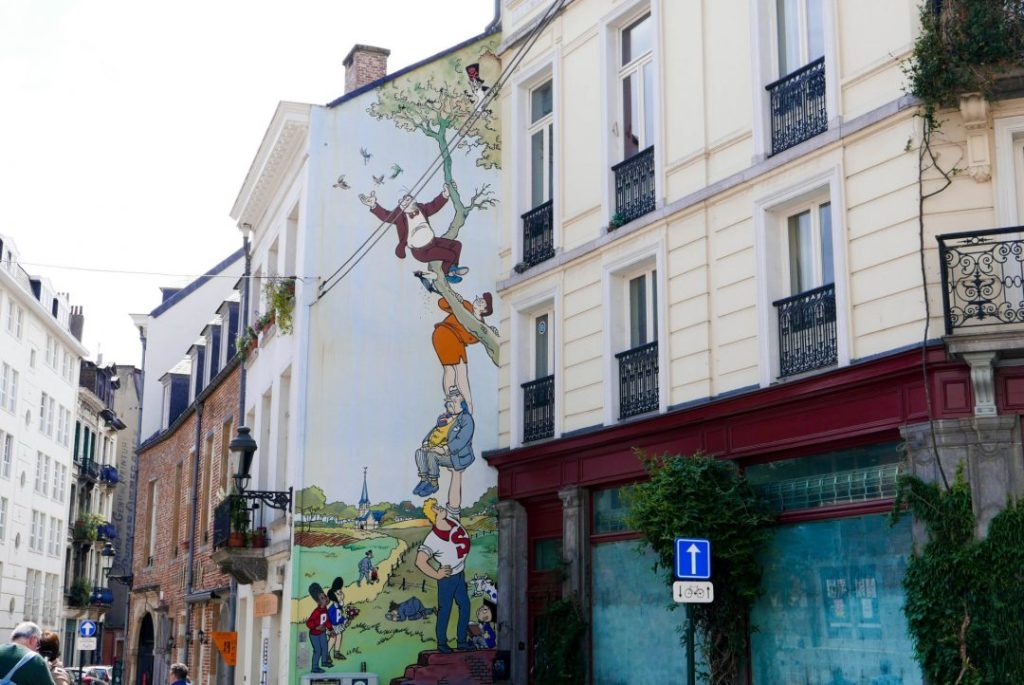 Take advantage of student and youth discounts
Student and youth discounts are great. Take advantage of them! I didn't come across a lot of discounts in Belgium, though I wasn't actually searching that hard. The biggest tip I have for you? Make sure you buy a Go Pass if you plan on taking the train anywhere and you're under the age of 26. They're only €6,20 one way to any destination in Belgium!
Go on a free walking tour
Free walking tours are always a great way to get to know a new city while you're traveling on a budget. Although I didn't take any while I was in Belgium, I've heard great things about Viva's Tours. They have free walking tours for Antwerp, Brussels, Bruges, and Ghent, so I would definitely recommend checking them out!
Check out free museum days
There are loads of museums in Brussels that have free admittance on certain days of the month — and even some that are free every day! Check out Brussels Museums FAQ's for the complete list!
Stay in Budget Accommodation
As always, accommodation can be a big drain on your budget. Check out hostels (I stayed in the MEININGER Brussels), AirBnBs (click here for $20 off your first booking!), and budget hotels to find the best price for your needs!
Do you have any other tips for traveling Belgium on a budget? Let me know in the comments down below!
Like what you read? Pin it!