Disclaimer: this post may contain affiliate links. If you make a purchase from one of them I will recieve a small commision at no extra cost to you, which allows me to keep this blog up and running!
---
Guys. Belgium is friggin' food paradise. Belgian chocolate? Yes please. Belgian waffles? Yum. Mussels in Brussels? You betcha.
I found myself in Belgium for three days this May when I was on my way to visit an old exchange student in Rotterdam after my exams were finished. I had the choice of flying into either Brussels or Amsterdam. Eventually, I landed on Brussels because it was cheaper and I would be flying out of Amsterdam, so I figured I would mix things up a bit. And, since I was flying into a new place, I figured I might as well make a few days out of it. When you're travel-obsessed, that's just what you do.
So, what was I to do with three days in Belgium? Eat, obviously.
While I'll get to all of the other stuff I did in Belgium eventually, I figured I'd kick things off with a post about everything I ate. Mostly because eating is mostly what I did.
So, without further ado, here is the complete breakdown of EVERYTHING I ate in Belgium.
Mussels in Brussels
I touched down at Brussels Charleroi just before 5 PM and hopped on an hour long bus ride to Brussels. After I checked into my hostel, it was time to find something to eat for dinner because I was absolutely STARVING.
Before I came to Brussels, I did a little bit of research on where the best place to try mussels in Brussels would be. Having never had mussels before in my life, I didn't want to spend too much money – in case I didn't like them. But I also didn't want to spend so little that I got bad mussels.
In the end, I settled on Chez Leon. Although touristy, they had well priced mussels (€15.95 for mussels, fries, and beer) that I knew would be good.
And boy, were these mussels delicious. Like, lick your lips delicious.
Pro tip I learned from my time researching: pull the mussels out of their shells with another shell, rather than with a fork. This is the way the Belgians do it – no utensils required!
I was less of a fan of the beer, but that's mostly just because I don't like beer (I seem to be making a pattern of visiting beer-centric places, though). A complimentary beer in a touristy restaurant probably wasn't the best way to try Belgian beer, but I told myself that if I just drank this one glass I wouldn't have to drink anymore beer while I was in Belgium. So I didn't.
The Waffles
Mention Belgian waffles to me now and I'll immediately go into a sort of dream-like trance. I tried both kinds of waffles while I was in Belgium – the Brussels and the Liege – and both were delicious.
I had the Brussels Waffle at a waffle workshop that I took. And when I say 'the Brussels Waffle', I actually mean waffles plural, because it was all you can eat. I topped them with all sorts of delicious things and licked my lips of the Nutella afterwards.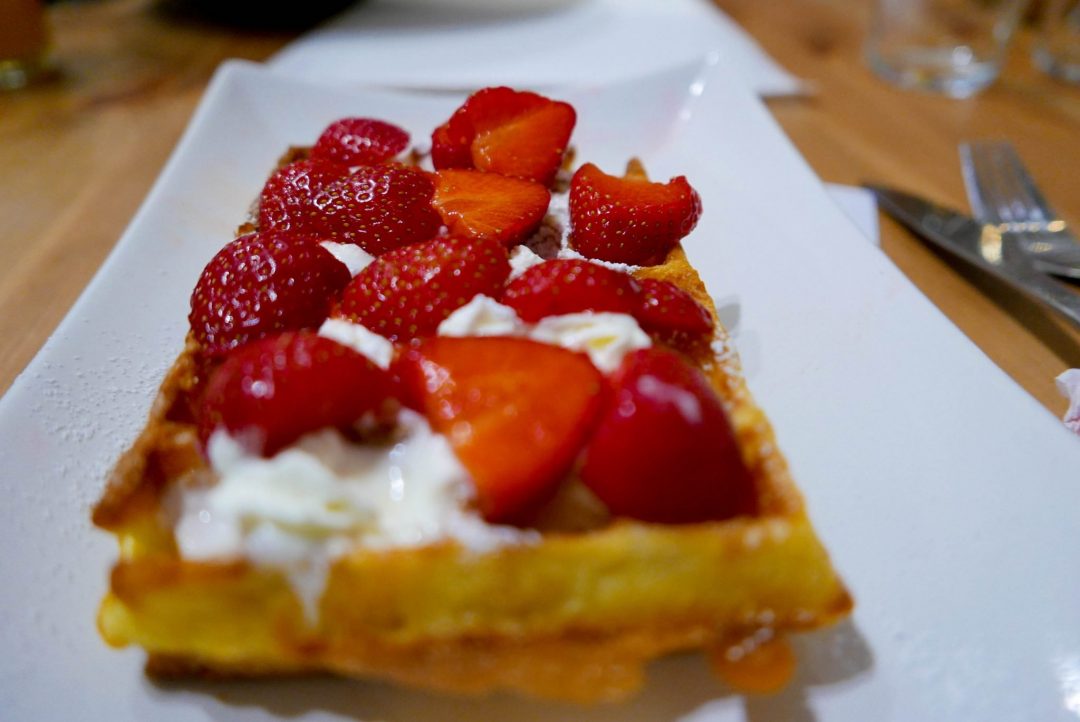 I grabbed a Liege Waffle (street waffle) from nearby the Mannekin Pis on my last day in Brussels. This one I had with only powdered sugar on top – the traditional way to eat a Liege Waffle. I hated myself a little bit afterwards, but it was so delicious that I couldn't actually regret it. Plus, at only €1, there was literally zero chance of me complaining.
The Fries
Outside of the fries that I had with my Mussels at Chez Leon, I only had fries once during my time in Belgium. On my last day in Brussels, I stopped at a fry stand near the Galeries Royales Saint-Hubert, where I indulged in a cone full of fries topped with the traditional mayonnaise. They were perfectly crispy on the outside and soft on the inside, and I was surprised by how much I liked mayonnaise with fries. There were so many fries there that that cone ended up being my entire lunch!
YOU MIGHT ALSO LIKE: Belgium on a Budget // What I Spent in Four Days in Belgium
If you're in search of good Belgian fries near the tourist centre of Brussels, I highly suggest the aptly-named Belgian Frites.
The Chocolate
The chocolate. Oh, the chocolate. I bought so much chocolate while I was in Brussels that several weeks later I still had some of it hiding away on my bedside table. I couldn't help myself. Every time I walked into a chocolate shop (and there are a lot of them in Belgium), I left with more chocolate in hand.
I even went on a self-guided walking tour of chocolate shops in Brussels on my last day there, and bought a few pieces of chocolate at all but one store (stay tuned for a post about this tour, because it deserves a post all to itself).
In Bruges, I stopped at The Old Chocolate House for some hot chocolate (you mix in the chocolate yourself) and it was also delicious. Even though I might have put just a little bit too much chocolate in as I overzealously dumped the whole bowl in my mug.
The Miscellaneous
Outside of these typical Belgian foods, I only ate out one other time during my 3 days in Belgium. My first morning there (before I had had the chance to buy groceries), I splurged on a €6 breakfast meal deal. It included two pastries, a glass of freshly squeezed orange juice, and a cup of coffee. I sat by a window on the top floor and people watched while listening to a podcast. It was idyllic.
Less fun than everything else I mentioned here were the groceries I bought. Cereal, milk, sandwich supplies, and a few ready meals for dinner. Sorry to end on such a sad note.
The Conclusion
Belgium is food heaven. My stomach grumbled the whole time I was writing this post and is begging to go back. My brain is inclined to do the same.
What's the best food you've ever eaten while traveling? Let me know in the comments down below!
Like what you read? Pin it!