Disclaimer: this post may contain affiliate links. If you make a purchase from one of them I will recieve a small commision at no extra cost to you, which allows me to keep this blog up and running!
---
I've always wanted to take a cooking class while traveling, but have barely ever been able to find one that I deemed affordable. When I found the Brussels Waffle Workshop, however, I nearly jumped up and did a happy dance. At only €28, I could take an hour and a half long Belgian waffle cooking class – with all-you-can-eat waffles at the end! How could I pass up a crazy deal like that?
So, I booked the class. And on my first full day in Brussels I skipped lunch so that I could eat as many waffles as possible that afternoon. It was how I justified breaking my Belgium budget.
I met my guide Efil and the rest of my classmates at the Grand Place, where we quickly walked to our classroom to avoid the oncoming rain. Normally, there's a short walking tour of nearby waffle shops before the class. But we all agreed that we would rather have not been stuck in the rain, so we skipped it.
Our classroom was, of course, not really a classroom, but more of a giant table with mixing stations and waffle makers. We all gathered around the table, ready to have the coolest waffle-related experience of all time and maybe even pick up some tips and tricks for how to up our waffle game back home.
Learning About Waffles
Before we got started with out Brussels waffle workshop, we learned a little bit about the waffles that we would be making that afternoon – the Brussels Waffle. I had no idea before taking this workshop, but apparently there are actually two different kinds of waffles in Belgium – the Brussels and the Liege.
The Brussels Waffle isn't sweet itself, so you want to put all sorts of toppings on it. The Liege Waffle, on the other hand, has loads of sugar in it and is therefore super sweet on its own. Meaning that you don't have to put any toppings on to enjoy it. But funnily enough, the Liege Waffle is the waffle that you'll most often find at street stands. And, to appease the tourists, they offer all sorts of toppings. But if you want to eat a Liege Waffle like the locals do, you have to get it without any of the fancy bits – just with powdered sugar on top!
This was easily the coolest and most useful piece of information that I learned, and I put it to use later on in my time in Brussels by grabbing a Liege Waffle of the street with only powdered sugar as a topping. And it was delicious! Also, SUPER sugary. I don't know how tourists can stand eating it with loads more sugar on top. I felt like I had gained ten pounds just by eating the thing alone.
Making the Waffles
We were split into groups of four or five and – after some brief instructions from our teacher – got to work!
Mixing all of the ingredients together was pretty easy, since there was no set order that you had to go in and you just mixed them all together at once. Of course, my group still somehow managed to screw it up by starting to mix before we put all of the liquids in. It was fine in the end, but we got worried for a second!
After all of the groups had successfully managed to mix together their waffle batter, we all came together once more to watch a demonstration on how to make the waffles. There wasn't really any trick to this one. Just put the batter in the waffle iron, close the waffle iron, and turn it over after a few seconds. Then, wait until the waffle is cooked (about four minutes). We all eagerly got to work, ready to eat our creations.
It took a little while to make enough waffles for everyone, but soon enough, it was time.
Eating Our Masterpieces
As we were making our waffles, Efil set out a bunch of different toppings on the table. We were free to go wild, and go wild we did. I made my first waffle with whipped cream and strawberries, and it was delicious. My second waffle got a little bit more indulgent: Nutella and powdered sugar.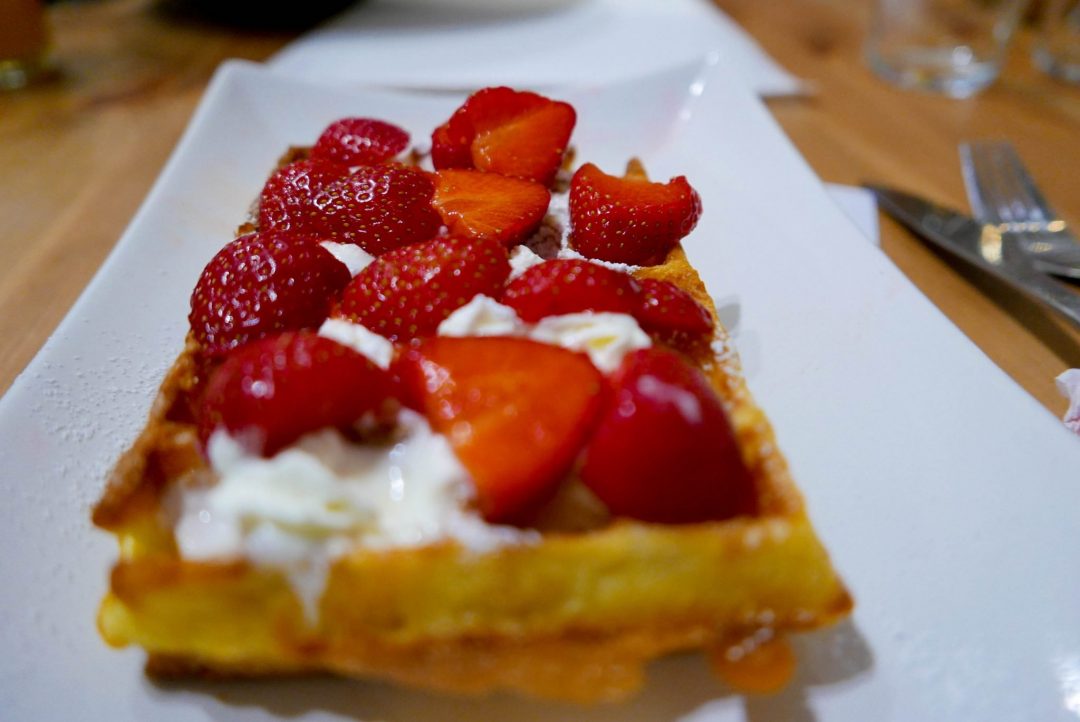 After two waffles, everyone seemed to be winding down, and no one was getting up to make a third. Not gonna lie, my skipping-lunch self definitely could have gone for a third waffle. But I was also way to awkward to be the only one eating a third waffle. So I passed, which was really just a terrible decision on my part.
If I were to have one complaint about the Brussels Waffle Workshop, it was maybe that there weren't really enough toppings to go around. The whipped cream, for example, ran out pretty quickly. And there weren't nearly enough strawberries on the table for me to feel like I could take a second helping. For a company that advertises all-you-can-eat waffles, I really would have expected a little bit more plentiful supply.
While we were eating our waffles, we got to know the other members of our class. There were so many cool people there – from a couple from South Africa, to a girl from my neighboring state of Wisconsin, to a brother and sister from Edinburgh (aka the closest city to my new adopted home). There were even a few native Belgians there to top things off! Meeting such an eclectic bunch of people was so much fun. I was really glad that we were able to come together, even for a short while, to bond over our shared love of waffles.
How to Take A Brussels Waffle Workshop
Brussels Waffle Workshops run every day at 3pm, meeting in the Grand Place. You can book your spot on their website, where you'll put down a downpayment of €8. You can pay the rest at the workshop.
Prices for the workshop are €28 for adults, €25 for students, and €18 for children (16 and under). There is also a family pack available at €75 for 2 adults and 2 children.
Like what you read? Pin it!