Disclaimer: this post may contain affiliate links. If you make a purchase from one of them I will recieve a small commision at no extra cost to you, which allows me to keep this blog up and running!
---
To be perfectly honest, I didn't have the greatest experience when I stayed solo in hostels in Switzerland. They were pretty much just a bed for the night, and had none of the features that I've heard are why hostels are suddenly becoming so popular. But I was determined to give them another shot. So when I spent three solo days in Brussels before heading to the Netherlands to visit a friend, I booked a bed at the MEININGER Brussels.
And guys. My opinion was totally turned around.
Although I was a little taken aback by the small trek I had to make from the train station to the hostel, the second it came into view I knew I would like it there. MEININGER Brussels is housed in a beautiful brick building – right next to an art museum!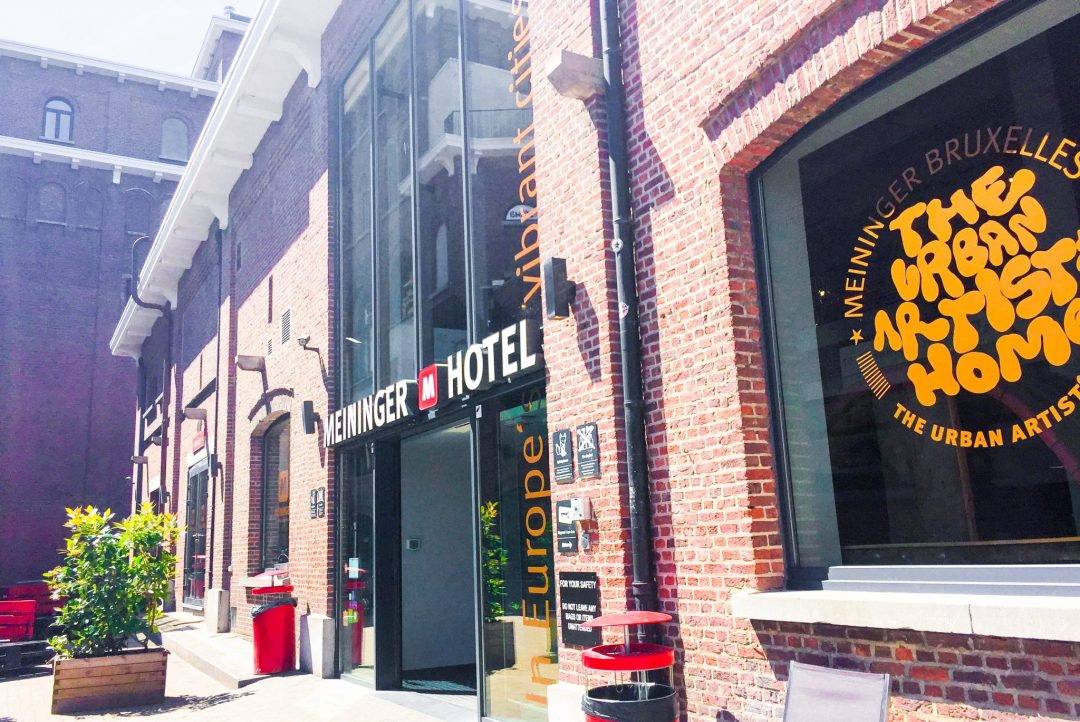 I arrived in the late afternoon and didn't have to wait even a single minute before I could check in. The ladies at the front desk were so nice and helpful (even though they did try to speak French to me when I presented my Swiss passport… too bad I only speak German!). Before I knew it, I was in the elevator and on my way up to my fourth floor dorm room.
The Dorm Room
Compared to other hostel dorm rooms I've been to, this place was pretty much heaven. I found myself forced onto a top bunk, as it was the only one still available. But since the beds were well made they were sturdy enough that I didn't feel like I was in the middle of an earthquake while I was climbing up the ladder.
The lockers were spacious enough to store my large backpack, though not the most spacious ones I've ever seen (that award goes to the Bern Backpackers). I did find it kind of annoying though that, for the sake of design, one locker was larger than all of the others (and one locker subsequently smaller). In this case, I'd say practicality probably should have trumped design.
For the most part though, I really loved the design of the room. The street art theme that can be found throughout the hostel doesn't stop short of the dorm room doors, and I really loved that.
There was also an ensuite bathroom area with separate toilet, sink, and shower areas. Perfectly designed for a room shared between six girls. Oh, and there was free shampoo and soap. Not an amenity that most hostels choose to provide.
Dorm Room Score: 9/10 for a generally great dorm room experience. 1 point off for the weird lockers.
The Main Hostel
To be perfectly honest, I didn't spend a huge amount of time in the main areas of the hostel. I was too busy exploring. The place that I spent the most time was definitely the kitchen. The budget traveller in me likes to cook her own food, what can I say? So let's start with the kitchen, shall we?
In general, I was really impressed with the kitchen at the MEININGER Brussels. I didn't encounter too many other people while I was using the kitchen, but if I had there would have been plenty of space for us to work around each other. There were also plenty of cooking utensils, so there wasn't really any chance of them running out. The only complaint I might have is that the oven was super weird and hard to figure out. But hey. When in Europe…
The Social Scene
There were loads of different seating areas scattered throughout the main areas of the hostel as well. From small tables and chairs for eating dinner to super comfy sofas where you can pretend to get some work done, you definitely aren't lacking in choice. The one kind of weird thing? Hardly anyone was using them. I guess that's sort of to be expected in a big hostel/hotel combo like MEININGER Brussels, though. The social scene isn't exactly the most lively.
If you did want to try to get to know some of your fellow travelers though, the best place to do this would be at the on-site bar. I didn't actually go down there during my stay (have I ever mentioned that I'm painfully socially awkward? Also, I don't LOVE bars as a way to meet people. Or in general, really.), but it seems like it would be a good place to get the party started.
Once again, I was most impressed by the design aspects of the main space. The comic strip/street art theme is in full swing at MEININGER Brussels, and it's SO COOL.
Main Hostel Score: 7/10 for great and functional design but lack of a huge social atmosphere outside of the bar
The Extra Stuff
MEININGER Brussels really seemed to be stuffed to the brim with extra amenities. In the elevator, I saw signs for both a walking tour and a pub crawl that started from the hostel, and in addition to the bar that I mentioned above there was also a small snack bar and vending machines. Perfect for those nights where you really don't feel like cooking anything or going out. I also made use of their luggage storage on my last day in the city. My bus didn't leave until 4pm so I really appreciated being able to store my huge backpack while I spent one last day exploring Brussels.
For an extra fee, you can also take part in the all-you-can-eat breakfast buffet (€7,90) or order a packed lunch (€4,90). The breakfast in particular was pretty tempting, but since I normally only eat a small amount in the morning I decided just to buy my own milk and cereal and forgo the nearly €8 price tag.
Extra Stuff Score: 8/10 for loads of amenities. 2 points of for the priciness of some of them.
The Location
One thing to note about the MEININGER Brussels is that, although it markets itself as being in the city center, it is actually a fifteen minute walk to get there. While that may not seem like all that much, Brussels is a pretty small city, so a fifteen minute walk really takes you almost to the edge.
As a solo female traveller, I felt a little uncomfortable walking alone in the area at night. But other than that, it was totally fine – especially once I was in the hostel itself. The location was mostly just a reminder to check on a map before trusting everything a hostel says about their location.
Location Score: 6/10 for not feeling totally safe all the time and not actually being super close to the center
Overall
Overall, I really enjoyed the time I spent at MEININGER Brussels. The dorms were spacious and clean, the beds were comfy, and the main space was super beautiful AND functional. I really wish I had pushed myself out of my comfort zone a little bit more and gone down to the bar to make some friends. But even though I didn't get my social game on while there I still had fun exploring the city on my own. The location is a definite downside, but when considering everything else that the hostel offers I think it's a decent tradeoff.
Overall Score: 7.5/10
If You Go
Book online direct from MEININGER Brussels' website to get the best rates. You can also book through booking.com if you prefer. Prices range from €16 for a bed in a dorm room to €75 for a private double room.
What's your favourite hostel? Do you have any tips for me on how to get over myself and make friends in hostels? Let's have a conversation in the comments down below!
Like what you read? Pin it!