Disclaimer: this post may contain affiliate links. If you make a purchase from one of them I will recieve a small commision at no extra cost to you, which allows me to keep this blog up and running!
---
Dear Sevilla,
I love you. And hey, I know what you're thinking. "I'm a city. You can't possibly love me like you might love a person." But no, I love you. Just trust me on this.
From the moment I laid eyes on you via blog post this past summer, to the moment I boarded a plane to Malaga (ew) to get to you, I could not wait until I got the chance to meet you. And when I finally did, you did not disappoint.
Our cab driver from the train station dropped us off in the wrong place. Calle Arfe turned to Calle Aire amidst confused attempts at Spanish. "Go down that street and turn left. You'll be there," he told us. We turned left and we were not there. But where we were was an absolutely beautiful little alleyway.
You took my breath away, Sevilla.
Thankfully our hostel was only a ten minute walk from where the cab driver dropped us off. So after a frantic call from the lady at the front desk (we were probably cutting into her siesta time), we forged off into the unknown. And let me tell you, the unknown is freaking beautiful.
Like, I don't know if you know this or not, Sevilla, but you are STUNNING.
From the arches of Alcazar to the random little side streets and everything in between, every time I turned a corner you took my breath away one more time.
[clickToTweet tweet="You took my breath away, Sevilla. #spain #travel" quote="You took my breath away, Sevilla."]
Oh, and the tapas. You probably already know about the tapas, but let me just say it again for emphasis: your tapas are delicious. Whether jamon or croquetas, patatas bravas or just plain old bread, every bite we tried was followed with one of those orgasmic "yum" faces. Your tapas are just that good.
On our second day in Sevilla,
we took a tour out to Italica, the Roman ruins now oh-so-famous for their appearance on Game of Thrones. We looked at a lot of old rocks, and our guide brought them to life for us.
When it came to Italica's arena, we were out of our minds with excitement. Like, this was the place where LITERALLY EVERY MAJOR CHARACTER IN THE SERIES came together. This was big.
We may or may not have sang the theme tune as we walked up.
That afternoon, we returned to you, Sevilla. And once again, you welcomed us with open arms. We explored one of your quirkier landmarks — the Mushrooms — and found those sprawling city views that are worth millions of dollars. Except we only paid €3 a piece for them.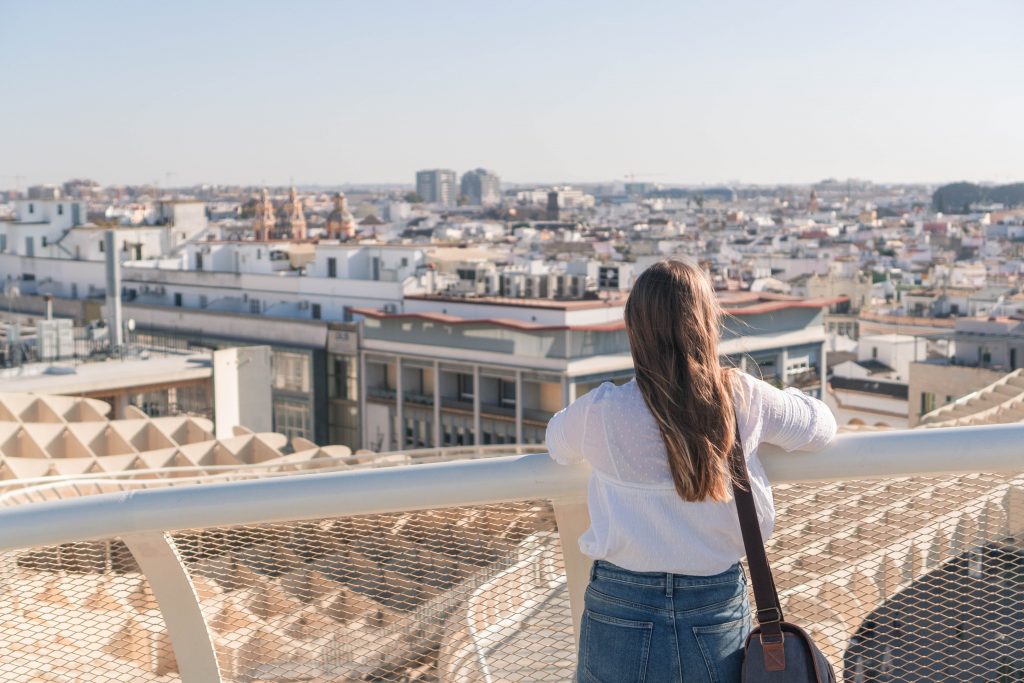 [clickToTweet tweet="Get sprawling city views worth millions for only €3 at the Metropol Parasol in #Seville" quote="Get sprawling city views worth millions for only €3 at the Metropol Parasol in Seville"]
We drank sodas on a rooftop in the warm light of the December sun, wishing we wouldn't have to return to Scotland in a few day's time.
That night, we caught one of the more romantic sunsets we've seen at the Plaza de España. The setting sun lit up the red brick so perfectly, and we fantasized about where we would go next based on the mosaics around the edge.
If we weren't broke students, we would have rented one of the rowboats that dotted the man-made river flowing through the plaza and never left.
In the morning,
we indulged even more of our Game of Thrones fantasies at the Real Alcazar. I filled up a memory card with pictures of a place even more gorgeous than Hollywood had made it seem on screen.
You beat all our expectations with the sunset that night, Sevilla. As we walked along the Triana Bridge, the sun's golden hour rays painted the Guadalquivir and its banks perfect shades of blue and yellow.
Both sides of the river were alive with local life that night. We ate ice cream and people watched in a square in Triana.
We embraced Venice Beach vibes on the Paseo Alcalde Marqués del Contadero, and marveled at how perfectly the light hit the Torre del Oro. In that moment, it really was a tower of gold.
[clickToTweet tweet="Seville's sunsets are stunners every time. #Seville #travel #Spain" quote="Seville's sunsets are stunners every time."]
Our last day in you, Sevilla, was our sad farewell tour.
We took last looks off the balcony we had called "ours", ate breakfast in the place we had been meaning to try the whole trip, and explored our adopted neighborhood of Santa Cruz one last time.
We finally managed to visit your Cathedral that day. It was huge and decadent, and the line to climb the Giralda Tower snaked around the whole thing.
I suppose that that will just have to be our excuse to come back one day.
Because I am in love with you, Sevilla. And I don't think I can stay away much longer.