Disclaimer: I received the West Highlands & Isle of Skye tour from Edinburgh with Rabbies free of charge in exchange for my honest review. They also covered my accommodation.
Rolling hills, highland cows, the Harry Potter train, and moody fog… there's really nothing that is more synonymous with Scotland than the West Highlands and the Isle of Skye.
When I was first planning my trip to the Highlands, I thought I might try to do it with public transportation, seeing as I had absolutely no desire to try to drive a manual car on the wrong side of the road. But it quickly became apparent that, while technically possible, traveling around the Highlands and Isle of Skye by bus and rail would take a lot more time than it was worth.
So, taking a page out of the book I wrote on not renting a car in Iceland, I started looking into guided tours. Rabbie's pretty immediately called my name with it's small-group, beyond the guidebooks ethos, so I got in touch and booked a last minute 4-day West Highlands & Isle of Skye tour from Edinburgh!
So whether you're looking for the best Isle of Skye tour from Edinburgh, or just want to know the best way to travel through Scotland's famous Highlands, here's everything that you need to know about the experience!
What is the best Isle of Skye Tour from Edinburgh?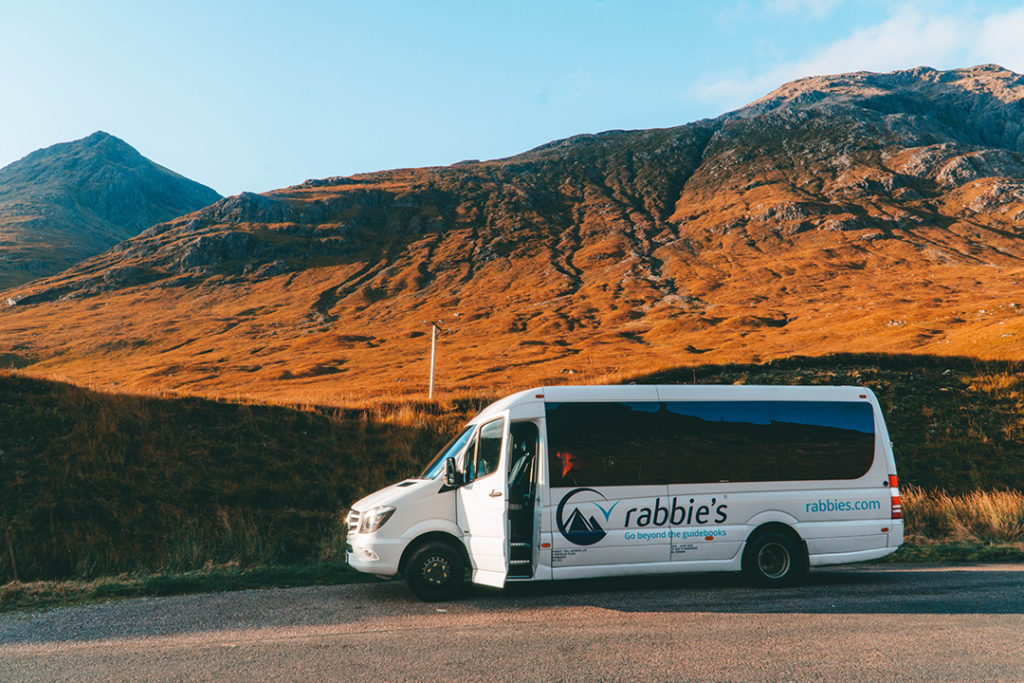 If you're going to take an Isle of Skye tour from Edinburgh, I couldn't recommend Rabbie's more–for a few reasons.
Firstly, they run all of their tours in small, 16-seat coaches that have been custom-fitted with panoramic windows, meaning that everyone is guaranteed a great view of the rolling hills as you drive by!
The smaller group also means that you'll get more attention from the guide and won't overwhelm any of the places that you go with a bus-load of people. Plus, you might not even have 16 people in your group, especially if you're traveling in the low season. I went in October and there were just 4 people including me on the tour!
Finally, Rabbie's doesn't run on a set schedule. While there are a few top sights that you're definitely guaranteed to see, the rest is pretty much up to you and your driver-guide. Whether you want to spend longer at some of the top sights or get off-the-beaten-path and explore somewhere only your guide knows about, you'll be able to (as long as the rest of the group agrees!).
Why take an Isle of Skye Tour from Edinburgh?
Driving around the West Highlands and Isle of Skye can be a serious trial. If you're from America, driving a manual car on the wrong side of the road is a challenge in and of itself. And the farther north you get in Scotland, the narrower and windy-er the roads get. Oh, and did I mention the weather?
You have to be a really confident driver to make it around, especially on the Isle of Skye. If you're not, then going on an Isle of Skye tour from Edinburgh can be a good idea for the sheer purpose of safety.
In addition to safety and not having to drive, you get the added bonus of having a super knowledgable driver-guide! Your guide will regale you with stories, take you to hidden spots no one else knows about, and play dramatic music that perfectly matches with the scenery around you.
I honestly can't think of a better way to travel Scotland.
The Best Isle of Skye Tour from Edinburgh – 4 Day Itinerary
So what exactly will you see if you take the 4-day West Highlands & Isle of Skye tour from Edinburgh with Rabbie's? Well, I can't give you a guarantee, as the exact itinerary changes with each guide and tour, but here's what we did on ours to give you a good idea!
A few of the sights you're guaranteed to see are: The Kelpies, Glencoe, The Glenfinnan Viaduct, Eilean Donan Castle, and the many sheep of the Isle of Skye.
Day 1: Edinburgh to Fort William via Glencoe
Meeting & Departure
I went to the meeting point for the tour at the Edinburgh Bus Station for a scheduled departure at 9:15 am to find out that I would be joined by only 3 others, plus kilted guide Arron and trainee Dom.
We stuck out luggage in the back of the Rabbie's van and then settled in for the short drive to our first destination of the tour.
The Kelpies
The Falkirk Kelpies are probably one of the most photographed statues in all of Scotland and were our first stop on our Isle of Skye tour from Edinburgh.
To be perfectly honest, I never really got why everyone was so obsessed with these guys, but I will say that they're pretty impressive in person!
Made completely out of recycled aluminum, these 2 horse heads stand at 30 meters high and represent that horse-shaped aquatic spirits which lure people to their deaths by the rivers.
We had about half an hour here, which was plenty of time to get all the pictures of the Kelpies that we could possibly want, plus a cup of coffee and a toilet break.
David Stirling Memorial
When Arron first asked the group what we most wanted to see, there was a pretty resounding consensus that we were excited to see "everything". So when we got back into the Rabbie's van after getting our fill of the Kelpies, he announced that he was going to take us to see everything–and take us to see everything he did.
As it turned out, seeing everything is best done from the David Stirling Memorial on the top of a hill. And everything was a pretty beautiful sight.
Loch Lubnaig
Continuing up through Loch Lomond & The Trossachs National Park, we made our next stop at Luch Lunaig, one of the lesser-known lochs in the east of the park.
We had about 20 minutes here to enjoy the beauty, take photos, and, of course, take a much-needed bathroom break.
Falls of Dochart & Lunch in Killin
After Loch Lubnaig, it was another 30 minutes drive or so until we reached the Falls of Dochart in the town of Killin. These low falls are a good spot for a bit of photography, and you can admire them either from the bridge or by climbing down onto the large rocks in the river.
Right next to the falls is the Falls of Dochart Inn, which our driver-guide highly recommended for lunch. With Rabbies, you almost always stop in a town with multiple lunch options, so you can choose a place that fits your tastes, dietary needs, and budget.
I went with the recommendation and broke my extremely not strict no-dairy diet for a seriously delicious Scottish salmon & cream cheese sandwich! I also ordered a cup of the soup of the day (sweet potato) and was basically rolling out of the inn at the end of it.
Rannoch Moor
Full and happy, it was on to our next stop of the day: Rannoch Moor. This small little section of country is said to be Walt Disney's favorite part of Scotland (at least according to Arron). Which is surprising, considering just how moody the landscape is. Not exactly what you think of when you think of Disney, do you?
At the same time, it's dramatic in a way that only Scotland can be. Both driving through it and stopping at the viewpoint for a few photos, it took my breath away.
Glen Etive
Our next stop on our little road trip through the West Highlands was a little known glen just next to Glencoe: Glen Etive.
We got there just as golden hour began, and we had to be practically torn away from the place so we could actually make it to the big name of the day just next door.
It always astonishes me how so many amazing and beautiful places like this can exist, right next to some of the most famous sights in a country, and be completely unknown. We were the only ones there, and yet Glencoe is easily one of the most Instagrammed spots in Scotland!
All I can say is thank you to Arron for knowing about this beautiful little spot (and continuously giving me other tips for unknown places in Scotland that I've now added to my bucket list throughout the trip).
Kingshouse Hotel + Deer
Also just next door to Glencoe is the Kingshouse Hotel and its famous herd of practically domesticated deer. As we drove basically just across the road from Glen Etive, Arron explained that the deer used to be fed regularly (and are still fed pretty often by irresponsible tourists), so they hang out around the hotel, making for some quick and easy wildlife spotting!
I loved standing and watching them from a distance and they frolicked through the glen. I did see one woman getting far too close and feeding a deer some carrots, which I definitely don't recommend. It's never good to feed wild animals!
Instead, stand and watch them as they're supposed to be 🙂
Glencoe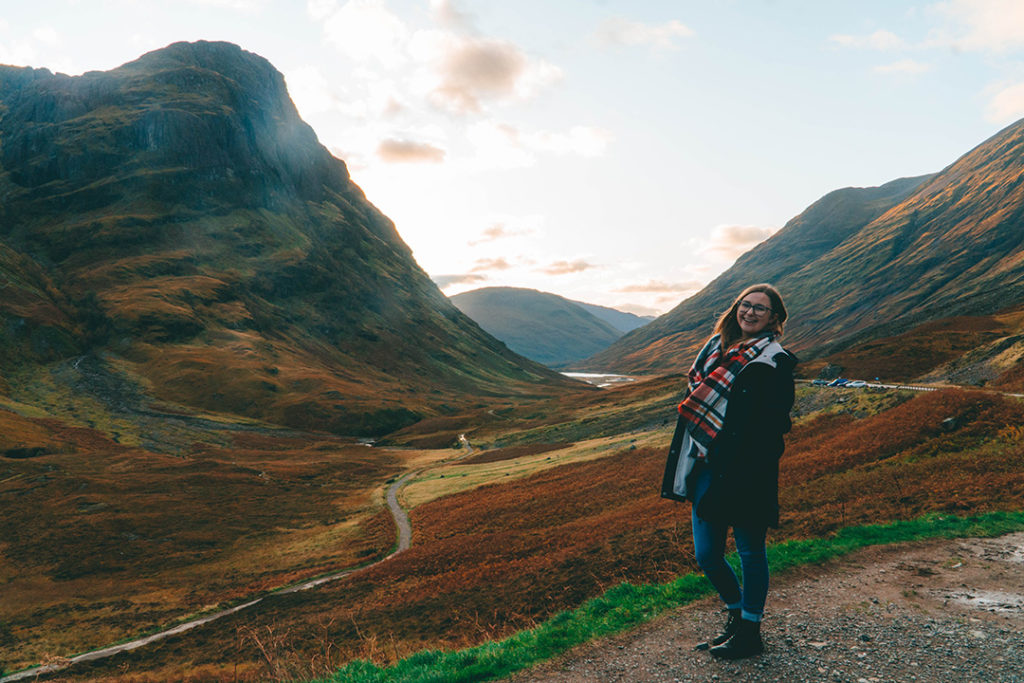 The grand finale of the night was the famous Glencoe, and it certainly was grand.
As we drove the short distance from the Kingshouse Hotel, Arron told us the well-known story of the massacre of Clan MacDonald. So it was with this in mind that we stared out over the glen as the sun set and the rain clouds rolled in,
Glencoe is a place I've been dying to visit ever since I moved to Scotland 3 years ago. And to be perfectly honest, it didn't necessarily live up to expectations. On the one hand, I suspect this had a lot to do with the weather, and only being able to see it from a viewpoint by the side of the road.
But on the other, after coming from an equally beautiful glen just 10 minutes away with no one there and arriving in a car park filled with people, it's hard to think that it would live up to expectations.
And the fact that the big name of the day wasn't even the highlight really has a lot to say about Rabbie's, I think!
Fort William
After taking in the sunset at Glen Coe (and stopping for a quick photo at Loch Leven as well), we finally made it to our home for the night in Fort William.
I stayed at the absolutely amazing Myrtle Bank Guest House in Fort William, which had sheets softer than I'd ever slept in before, and grabbed dinner at the wittily-named Grog and Gruel. The perfect end to a truly perfect day!
Day 2: Fort William to the Isle of Skye via Eilean Donan Castle
Glenfinnan Viaduct & Jacobite Steam Train
We were picked up the next morning from our B&B in Fort William around 9:15 and made the short drive over to the viewpoint of the Glenfinnan Viaduct, otherwise known as the Harry Potter bridge.
Glenfinnan Viaduct is a seriously stunning railway viaduct that appeared in 4 of the different Harry Potter movies as the Hogwarts Express (played by the Jacobite Steam Train) made its way up to Hogwarts. So it's a must-see for Harry Potter lovers.
From the parking lot, it's just a short 5-minute hike up to the viewpoint, but it's definitely a walk you'll want sturdy shoes for!
If you time your visit just right (which we did), you'll be able to watch as the Jacobite Steam Train (aka the Hogwarts Express) slowly chugs its way across the viaduct.
Highland Cows!
The highlight of any Scotland trip, in my opinion, should be spotting a Highland Cow (or 2). But contrary to popular belief, they're actually a lot harder to find than you might think they are.
In over 3 years of living in Scotland, I'd only seen them once before this trip. Which is why it was so exciting when our guide knew exactly where to find some and made a beeline for them after we finished up at the Glenfinnan Viaduct! (Again, I can't stress just how valuable a knowledgable local guide is in all situations 😉 )
These guys were just chilling and eating some grass, but happily came over to investigate (and eat) the grass in our hands as well.
Pssst!
Love these photos? Edit yours just like them with my new Highlands preset collection.
Grab them here!
Loch Loyne
After a stop with the Highland Cows, we hopped back into the Rabbie's van and continued our drive through the Highlands, making our way up towards the Isle of Skye.
With plenty of gorgeous landscape along the way, it was hard not to stop and take a few pictures – especially at Loch Loyne!
We even adventured down to the loch's dam, which Arron said he had never been to before-always on the search for new spots to take people to!
Lunch at Cluanie Bar & Kitchen
Onwards from Loch Loyne, we broke for lunch at the Cluanie Bar & Kitchen in the newly remodeled Cluanie Inn. As we approached, Arron told us about how the new owner had first come to Scotland on a trip from India and was totally unimpressed with the state of hotels in the country. So he bought 5 hotels in Scotland and is now working to fit them out with modern luxuries while still maintaining their ancient Scottish charm. Sounds like my kind of guy.
Lunch at the Inn was absolutely smashing. The other solo traveler on the trip & I shared fancy fish and chips (which included octopus and prawns in addition to the traditional cod) and a "Big Sky Pizza" (prosciutto, arugula, and goats cheese!) and we were honestly in heaven.
Eilean Donan Castle
On from the inn, it was another short drive (a theme to this trip which I highly appreciated) to another big stop of the day: Eilean Donan Castle.
Eilean Donan Castle, though relatively new in castle terms, is one of Scotland's most photographed castles thanks to it's closeness to the oh-so-popular Skye and general picturesque-ness.
We stopped for perhaps 20 minutes in order to get as many photos as we possibly could, but none of us opted to go inside (though we could have if we wanted to, and would have gotten more time then) so it was onwards after that!
Elgol, Isle of Skye
Because we were traveling in October and the ferry schedule is severely reduced during the off season, from Eiliean Donan we then drove over the bridge to the Isle of Skye. We had finally made it!
Unfortunately, we only had time for one stop on the island that day, but it wasn't too big of a deal as we had the whole day the next day to explore.
Arron drove us over to Elgol for our Isle of Skye adventure that day, a small village (they all share a wifi router) with a struly stunning shingle beach.
We walked over the rocks through the rain for a closer look at the imposing cliffs (and took plenty of pictures) before climbing back into the van and being dropped off at our accommodation for the next two nights.
Day 3: Isle of Skye
Sligachan Old Bridge
We got an early start the next morning for our day exploring the Isle of Skye, heading out around 9am. Our first stop of the day was the Sligachan Old Bridge, a picturesque old stone bridge which features mountains in the background–aka photographer heaven!
Legend has it that the waters that flow under the bridge are enchanted, but I was far too distracted by my surroundings to investigate if that was true or not.
Dun Beag Broch
We continued making a circle around the Isle of Skye after leaving Sligachan when we came upon Dun Beag Broch and Arron asked if we wanted to walk up the hill to check it out.
After explaining what a broch is (a peculiar round stone dwelling from the Iron Age only found in Scotland, which have hollow walls for circulating the heat of the fire through) we all agreed that it was a must see, and made the short walk up the hill.
Although Dun Beag Broch is pretty run down (it is from the Iron Age, after all), it's a fascinating little sight, and the views from the top of the hill are fantastic as well!
Portree
After Dun Beag Broch, it was onto the capital city of Portree for lunch and a bit of wandering. We were dropped off in the centre of town and given an hour and half before we needed to meet back at the bus.
I have to say that this was the only time that I felt like we weren't really given enough time, as my lunch ended up taking pretty long and I didn't really have time to wander around the village or down to the harbour.
Kilt Rock
Next up on the agenda was a special request from Nam (the other solo traveler in the group): Kilt Rock.
On the way there, we passed by another popular Isle of Skye Attraction, the Old Man of Storr, but thanks to the serious fog that day we wouldn't have been able to see it so didn't stop. Still, there were cars parked all along the side of the road in October, so I don't want to think what it's like in the summertime. Thanks, overtourism.
Kilt Rock itself was, of course, stunning, but also a little crowded. If I learned anything on this trip, it's that the Isle of Skye has so much more to offer than people think it does! If you go, please do try to get off-the-beaten-path. I'm so grateful that Rabbie's does this as well.
Staffin Bay
Our next stop on the trip was much quieter compared to Kilt Rock: the little-known Staffin Bay. We had the place entirely to ourselves, and I gladly found my own little spot to look out at the mountains and just breathe and reflect on the trip so far. True perfection, in my opinion.
Quiraing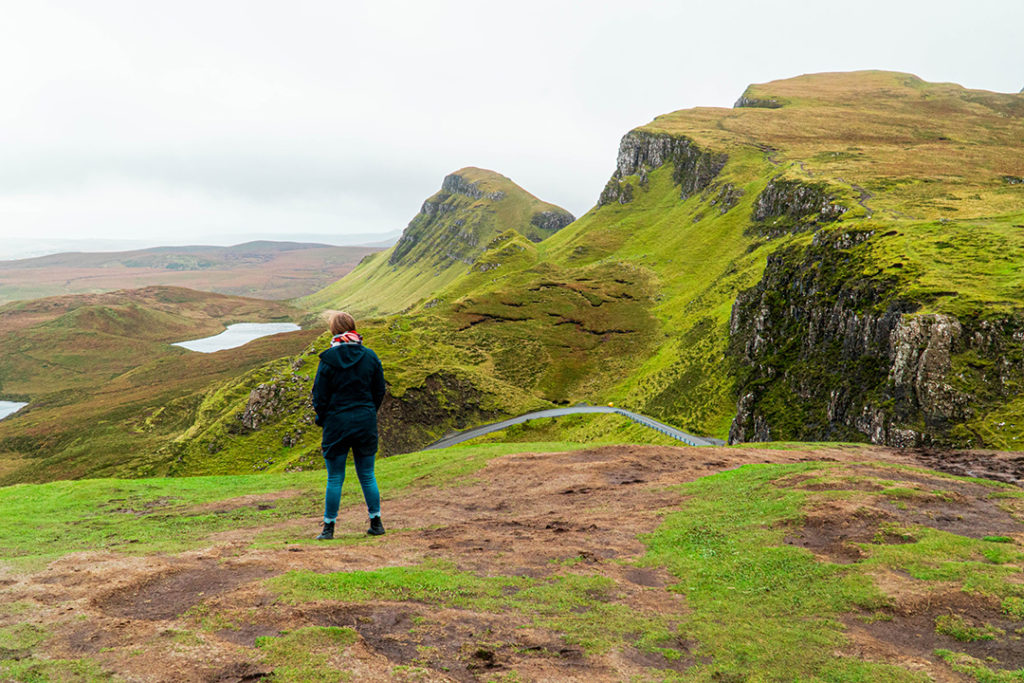 Another somewhat popular spot on Skye is the Quiraing–the northernmost summit of the Trotternish Mountains–and our next stop. The seriously distinctly landscape of the Quiraing is the kind of landscape you can only find on Skye, so it was a must see.
On a non-windy day, there's a great Quiraing hike, but unfortunately the weather wasn't on our side that day so that wasn't in the cards. Even though I almost got blown off the edge of the cliff it was still insane!
Uig
Our final stop of the day was in the northern town of Uig, but unfortunately it was pretty much closed down for the season already.
Then, we tucked in for the hour-long ride back down to our accommodation, seriously tuckered out.
Day 4: Isle of Skye to Edinburgh
On the last and final day of the tour, we got an early start to the morning, packing our luggage back up in the van and heading south again.
The day before, Arron had asked if we didn't mind starting a little early, as he needed to make it back to Edinburgh for 6:30 in order to be on TV, and we all were happy to oblige.
Loch Ness/Fort Augustus
Because Loch Ness is legendary around the world, it was no surprise that a few of my tour mates requested to make a stop at it on the way back down to Edinburgh, so this was our first stop of the day.
We stopped at the southernmost point of Loch Ness, in Fort Augustus to snap some pictures, wander around the town, and grab a cup of coffee, and it was a great break in an otherwise pretty long drive that day.
Waterfall
Along with Loch Ness, we made one other sightseeing stop on the way back at a cute little waterfall which I forgot to note the name of.
Lunch in Dalwhinnie
For our final meal of the tour, we stopped at a small cafe in the town of Dalwhinne, on the edge of Cairngorms National Park. I had the hot sticky chicken, which was more sweet than hot, and an absolutely MASSIVE chocolate & rice crispy cake.
We also said hello to an absolutely massive horse next door!
Saying Goodbye
From Dalwhinnie, we made our way back down south towards Edinburgh.
Although the official end point of the tour is at Edinburgh Bus Station, knowing that I live in St Andrews, Arron was kind enough to drop me off at a bus station outside of Edinburgh, which saved me about an hour going in and out of Edinburgh and meant that I was home in time for dinner!
Rabbie's West Highlands & Isle of Skye Tour from Edinburgh Review
All in all, my tour with Rabbie's was one of my favorite trips that I've taken in recent memory! Of course, like all trips, there are a few things I would change, but I highly recommend taking a tour with them if you're ever in Scotland!
What I Loved
Getting off-the-beaten-path – By far one of the best parts about taking a tour with Rabbie's is their commitment to going beyond the guidebooks and getting off-the-beaten-path. This alone makes them one of the best Isle of Skye tours from Edinburgh!
The Small Group – Rabbie's does all of their tours in vans that hold just 16 people, meaning that no matter what you're guaranteed to have a personalized, small-group experience. And if you travel in the off-season, you might even have less than that. My group was just 4!
Not having a fixed itinerary – Another thing that differentiates Rabbie's from other Isle of Skye tours is that they don't have a fixed itinerary, per se. While there are a few top sights you're guaranteed to see, the rest is up-in-the-air. So you can request a stop you really want to see, or leave it up to the driver to take you to some amazing places you've never heard of!
Actually being able to travel to the Highlands – While traveling the Highlands of Scotland by public transport is technically possible, it's not easy. Going with a guided tour is a much simpler way of traveling around the West Highlands and Isle of Skye–and it's more eco-friendly, as you're not renting a car just for yourself!
The Guides – My guides Arron and Dom were one of the biggest highlights of the trip. Arron, a fervent 'yes'-er and clad in a kilt, was knowledgable beyond compare and always had plenty of trivia ready for us. Dom, an imposter from England, was Arron's low-key trainee, and aptly led us on a few walks!
The Food – All of the food stops that we made throughout the tour were absolutely delicious, and also super affordable! A few highlights were my salmon and cream cheese sandwich in Killin and the fancy fish and chips at the Cluanie Inn.
The Accommodation – Rabbie's put me up in 2 incredibly nice B&B's during my tour: Myrtle Bank in Fort William for 1 night and Heather Brae right off of the Isle of Skye for 2 nights. They both had comfy beds, delicious breakfast, and were just generally lovely. I highly recommend going through Rabbie's booking service for your accommodation!
What I Would Change
Short stops – While I generally felt like we had plenty of time at each of our stops, a part of me does wish that we had a few with more time so we could do a bit more walking and exploring! This was especially true in the case of Portree on Skye.
The People? – Okay, so this one is a little bit picky, but as I was traveling alone, who else was on the bus really mattered to me. Rabbie's tends to appeal to older travelers, so I felt a little bit odd being a young solo female traveler, but it really wasn't that bad! And who knows, after this review more young people will get the small group tour bug 🙂
Rabbie's Isle of Skye Tour FAQ
How much does the tour cost?
The 4 Day West Highlands & Isle of Skye Tour from Edinburgh with Rabbie's starts at £199 for adults and £184 for children, students, and seniors.
In the shoulder season, it goes up to £249 for adults and £239, and in the high season it is £285 for adults and £275 for concessions.
Do keep in mind that as prices go up, so do daylight hours, so you will be getting to see more!
You can check prices for your desired travel dates here.
What does the tour include?
The tour includes transport in a 16-seat minibus with panoramic windows and an amazing, knowledgable driver-guide who may or may not be in a kilt.
Food and entrance to any attractions is not included.
Kilt not guaranteed.
What about accommodation?
Accommodation is not included in the tour price. However, Rabbie's does offer an accommodation booking service, with the option of booking into either a bed & breakfast (usually between £50-70/person/night) or a more affordable hostel option.
You can also book your own accommodation, and as long as they are in/around the town center, the driver will be happy to drop you off.
I stayed in B&Bs with Rabbie's and totally loved them!
Is there a minimum number of people that have to book for the tour to depart?
Nope! Rabbie's has guaranteed departure for all of their tours, meaning that if you book, you go. Yes, even if you're the only one.
Why not just rent a car?
There are a couple of reasons not to rent a car to travel around Scotland. Firstly, if you don't know how to drive manual it's a LOT more expensive. Plus, you'll be driving on the other side of the road, and once you get up to the Highlands and sky, those roads are narrow, windy, and occasionally on the side of a cliff. I would really only recommend it for super confident (and talented) drivers.
Secondly, it's actually much more eco-friendly to go with a small group tour like Rabbie's, especially if you're traveling by yourself or with only 1-2 other people. And if you travel with Rabbie's they even carbon offset their trips!
Alright, that's it on my amazing tour of the West Highlands and Isle of Skye with Rabbie's! I do highly recommend this tour if you're ever in Scotland. Click here to book!
Pin it for later!