Disclaimer: this post may contain affiliate links. If you make a purchase from one of them I will recieve a small commision at no extra cost to you, which allows me to keep this blog up and running!
---
Studying abroad can be one of the most defining moments of your life–but it can also be seriously daunting. Trust me, I know. That being said, you shouldn't let your fear stop you from living your #bestlife. That's why I compiled these 11 AMAZING study abroad stories that will inspire the s*** out of you and make you get off your butt, start making plans to study abroad, and go.
From stories of internships in rural Peru to learning a new language in the country where it's spoken, these study abroad stories span the globe–and the spectrum of possibilities when it comes to study abroad. There's even a story that reminds you that it's never too late to study abroad.
So what are you waiting for? Get yourself a cup of hot chocolate, find a comfy position, and tuck into these inspiration study abroad stories. Then start doing research on how you can make it happen too
---
Overcoming Language Struggles in Prague
by Rachel
Studying Abroad was one of the best decisions I have ever made and choosing Prague, Czech Republic made it even better. Prague is located in an ideal location for traveling around Europe and especially Eastern Europe. Prior to study abroad, I had no knowledge of anything about Prague, which made it that much more amazing.
During my study abroad program, it was mandatory to take Czech, a language in which I had zero interest or knowledge of. While I happen to be good at learning languages, I thought I was going to have a seriously hard time learning this one. With no knowledge of anything even near Czech (unlike learning Spanish or French) and no idea how to master the Eastern European accents, I was lost. But after a lot of hard work and studying every night (we had to go to class three days in a row at 9 AM and couldn't skip), I was finally starting to get the hang of it.

Gaining Confidence
My favorite, inspiring if you will, story from study abroad has to do with this. I was there for four months and after 1 month I was getting the language down. I had to start using it in the real world though, not just in class.
Every day I walked the same route to school and went to the same Starbucks on the way every morning. Each day, the same girl worked at the same time and started to get to know me. As each day progressed, I started to learn more Czech and use it while ordering coffee.
Soon after another month in, I was having full conversations with this barista and talking in Czech with her. Every morning she had my same order ready for me and asked me what classes I had, where I was traveling that day, and more Prague tips to do.
This is one of my absolute favorite memories of studying abroad in Prague. Czechs are SO nice and this barista remembered me every day and helped me immerse into the culture more than I could have ever imagined while building my Czech knowledge and culture.


This also helped me when I moved to Tel Aviv, Israel for six months after college and had to go over the same thing learning the new language. I always thought back to this memory and time of when I was in Prague that it helped me build the confidence to keep learning and trying to speak Hebrew throughout the city.
---
The Canadian Flag from Edinburgh
by Eric
I moved over to study at the University of Edinburgh in the fall of 2015 and brought a Canadian flag with me. I lived with an Italian girl and she let me put it up in the living room of our flat. As we made friends from around the world, we called ourselves "The Core" and we consisted of: a Canadian, an Italian, a Dutch girl, an Irish girl, a Slovenian, an Estonian, and an American.


Being the social people that we were, we held gatherings (read: pre-drinks) quite frequently in our flat – which was conveniently located in the city center of Old Town, Edinburgh. People used to stop by for a drink or two on their way to the bars down on Cowgate.
The Backstory
One night early on in the school year, it was decided that if you drank in the flat and I, the Canadian, was there as well, you got to sign the Canadian flag. "Your name, country, and any words of wisdom," I used to say as I handed relative strangers the permanent marker. Our gatherings grew in size and our circle of friends grew – so too did the number of signatures. Germany, Palestine, Russia, Australia, Catalonia, the list goes on.
When I moved out of Edinburgh, we all took a good long look at the flag. It was absolutely covered. Over the course of only a few months, 95+ people had signed the flag in different coloured markers. The coolest part? Through friends of friends bringing their friends, these 95 visitors came from over 30 countries or places around the world. We truly had opened up our flat to the world.

That experience, besides helping me to earn an MSc in Health Policy, taught me to open my heart to the world. What's more, this timeline was during the height of the attacks all over Europe in late 2015/ early 2016. The lessons are simple: be kind, listen to others, learn from them, and try to understand them. Everyone has a story. Everyone has influences in their lives that make them the way they are. Be open and willing to hear their tale. That message was important then as it is now.
My time in Edinburgh continues to shape my career and my life. If it wasn't for my time in Edinburgh during my Masters, I probably wouldn't have carved a career path through the travel sector. It is also because of posting photos of Edinburgh to Instagram that Lisa and I met – and now we blog on Penguin and Pia! All in all, "The Canadian Flag from Edinburgh" serves as a reminder to trust and believe in people. This is the lesson I learned while studying abroad."
---
Looking Back at Rural Life in Peru
by Max
"Ay, no me digas!" whisper-shouts my dining companion.
Our entrees have just arrived, so we dig in as I tell her about my requisite trip to Machu Picchu— I do work in the Sacred Valley of Peru, after all. We're discussing how expensive the food was, with nothing cheaper than $5 USD a head. Like mirror images, we cut into the third course of our meal, just some standard fare in our rural town. The meal started out with a tiny fried appetizer, and then a large soup, and finally our huge plates of lomo saltado, accompanied by chicha morada and a small dessert.

A menu del día such as this one always costs 6 soles, about $ 1.80 USD, and the portions are near double their Machu Picchu counterparts. Though to be fair, these don't come with a free Pisco sour. This almuerzo— Spanish for "lunch"—speaks for itself.
In our town of Ollantaytambo, there are places open only for lunch, serving up a few different options for oft-returning patrons. These are little family-run places, where there are 10 plates and forks in rotation, washed as customers vacate their worn seats. They're the places where I found my favorite Peruvian dishes: arroz con leche, ají de gallina, lomo saltado; the stuff that I went back for every afternoon.
Those are the dishes I have hastily-written inexact recipes for from my coworkers.
All of them grew up in town, and never really learned to cook by recipe, but rather by taste. Those typical Peruvian plates are the same dishes I miss the most, now living about as far away as I can get. What's more, they lack the ambiance. This includes—  but is not limited to— the mysterious paths leading to anywhere, previously-unknown plants, and endless mountainscapes. Without a mountain view and fresh local ingredients, my dishes come out flatter than the land around me.
When you live abroad for a while, the routine of the place stays with you. Grabbing lunch between shifts at the chocolate museum, sneaking into the local ruins, practicing Ketchwa with Doris; what is normal? The everyday experience is different there, so you're different there. Any time I'm not spending in that town in Peru, I'm missing a little something. Because that experience abroad shapes you, for better and for worse. And if you're lucky enough, it'll also call you back.
---
Living a Life Full of Surprises in Australia
by Viola
I studied abroad about four years ago. My university in Canada had an exchange program with Australia and I thought it would be cool to spend a couple of months in Sydney. Little did I know then that it would be more than just "cool" but an experience that would change my life and make me fall in love with the world. It was my first time moving to a new country by myself. The beginning had many struggles, like when I had to look for an apartment while living in a hostel.
But with every challenge, I found an empowering feeling when I was able to overcome it. A feeling of "Wow, I am all grown up now!" and "Am I finally doing this adult-ing thing?!" I had many incredible experiences during my five months abroad. I went diving at the Great Barrier Reef in Cairns, camped out in the Australian Outback, and saw so many amazing sites that I could only dream of. I also hopped over to New Zealand, where I hiked on a glacier and went skydiving! It was really this chapter in my life that ignited my passion for discovering the world. Now I've caught the travel bug forever!
The Benefits of Studying Abroad
Studying in a foreign university also gave me the chance to make a lot of new friends, not only Australians, but other exchange students from all over the world. Two years ago, I went traveling in Europe and stayed with one of the girls I met while on exchange. She invited me to her home in France and showed me around her hometown. It was super cool! Studying abroad is really a great opportunity to make new connections.
Finally, going to Australia led me to meet an amazing guy, who has now been my boyfriend four years strong. We had to struggle through a long distance relationship but we are now certain that we will be spending the rest of our lives together.
Long story short: during my time studying abroad, I discovered my passion for traveling, made long lasting friendships and found love. Life is full of surprises!
---
How to Get Immersed in Italian Culture in Just One Month
By Sami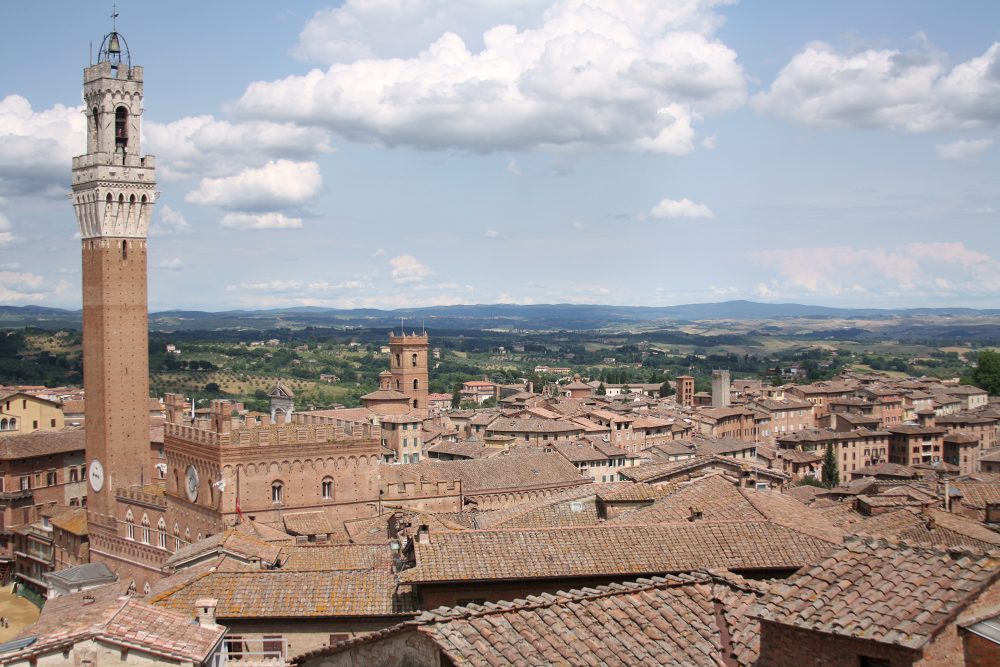 With 2 parts medieval walled city, 1 part Renaissance charm, and 1 part fairy dust, it all added up to bella Siena, Italy. I was enchanted and I couldn't believe I got to spend a month studying abroad in Tuscany learning the language, taking cooking classes, and soaking up the Italian culture.
Taking an Italian history class while actually looking at the items we discussed was the surrealist moment. Plus our papers were 1 page handwritten on notebook paper and if you have ever taken a college history class, that is not standard operating procedure. Everyone was more relaxed and embracing la dolce vita.
What people don't tell you
What people don't tell you about studying abroad is that you will eat all the food, travel to all the places, and buy all the things. My wallet and my pants took a hit but in the best way possible. I ate all the chocolate croissants, cafes, bread and olive oil, and of course fresh pasta that I could possibly. Fortunately, I walked off the food on the hilly streets.
I bought so many bottles of wine, blocks of cheese, pairs of shoes, purses…pretty much whatever I could get my hands on that were authentically crafted in the area! I walked and viewed more churches than ever before in my life, navigated the trains of Italy and went to as many cities as possible, and got lost in Tuscany in a rental car with friends.
I got to experience the ever famous Palio horse race in the heart of the Piazza del Campo with my Civetta Contrada scarf on. I learned the Italian language at the Dante Alighieri school and followed Italian recipes at my cooking classes.
It was perhaps the most magical season of my life and definitely gave me the wanderlust for international travel and it was ideal experience as a newbie. In the most cliché way, my study abroad experience was just the beginning making my dreams happen: traveling and writing about my experiences.
---
Getting Out of My Comfort Zone in Italy
by Nadia
I was a sophomore in college with an engineering track, and little to no friends. I lived in my dorm, far away from home and family. I felt stuck in a monotonous life. My life was on repeat: class, cafeteria hall, dorm, study, sleep. To top it off I was weathering through a very rough breakup from my first long term relationship. Life was bland and I felt trapped. Then one day, a classmate invited me to an info session for a study abroad program in Italy.
I had never been on a train before, let alone left the country. All I knew was a small part of Florida, and well, the inside of my dorm room. I hesitantly attended the info session and listened to previous study abroad students share their travel stories of Italy. They told stories about how study abroad opened their eyes to the world and new cultures.
I began to feel a hunger to explore, to step out of my comfort zone and finally do something different with my life (about damn time)! Plus, they couldn't stop talking about the food…and I'm all about that, yum!
Studying Abroad in Italy
Close to a year later I found myself flying to Italy with two professors and a group of 30-something strangers. My daily classes consisted of walking tours of cities, museums, and ruins rich in history. We visited Rome, Sorrento, Positano, Capri, Napoli, Pompeii, Tuscany, Venice, Florence, and the list goes on! It surpassed any expectations that I had of what the world was supposed to be outside of south Florida.
I was excited to try new food, speak mangled Italian to locals, and set out on new adventures. By the time my trip was complete, I had climbed through all of Cinque Terre, hiked up Mt. Vesuvius, got lost in the back streets of Florence, celebrated my 20th birthday, biked around Lido, sipped absinthe in Sorrento, and rolled (literally) down the Dolomites.
My study abroad experience hands down was one of the biggest influences that has shaped who I am today. My then-study abroad roommate is now one of my best friends. We still call each other "roomie." I went from a shy sophomore struggling to adjust to the inside of my dorm room, to now having traveled to more than 12 countries and publishing a travel blog.
The Moral of the Story
Needless to say, the study abroad trip really opened my eyes to the fact that there is a world out there. I was absolutely set free from what I knew and understood was a "normal life." School, my grades and my small dorm room were my world. Now my world is a vivid planet, called "home" by billions of people, including a network of hundreds of other travelers that I have connected with. I'm no longer hesitant to try new things, explore new places or meet new people.
For those that have always said "one day I'll travel" or "I would love to travel but…" I encourage you: make it a priority. Get out of your comfort zone and do what you have always dreamed of doing. It's really that simple. The best part of all is that it will change your life completely.
Follow Nadia's adventures on Instagram!
---
It's Never Too Late to Study Abroad
by Rachael
My study abroad experience was less traditional than most. While in my undergrad program I watched countless friends take semesters to study abroad and always thought I was missing out. Upon graduating, to try and fill that void, I did what I thought was the next best thing and took a two week Euro trip with my girlfriends before starting my full-time job. Those weeks were the best, as it was my first time leaving the USA, traveling without my family, and experiencing new cultures.
Fast forward some years later and I found myself looking for a change from my engineering job, and I decided to go back to school part-time to obtain my Master's degree. I worked during the day and took classes at night and found myself just going through the motions. I figured there had to be something that I could do to spice things up, and then it hit me. I wondered if it was too late to study abroad?
The short answer is no.
It wasn't too late! Although working full time didn't allow me the luxury to disappear for a few months, I was able to disappear for a few weeks. I signed up for an online international business course that had a two-week international trip built in.
With the class being online, the first time I met the other students face to face was at our welcome dinner in Heidelberg, Germany! Together, we went to three countries in 10 days, studying in Heidelberg, Frankfurt, and Baden Baden, Germany; Strasbourg, France; and Basel, Switzerland. This trip pushed me out of my comfort zone, allowed me to make new friends, and as it turned out I met my now-boyfriend too!
Just keep swimming
Three new countries in ten days were great, but I thought why limit myself to three when I could do more? Once in Europe, it is SO easy to get other places, so I extended my trip an extra week (and burned all my vacation days) and spent a few days in Amsterdam and London before flying back home. Although I still wish I could have studied abroad for a full semester, I was able to make the most of the short time I had exploring a total of five different countries in 2.5 weeks! That's more than some people visit in a lifetime.
The moral of my story, if you regret not studying abroad while in college, it's not too late! Discover your passion, step (or fly) outside your comfort zone, make new friends, and see new places!
---
From a German Couch Potato to an Adventure Seeker in Hawaii
by Nate
Of all my travels, a semester at the other side of the world shaped me the most. Let's travel back in time. Around 4 years ago, I studied Social Work in Berlin and my plan was to work with migrants after graduation. I always wanted to study abroad.
When I was looking for possible universities, I came across Hawaii. It didn't take long to make the final decision to apply. Who wouldn't trade wet and cold days for surfing, sunbathing, and slurping coconuts?! However, I had to organize a lot on my own, because my university had no partner colleges in Hawaii. I was almost entirely on my own, but it was all worth it in the end and I can highly recommend it to everyone.
Hawaii is still a magical place to me. Studying there changed my way of thinking about minimalism, culture, an active lifestyle, and my career. While I was there, I went hiking multiple times a week, I swam in the beautiful blue Pacific, and I got to know more about indigenous people. I learned how to scuba dive and explored the underwater world around Oahu. There were no lazy days, where I would watch one movie after the other (I had those days way too often in Germany). Instead, I got my relaxation outside.
I fell in love with the greatest person in the world, who is traveling the world with me for over a year. Hawaii revealed that adventures are my passion and my boyfriend showed me that I can work online, which ended up being my new career path. After I went back to Germany, I started a travel blog, which I am very passionate about, and worked on my online business. So in the end, the study abroad semester ignited a new passion and changed my life completely.
---
Life as a Language Student in Norway
by Star
I first started out as a language student in Norway in 2013 with the hopes of finding a job. This was the only way to get a job there so I had to learn Norwegian as fast as I could. Having been a bum for almost a year living under my parent's roof, I had nothing to lose. And boy was everything hard from the very start.
I enrolled myself in a Norwegian course for 3 months. I got promoted to level 2 when I took the entrance test since I took a Norwegian crash course in the Philippines. The biggest challenge in school was that our teacher talked only in Norwegian when she explained things. In that case, we needed to read between the lines to understand her. Imagine playing charades. That's how she taught us.
From Student to Worker
With a little hard work on our part and studying an hour a day at home, we managed to be better at the language. As time went by, we were confident enough to apply for jobs. It felt like forever before I was called in for an interview. Soon enough, I had been to several interviews. There were definitely some bloopers along the way. The most memorable one was when I asked how the interview went.
That was the biggest mistake of my life.
The interviewer told me she wasn't sure if  I understood her. I tried to argue with her but it made the interview more awkward. It like I had been stabbed in the eye three times. But that didn't stop me from trying. Eventually, after months of going to interviews everywhere, that lucky day came and I got a job.
Since then, I've been living comfortably in Norway with a stable job and traveling around Europe.


The moral of the story: Hard work pays off. Fall seven times, stand up eight. And all the quotes about hard work you can think of. Once in a while, we need to get out of our comfort zones in order to be successful. No matter what the outcome is, there's no harm in trying.
---
Learning About US Culture in Japan
By Kiyoko
In the United States, you'll find many people have taken the attitude that, if you're in America, you're expected to speak English. Some people get annoyed and even angry at those who struggle to effectively speak English. Somehow many Americans expect immigrants to talk and act like Americans.
However, if those people spent even a week in a foreign country where English isn't the native language, I think they'd learn just how unfair that expectation is. As for me, I wouldn't say that I was ever harsh towards immigrants, but I definitely didn't go out of my way to help them either.
Then, when I was in college, I chose to study abroad in Tokyo, Japan for a semester (about 4 months). Thankfully, I had been studying Japanese for almost 3 years by the time I left for Japan. But even with 3 years of the language under my belt, I still struggled to communicate effectively.
Everyday things that we often take for granted were a struggle. Going to the grocery store for the first time was quite amusing, because I couldn't understand a single thing the cashier said to me. Her Japanese was much more formal than the Japanese I had studied in a classroom. When I missed a package being delivered to my dorm (because I had been out and about), I had to have a Japanese friend call the post office and set up a new time to have it delivered, because I couldn't understand Japanese over the phone.
After Study Abroad
Since coming back to the United States, I find that I am much more patient with those who are adjusting to life in America and may not be perfectly fluent in English. I now know first-hand just how hard it can be to move to a totally different country.
Personally, I'm amazed by those who choose to immigrate to the United States. English is probably much harder to learn than Japanese, and most Americans aren't as willing to go out of their way for foreigners. In Japan, it seemed like everybody I met was super willing to help me get where I was trying to go.
Studying abroad was not only an eye-opening experience in that I got to see and experience another culture, but it also gave me a new view on my own culture. I know a lot of people tend to shy away from studying abroad because it's often considered "expensive," but it's an experience I think everybody should have. With a lot of research, you'll find that studying abroad isn't as expensive as it seems, and it is 100% worth every penny.
---
How Studying Abroad Can Lead to Moving Abroad
by Claudia
In September 1998 I moved to Lancaster, in the North of England, for my Erasmus year. A new world opened up in front of me. Suddenly, I had friends from all over the world, a boyfriend from the US, and I was immersed in a completely different environment, living and breathing a wholly different culture, and appreciating that we are one and the same, despite the many differences.
I never really got back after my year abroad. A few months after my Erasmus exchange ended, I graduated and then moved to the US for a Master's degree. I then went all the way to New York for an internship at the United Nations. I then continued my studies in the UK, specializing in international human rights law.
I guess the curiosity for different cultures, and for people in general that brought me to study human rights later on pushed me to open up a travel blog where I could publish my stories and experiences. All in all, I think I wouldn't even be who I am today were it not for the decision to study abroad 20 years ago – I still can't believe 20 years have gone by since then.
---