Fewer crowds, Christmas markets, and even the chance to see the northern lights… here are some of the best places to visit in Europe in winter!
Whether you're anxious to find some winter sun or experience the coziness of wrapping up while it snows outside, Europe in winter has so much to offer. Of course, I haven't been able to visit all of the best places to visit in Europe in winter (yet), so I reached out to a few of my fellow bloggers for their suggestions!
Best Places to Visit in Europe in Winter: WESTERn Europe
Amsterdam, the Netherlands
Recommended by Karen of Local Holland
Amsterdam, the Netherlands is one of the best places to visit in Europe winter. Although it's not as famous as other European destinations, Amsterdam doesn't get as cold as other European cities typically and winter has a lot of benefits, especially in terms of reduced crowds at many of the famous attractions. If you're truly lucky, you'll get to see Amsterdam's canals freeze with locals ice skating over them!
Notably, Amsterdam's winter includes the stunning Amsterdam Light Festival when artists from all over the world are invited to create modern light-creations to be seen by boat, bike, and on foot throughout the city's canals. (My favorite way is by boat cruising the canals with a warm gluhwein in hand!)
Beyond the light festival, you'll find holiday cheer during early December, which is when the main December holiday in the Netherlands takes place. Although Christmas is somewhat celebrated in the Netherlands, Sinterklaas is a popular children's holiday with its own candy and sweets, such as oliebollen, to go along with it. Shortly after, you'll see Christmas markets popping up throughout the city center! Winter culminates in New Year's Eve, which is when the locals enjoy fireworks throughout the city center and along the IJ river. January tends to be quieter, however it's the perfect time to battle the crowds.
Geneva, Switzerland
Suggested by Wendy of The Nomadic Vegan
Winter is a fantastic time to visit Geneva, Switzerland, whether you come for the many outdoor winter sports on offer or for one of the local festivals held at this time of year. If you can time your visit in mid-December, you'll get to experience a very local tradition that only takes place in Geneva, called L'Escalade. It's definitely one of the best places to visit in Europe in winter!
The word "escalade" means "climbing" in French, but this is not a rock climbing or mountaineering festival as you might expect. Instead, it commemorates an event that happened in 1602, when the Savoy army attempted to scale the city walls and lay siege to Geneva. The local inhabitants weren't having it, though, and they rallied to defeat the attacking soldiers any way they could. According to legend, this even included a local housewife pouring hot soup over their heads.
Throughout the weekend-long event, battle reenactments are held in the Old Town, and historic buildings normally closed to the public are opened up for free guided tours. Festivities culminate with a torch-lit parade of locals dressed in period costumes from the 17th century.
But while the city is at its liveliest during the L'Escalade, things become very quiet over the Christmas and New Year holidays, just a couple of weeks later. Almost half of Geneva's population is made up of expats, and many of them return home to spend the holidays with their families.
Those who do stick around tend to spend their time up in the nearby mountains on the ski slopes. Geneva sits within easy reach of two mountain ranges, the Alps and the Jura. For beginner skiers and snowboarders, the gentler slopes of the Jura are definitely the best option. This is also where you'll find the best cross-country skiing trails. Experienced skiers, however, usually prefer the Alps. Many Swiss alpine resorts can be reached by train, and shuttle buses connect Geneva's airport with Chamonix and other ski resorts in the French Alps.
Lake District, England
Suggested by Charlotte of The Millennial Runaway
The postcard views of snow-capped hills and mountains makes the Lake District one of the best places to visit in Europe in winter.
As a UNESCO world Heritage site, the Lake District boasts some of the most beautiful natural views in the world considered alongside famous locations such as the Taj Mahal, the Barrier Reef and the Grand Canyon.
A dusting of snow and a sprinkling of ice transforms the peaks, fells and hills that makes for beautiful crisp walks – each with something new to discover. And if you don't fancy braving the dramatic landscapes, you can always take a visit to the many National Trust heritage sites.
Prone to bad weather, the British know a thing or two about retreating indoors, so it's uncommon to find a country pub without a cosy fire during winter. Enjoy a roast dinner with fresh seasonal produce and locally brewed ales, or warm your feet with a hot chocolate or a cup of tea.
Home to 13 valleys, there's something new to discover in each, and despite appearances the Lake District is very accessible either by car or making use of the public bus. And if the crisp walks, stellar views, heritage sites weren't enough, the Christmas markets may just lure you in with its specialty gingerbread, sticky toffee puddings and homemade treats.
London, England
Suggested by Sydney of A World in Reach
London is a great city to visit year-round, but visiting during the winter is especially magical. Don't let the cold scare you off from visiting! London's winter weather can be chilly and rainy, but the winter months are still a great time to explore.
London gets decked out in holiday decorations during Christmastime, making it one of the best places to visit in Europe in winter. The city is covered in beautiful lights – don't miss the displays along Oxford Street and Covent Garden! There are several Christmas markets set up around the city, with one of the biggest and best in Leicester Square. Hyde Park Winter Wonderland is also a great place to get in the holiday spirit. Here, you'll find Christmas markets, an ice rink, carnival rides, and many more festive holiday attractions. Visiting London to ring in the new year? The city holds one of the world's best New Year's Eve fireworks shows, and many of London's hotels and clubs hold exciting parties.
If the cold starts to get to you, escape to one of London's many indoor attractions. Explore one of the city's museums (many of which are free) or see a show in the West End. English pubs are a great respite from the cold, as are the city's numerous cafés (and there are few things better than a nice cup of hot chocolate on a cold, winter day!) and places to stay in London. No matter what you choose to do, you'll find that winter is one of the best times to visit London!
Montreux, Switzerland
Suggested by Carolyn of Holidays to Europe
With a backdrop of the snow-capped Swiss and French Alps, and central Europe's largest lake lapping on its doorstep, Montreux is one of the best places to visit in Europe in winter. Perfectly located on Lake Geneva, and close to the French border, there are plenty of things to do in Montreux.
The city has attracted everyone from Tchaikovsky to Freddie Mercury and it's a statue of the former Queen lead singer that is the first sightseeing stop for many of today's visitors. It takes pride of place on the beautiful lakeside promenade that runs the length of Montreux's lake frontage and stretches for thirteen kilometres.
At one end of the lakeside promenade is the medieval Chateau de Chillon, once a castle and then a prison, the now unoccupied fortified castle is open to visitors. A wander through the maze of courtyards, towers and halls is a must when in Montreux.
Whilst many of Montreux's attractions are outdoors, don't let cold or wet weather deter you. Every Sunday, cruises operate on Lake Geneva providing the perfect opportunity to view the city from the water.
If you don't mind a flutter, the Montreux Casino is open every day of the year and it's also home to the Queen: The Studio Experience exhibition where fans of the band can see memorabilia, including hand-written song lyrics, in the place where Queen recorded a number of albums.
With its proximity to the Alps, Montreux is a great base from which to enjoy a multitude of day trips. Glacier 3000 and Rochers-de-Naye are two mountain peaks less than an hour from Montreux that offer stunning views and plenty of fun activities in winter.
Another favourite excursion from Montreux is to Gruyeres, a picturesque medieval village that is famous for its castle and chocolate and cheese production. During the winter months (January to April) you can travel to Gruyeres aboard a special 'cheese train'.
And let's not forget the Montreux Christmas market. If you're in town in the weeks leading up to Christmas, this is the place to buy your last-minute gifts and souvenirs and mingle amongst the locals. Be sure to look up – you might even see Santa Claus flying through the sky on his sleigh!
Murren, Switzerland
Suggested by Maureen of So Many Places! So Little Time!
Tucked away, high up on the side of a mountain in the Jungfrau region of Switzerland is a picture-postcard car-free village called Murren. It is 5,374 feet above sea level and is at the foot of the Schilthorn peak. It's one of the best places to visit in Europe in winter and here's why.
Just getting to Murren is exciting! It is only accessible by a series of interesting trains, cable cars, and mountain trains. Because it faces the Eiger, Monch, and Jungfrau mountains, there are winter wonderland vistas wherever you turn. Because it's car-free it has a peaceful and relaxed atmosphere. There's no traffic or traffic fumes to contend with.
You'll find all the usual winter sports available like skiing, snowboarding, cross country skiing, and mountain climbing, but there are also a couple of very special activities that you won't find anywhere else.
One is called 'The Thrill Walk.' This is an adrenalin-pumping 200-meter steel and plexiglass walkway that starts 3000 meters high and curls and winds around a near-vertical rockface on the Schilthorn mountain. There are some especially thrilling sections included There's a see-through glass bottom section, a tight rope section, and a crawl through wire cylinder section. Well worth the walk for the magnificent views!
The other activity is found at the top of the cable car at the Schilthorn peak where, apart from a big viewing deck, you will find a revolving restaurant that was built for the James Bond film 'On Her Majesty's Secret Service.' You'll finds an interactive museum about James Bond and plenty of interesting memorabilia to entertain you.
While you're in Switzerland pop over to Gruyere and discover that there is much more to Gruyere than just the cheese!
Paris, France
Suggested by Nassie of Snippets of Paris
Is there ever a bad time to visit Paris? The glittering lights, the ambling boulevards, the sheer beauty of the French capital, you can never go wrong with Paris. But in winter, you ask? Yes! If you visit Paris in July or August, that is the tourist version of Paris, where all the locals have left on holiday to the South of France.
Visiting in summer means that museums are packed. That selfie of you and the Mona Lisa? It will be you and 300 of your tourist friends, if you manage to get a clear shot of the portrait. Visit in winter on the other hand, and you will be able to marvel at Leonardo da Vinci's masterpiece at leisure. Is that a hairnet that she is wearing? Paris is absolutely one of the best places to visit in Europe in winter!
And winter is when the city is simply buzzing with activity. All the locals are back, and restaurants and patisseries are open again and brimming with customers. In winter there are also more shows, with many more ballet companies, theatrical showings, circuses and concerts. There is so much choice, you will be hard pressed to pick.
And if you are here for Christmas, try a vin chaud (hot wine) while you wander around the traditional stalls of a Christmas Market near the Champs Elysées. The streets will be lit up, with garlands and decorations, a whole different level to the phrase "the City of Lights". This is the real Paris, the one which the locals enjoy.
So join in the tradition of sipping a Beaujolais Nouveau wine on a heated terrasse, and dig into some cheesy fondue afterwards for dinner. You won't regret it!
Paris, France (x2!)
Suggested by Christine of Live Love Run Travel
Paris is a beautiful city no matter when you go, but winter in Paris is an especially special time. Winter in Paris means cooler temperatures with a slight chance of snow covering the city. Winter is the off-season in Paris, and while people visit the city throughout the year, there are far less people visiting in winter. This makes it the perfect time to explore one of the best places to visit in Europe in winter.
Paris gets into the Christmas spirit with Christmas markets throughout the city and decorations and lights everywhere. The trees and shops lining the Champs Elysees get a Christmas makeover, making it an even prettier area than usual. Check out the Christmas markets by the Eiffel Tower on the Champs de Mars while enjoying the nightly light show at the Eiffel Tower.
If you are in Paris for the holidays, make sure to stay for New Year's in Paris. Many places have holiday hours around then, but you can enjoy fireworks, special concerts, parties, and midnight cruises on the Seine River.
If you are looking for the best places to travel in Europe in winter, Paris needs to be on your list. Don't miss the Christmas lights and Christmas markets while enjoying off season in Paris.
Zermatt, Switzerland
Suggested by Allan of It's Sometimes Sunny in Bangor
There are few best places to visit in Europe in winter that can compare to Switzerland, and in Switzerland there are few backdrops more iconic than the Matterhorn, a mountain which inspired the shape and packaging of the Toblerone Bar. And lying just beneath the peaks of the Matterhorn is Zermatt, an alpine mountain resort famous for its 200km of pistes as it is a hugely popular destination for skiing and winter sports enthusiasts in Switzerland.
But there is a lot more to Zermatt that winter sports as it would probably be half-and-half with traditional tourists and sightseers inspired by the winter backdrops and many who will be passing through as they join the renowned Glacier Express train journey that connects between Zermatt and St Moritz via some of the most fascinating scenery of the Swiss Alps.
The town itself is exciting to explore, with lots of shopping and après ski opportunities, as well as more traditional experiences between the chalets with lots of alpine restaurants and opportunities to feast on traditional cheese fondue and rostis. The resort also connects to the further peaks surrounding the Matterhorn by cablecars, although the views from Zermatt are still hard to beat.
Zurich, Switzerland
Suggested by Laura of The Travelling Stomach
The Swiss city of Zurich will almost certainly be the starting point for many people visiting the country, particularly during winter time. With many European and worldwide flight connections, Zurich airport is a truly global hub. The city itself is relatively modest in size compared to some of the other capitals of Europe, which makes it pleasant and easy enough to explore on foot, especially if you stay at the 25hours Hotel, only a few minutes from the central train station.
Set along the banks of the River Limmat, which flows into the stunning lake alongside the city, its old town straddles the water with a number of pretty bridges and sights dotted along. Around Christmas, you will enjoy snow around the city and lined across the peaks that surround it. During this time, explore the nooks and crannies around the town or even go shopping for one of the country's famous watches. The city's thermal baths are one not to miss during your winter visit to soak in and let the strains of daily life flow away. Then, after a chilly day around town, finish off by tucking into a delicious cheese fondue at Swiss Chuchi – its one of the best in town, so make sure you get a reservation before turning up!
Best Places to Visit in Europe in Winter: Eastern Europe
Budapest, Hungary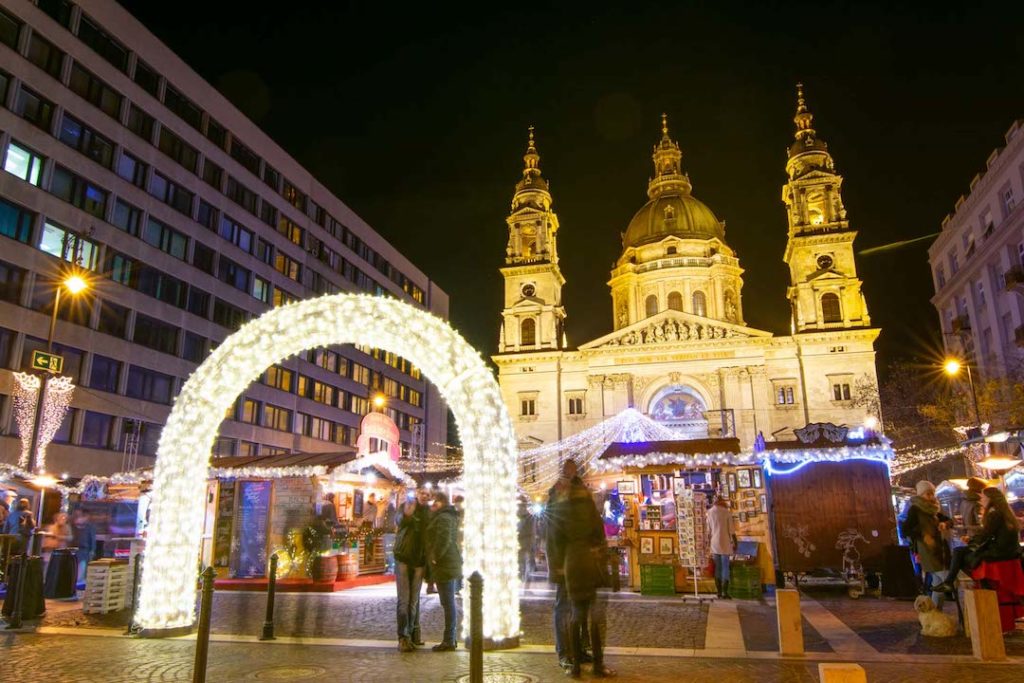 Suggested by Hannah & Adam of Getting Stamped
In our opinion, winter is one of the best times of the year to visit Europe and especially Budapest, one of the best places to visit in Europe in winter! Not only does the city transform into the most amazing winter wonderland, there are a lot less tourists exploring the city center too.
Budapest is home to some of the best Christmas markets on the continent – full of unique, locally made gifts, Hungarian food and drink specialities, and the most magical winter backdrops complete with sparkling Christmas lights.
Make sure to visit the biggest and longest Budapest Christmas market that takes place on Vörösmarty square in the heart of the city, complete with food stalls, craft vendors and live music. For something a little more cosier, pay a visit to St. Stephen's Basilica Market for ice skating, a light screening show and tons of Hungarian treats. And if you want to feel like a local, head over to the charming old town of Óbuda and take a ride on the carrousel and during their Christmas market.
While visiting the markets, give Goulash, a famous Hungarian cuisine a try. Crave your sweet tooth with a chimney cake, a hollow pastry baked over charcoal, caramelized on the outside, often rolled in cinnamon, walnut, or almond. And top it off with a mulled wine!
Romania
Suggested by Anita of Anita Hendrieka
Romania is one of the best places to visit in Europe in winter because it really has it all! You can expect snow, majestic castles, heart-warming food and beautiful landscapes. One of leading cities in Romania to visit in the snow is Brasov. It's located in the heart of Transylvania and is absolutely magical when covered in snow. Not only that but it offers winter sports nearby which any winter bunny would be excited about.
The nearby town of Rasnov is also not to be missed when visiting Romania in the wintertime. It's only a 40-minute drive away from Brasov and has one of the best castles within Romania that is a little under the radar. From the top of the castle you also get a great look of the landscapes below and you have incredible mountains to climb nearby too!
The capital of Bucharest is also a splendid city to visit in the winter. During the Christmas period, they have some of the best Christmas markets around! There are also lots of cosy bookshops you can warm up in, including the most famous, Cărturești Carusel.
Another great thing to do in winter is to visit some thermal hot springs! Băile Herculane offers natural thermal springs to warm yourself up in as well as relax and enjoy the health properties of the water.
As there's an abundance of things to do within Romania for winter, it makes it one of the leading destinations in Europe during the cold period. Another great thing about the country is that it is extremely affordable for travelers!
St Petersburg, Russia
Suggested by Rai of A Rai of Light
What makes this grand city one of the best places to visit in Europe winter is the festive atmosphere with plenty of things to see and do in St Petersburg. The city is beautiful in the snow as locals prepare to celebrate the cold season. Think spiced glintwein, troika rides, and snow-capped domes.
Considered the cultural capital of the country, it has a long history, dating back to the early 1700s and it has gained a multitude of artistic and architectural treasures. There are also plenty of cultural events, outdoor activities, and Russian celebrations in Winter. From Ice Hockey at the Ice Palace to skiing at Tsarskoye Selo and sledging at Victory Park.
If it's too cold to be outside, there's still a lot to keep you busy indoors. No visit to the city is complete without a stop at the Hermitage Museum, the Winter Palace and Catherine Palace, housing one of the world's largest collection of historic items.
Warsaw, Poland
Suggested by Dagney of Cultural Obscura
Warsaw is one of the best places to visit in Europe in winter. It is cold, but kind of magical.
Like many European cities, Warsaw hosts an annual Christmas market – two, actually. The main one is in Castle Square at the heart of Warsaw's old town, while a smaller one is located just outside of the Palace of Culture and Science. As the holidays approach, Warsaw also comes to life with Christmas trees, lights, and mulled wine. Łazienki Park and Wilanów Palace are especially impressive and well worth visiting this time of year to see the elaborate Christmas decorations.
But Christmas markets aren't the only reason to visit Warsaw in the wintertime. As it gets colder, a handful of skating rinks open around the city, and sometimes the River Wisła even freezes over, allowing people to walk across it. Pierogis, one of the delicious traditional foods of Poland, are particularly comforting during winter. And be sure to treat yourself to a scrumptious hot chocolate from Cafe E. Wedel.
Winter is also a wonderful time to visit because it is less busy. Even some of the most popular museums in Warsaw, such as the Uprising Museum and the POLIN, can be nearly empty this time of year. It is not entirely uncommon to be the only one walking through the Old Town. Take advantage of the quiet and get serenaded by one of the city's Chopin benches!
Wroclaw, Poland
Suggested by Marta and Milosz of Backpackers Wro
Wrocław is the fourth largest city in southwestern Poland, located near Germany and the Czech Republic border. It is a city with a long and exciting history, full of young people and a wide range of cultural events all year long.
Wrocław is worth visiting during every season of the year, especially in winter. First of all, Wrocław is considered one of the warmest cities in Poland. The temperatures are quite pleasant, and it rarely snows here. During December and January, the city is beautifully illuminated, so it's worth having an evening walk around the Old Town and Ostrów Tumski, which is the oldest part of the town.
Throughout December, Wrocław boasts one of Poland's best and largest Christmas markets and the Old Town turns into a fairytale scenery. You can have a mulled wine or hot chocolate as well as try some delicious Christmas dishes or grilled 'oscypek,' sheep cheese from Polish mountains. You can also buy some traditional Christmas ornaments or unique handmade Christmas gifts for your loved ones.
If you like, you can take a one-day trip from Wroclaw to get to know Lower Silesia region better. For fans of mountains and skiing, we recommend a trip to the Karkonosze Mountains. In winter it snows there all the time!
Zakopane, Poland
Suggested by Diana of Travels in Poland
In the most southern part of Poland, you will find one of the most beautiful towns in Europe- Zakopane. As a former host of the Winter Olympics, Zakopane has so much to offer travelers in the winter. It's location is perfectly situated at the base of the Tatra Mountains.
The town is one of the most popular winter ski destinations in Poland, drawing visitors from across Europe. It is a two-hour drive from Krakow as well, allowing visitors to reach the town fairly easily. The city is known for traditional chalets and it is evident as you drive through the town how beautiful it really is. With deep sloping roofs, it makes it seem very fairy-tale like. Wandering the main street of Zakopane is a must do when visiting the town. Trying the local foods such as potato pancakes or the ever popular Oscypek cheese is necessary when meandering around the town.
Most importantly, skiing in the Tatra Mountains is one of the best parts of visiting Zakopane. There are two especially popular winter ski destinations, Gubalowka and Kasprowy Wierch. Kasprowy Wierch can be reached by cable car and is one of the most popular things to do in Zakopane.
Best Places to Visit in Europe in Winter: Northern Europe
Copenhagen, Denmark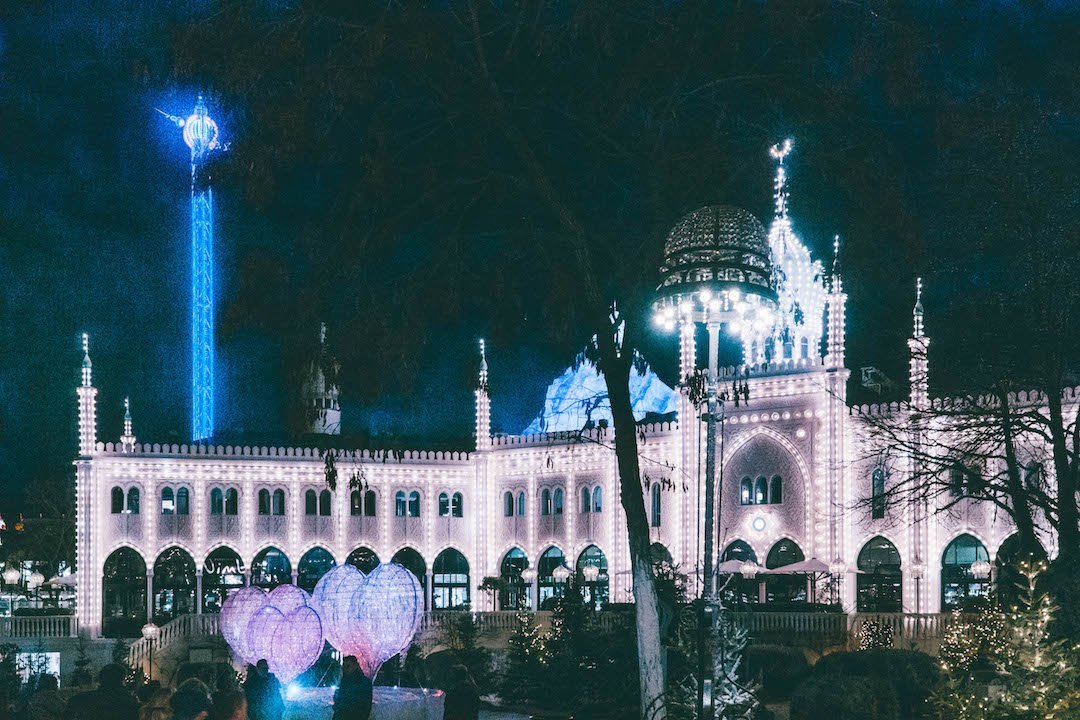 Suggested by Addie of Addie Abroad (aka me!)
Having visited Copenhagen in both December and May now, I can safely say that Copenhagen in winter is one of the absolute best times to visit-and one of the best places to visit in Europe in winter in general!
Whether you're exploring one of the many Christmas markets or experiencing a bit of Danish hygge, there are so many amazing things to do in Copenhagen that make it the perfect winter destination.
As far as Christmas markets go, perhaps the most magical one can be found in Tivoli Gardens, the amusement park which is said to have inspired Disneyland. Or is it the Christmas market at Kronborg Castle? If you're looking for something more alternative, then be sure to try out the Christmas market at Christiania.
As for experiencing Danish hygge, the best way to go about it is to curl up by a fire with a delicious cup of coffee or hot chocolate. And be sure to do it with someone that you love! But if you're looking for a little more info on hygge, then I highly recommend taking a hygge tour!
Finally, be sure to take some time to simply wander around the city or take a canal boat tour. There are so many amazing things to do in Copenhagen, and the winter makes it all the more magical. Just be sure to pack well!
Helsinki, Finland
Suggested by Chrisoula of Travel Passionate
Despite having pretty short days throughout the whole of winter, Helsinki is still a great destination for a winter getaway. The whole city becomes a snowy wonderland, with the parks, boulevards and quaint buildings doused in an icing-like layer of snow. The joy of the short Scandinavian days in winter is that you get to enjoy sunrise, sunset and the blue-black twilight all within a matter of hours – an absolute dream for photographers. Helsinki is then lit up by twinkling Christmas lights and decorations throughout the night to guide you through your nocturnal activities. It's definitely one of the best places to visit in Europe in winter!
As you can probably imagine, Helsinki is a pretty chilly winter destination (to say the least!) so you'll want to wrap up warm in plenty of layers in order to enjoy your trip. As long as you have a decent coat and some waterproof shoes, you'll be ready to discover all the Helsinki has to offer.
So, what is there to do in Helsinki in winter? Well, you can go ice skating in the Helsinki Ice Park, visit the Helsinki indoor gardens, explore the city's famous market halls and see sights such as the Uspenski Cathedral, the Central Railway Station and Senate Square. To warm up, head inside to one of the city's many museums, dine out at some incredible restaurants or head to the Löyly or Kotiharju saunas for an afternoon of relaxation! While the islands of Suomenlinna are a favorite summer destination for locals, they are also wonderful in winter. These picturesque islands are a peaceful place to get out in nature and contemplate the year's end and a new beginning.
Iceland
Suggested by Addie of Addie Abroad (aka me!)
No matter what time of year it is, Iceland is a popular destination. But if you're looking to escape at least some of the crowds–and get the chance to see the northern lights, then Iceland is easily one of the best places to visit in Europe in winter!
Start your trip out by exploring downtown Reykjavik with far fewer people. If you visit Iceland in December, you might even be lucky enough to spot the Christmas cat. Or, at the very least, some gorgeous Christmas lights!
If you're visiting Iceland in winter, I highly suggest basing yourself in Reykjavik and taking guided day trips throughout the region so you don't have to deal with driving in bad conditions. I've actually written up a whole post about seeing Iceland without a car!
Explore the Golden Circle, discover the black sand beach of Vík, and even head down to see "Iceland in Miniature" on the Snaefellsnes Peninsula! While you're still likely to encounter a fair number of people, it will be nothing compared to the summer crowds.
But perhaps what makes Iceland one of the best places to visit in Europe in winter are the natural phenomenons that you'll have the chance to experience! Only having a few hours of daylight is incredibly interesting (you'll never miss a sunrise while you're there 😉 ), and the northern lights are absolutely amazing!
Lapland, Finland
Suggested by Veronica of Travel Geekery
The area above the Arctic Circle in Finland, called Lapland, is a magical place to visit on its own. But winter in Lapland is the season when its beauty truly shines through.
It's when a blanket of snow as thick as you can imagine covers everything and converts the landscapes into winter dreamland. People living up there are perfectly adept to living wintery life for the bigger part of year. That's why you can engage in a number of fascinating winter activities.
Imagine any winter fun – you can do it in Lapland! From skiing to snowboarding, from hiking in snowshoes to riding snow-covered lakes and meadows on a snowmobile. Do you like cross-country skiing? How about husky riding or enjoying a peaceful sleigh ride pulled by reindeer? Of course you can do all that in Lapland and as a bonus, you might experience the most wonderful performance nature can put on – the Northern Lights.
But that's not all. Did you know that Rovaniemi, the largest city in Finnish Lapland, is the base of Santa Claus? That's right, he has his office there and you can write him letters from all over the world. The elves take care of the post and running the whole operations. 😉 You can even have a photo taken with Santa, but it'll cost you. There's no better time to visit Santa's village than in winter.
Lofoten Islands, Norway
Suggested by Jodie of A La Jode
Winter is one of the best times to visit the Lofoten Islands in Northern Norway, especially if you can time your trip at the start or end of the season. There are lots of things to do in Lofoten during the colder months, including snow hikes, cold water surfing, many unique museums and even a Michelin-starred restaurant.
Of course, there's also a good chance you'll get to see the Northern Lights in Lofoten. Being inside the Arctic Circle, the area enjoys frequent aurora displays during the winter months. If you want to maximise your chances of seeing them, try to plan your trip to Lofoten in February, March or November. At this time of year, the weather is less unpredictable than it can be in December and January, but there are still plenty of hours of darkness every day.
Many tourists head to Lofoten in June to experience the midnight sun, but not many people visit throughout the rest of the year. That means you'll be able to enjoy many of Lofoten's best bits all to yourself while you're there. Visiting Lofoten and seeing it at its most desolate is part of the magic, and is just another reason why winter is a great time to visit.
Stockholm, Sweden
Suggested by Natalie of Love and Road
Stockholm is magical during winter, especially in December or January when the Christmas decorations are out. There are two things you must consider when planning your trip to Stockholm in winter, the first is that it's gonna be very cold, second is that most of the attractions have different opening times during these months. Because of that, my suggestion is to stay in the Swedish capital for at least 3 days.
One of the best things to do in Stockholm is to walk around the city, admire the architecture, the frozen rivers and how each island is different from another. Spend some extra hours strolling around the historic Gamla Stan neighborhood. Later on, jump on a boat tour and explore the city from a different perspective. When you are done with being outside, find your way to the closest metro station. Almost every metro station in Stockholm is a piece of art, explore them while going from one attraction to another.
The Stockholm Royal Palace and the City Hall are two must-visit places, don't forget to add them to your itinerary. Stockholm's museums are worth mentioning too, the city has an island called Djurgårdsslätten where some of the best museums are located. For sure you won't regret spending a day there, look for the Vasa Museum, Nordic Museum, ABBA Museum (a must for music lovers) and Spritmuseum (for spirits and vodka lovers).
Stockholm is the address of good food, the city has many international restaurants and plenty of street food a bite on the go. If you want to try local delicacies visit the Ostermalm Saluhall Market with an empty stomach, I'm sure you will love it.
Best Places to Visit in Europe in Winter: Southern Europe
Algarve, Portugal
Suggested by Linn of Brainy Backpackers
The Algarve coast in southern Portugal is one of the most beautiful coastlines in Europe with its raw rugged cliffs towering over the Atlantic Ocean. This makes the area perfect for hiking in winter when the weather isn't too burning hot. There are numerous trails to choose from and different levels. Some of the most beautiful are Seven Hanging Valleys Trail from Carvoeiro and the trail from Lagos to Ponta da Piedade. These are nice day walks and can be combined with enjoying the warm winter sun on one of the many world-famous beaches, like Marinha beach and Camilo beach. The whole coastline is great for surfing and other water sports like scuba diving.
The coastline is also known for its many incredible caves, where the most famous is the mesmerizing Benagil beach cave. This is a natural wonder you can only reach by boat, kayak, or standup paddleboard. With a boat trip, you can explore many caves on a tour, while by kayak or standup paddleboard you have the freedom to get off inside the beach caves and explore them up close. It is not allowed to let people off the boats in the caves.There are plenty of cute villages and cities along the Algarve coast. Among others, Lagos, Albufeira, and Tavira are worth mentioning. Other points of interest are Sagres, Ponta da Piedade, and Algar Seco.
Andorra
Suggested by Ivan of Mind the Travel
You may or may not be surprised, but one of the smallest countries in Europe is actually Andorra. Wedged between Spain and France, this extraordinary country lies at an average 2,000 meters above sea level that makes it one of the best destinations for skiing and snowboarding, and one of the best places to visit in Europe in winter! The Principality of Andorra is home to less than 80,000 people, while over 9 million tourists visit each year to ski and shop. It results in a weird but charming mix of French, Spanish, and Catalan cultures. Plus, a wide array of winter activities and plentiful shopping opportunities.
Andorra is a unique place to visit, which is only a 2.5-hour drive northwest from Barcelona. Andorra used to mainly attract holidaymakers looking for an active adventure. But over the past few decades, the country made a large investment in skiing infrastructure making the entire area a great alternative to the Alps and a very popular skiing area near Barcelona.
Now the elevated offerings of the ski resorts and their mountain villages attract affluent travelers seeking luxury, as well as families. Even with these improvements, the value of what you get for your money in Andorra is still unmatched. You can have a luxurious vacation at a much cheaper price tag than you could in France or Switzerland.
Grandvalira and Vallnord are the two main ski areas in Andorra. Grandvalira is the biggest ski area in the Pyrenees and a good choice for great skiing near Barcelona with 67 ski lifts servicing 18 green slopes, 38 blue slopes, 32 red and 22 black slopes bring the total to 110 slopes on a skiable area of 20 square kilometers.
The thing that differentiates Grandvalira and many ski resorts in the rest of Europe are short lift queues. Even at the weekend you can often ski for hours in Andorra without having to queue for more than a few minutes.
Vallnord has amazing slopes with a gentler gradient that are perfect for families and first-timers. I didn't have a chance to enjoy skiing and snowboarding at Vallnord but my friends told me that the Arcalís–Ordino sector has the best off-piste skiing in Andorra.
Barcelona, Spain
Suggested by Vicki of Vicki Viaja
When thinking about places to spend the winter in Europe in, you might think rather of snowy places in Northern and Central Europe than the sunny city of Barcelona. Anyway, Barcelona is an amazing place to visit during the winter as the sun is shining almost every day and you can still sit outside warmed by the sun while enjoying your café von leche or an ice-cold sangria just as you would in any other season.
Even though the water of the mediterranean sea is likely to be too cold to swim in during the winter months, you can still take a beautiful walk along the city's coast. In winter, there are fewer tourists, which makes your walk much more peaceful and quiet. But also at the other attractions that are part of your Barcelona travel itinerary, you will meet way fewer tourists as during high-season (unless you are traveling between Christmas and New Year). Also for your accommodation, you will most likely spend fewer as you would during the summer months which is great if you are traveling on a budget.
One thing you should definitely have a bite of if you visit Barcelona in the winter, are churros. You are totally going to love this sweet pastry. Mostly they are served with a cup of hot chocolate to dip your freshly-baked churros in before enjoying them.
Cagliari, Italy
Suggested by Daniel of Layer Culture
When looking for the best places to visit in Europe in winter for sun, be sure to check out the island of Sardinia in Italy. Head over to Cagliari, a city once known for being Italy's capital of culture to explore a lively ancient city with a hearty mix of locals and tourists.
In Cagliari, you'll learn how everything from Gladiatorial contests to public executions would go down at the Roman Amphitheatre. See the Roman Ruins for yourself in closer detail with just a short walk from the center. As you walk up and along the hilly streets, you are presented with countless multi-colored buildings that help light up the city. Some streets lead to castles and others to attractive venues where you can eat authentic pizza. Picture perfect on a sunny winter afternoon.
Reach one of the many hilltops for lunch, or a turn another corner and find a row of tables waiting to serve you with the finest Sardinian cuisine. Every day you spend is another opportunity to grab yourself a gelato and continue exploring the diverse architecture.
There are some great sights down in the Marina area where you can find more shops and restaurants. Not to mention, access to both the bus and train service which will allow you to transport yourself further around the island. The historic center of Cagliari extends more than meets the eye, so a couple of days here is recommended.
Cortina d'Ampezzo, Italy
Suggested by Coni of Experiencing the Globe
A textbook European winter destination is Cortina d'Ampezzo. The little town in the Italian Dolomites welcomes skiers and snowboarders with 120 km of very well groomed pistes and 37 cable cars and lifts. It's also a great destination for those who are not into winter sports, though. Cortina is a posh city, with many 5-star
resorts, spas, and designer shops. And it's an even better place for those looking for breathtaking views. The town itself if quite a sight, all covered in white, surrounded by beautiful massifs. But the vistas from the mountains are simply stunning.
A short cable car ride up to Tofana, Faloria or Pocol will give you incredible aerial views of the city, and a jaw-dropping panorama of the mountains and the valleys around them. You can easily reach any of the ski resorts with a convenient season bus that goes around them while they're opened. On top you'll find a mountain hut that will provide mulled wine (of course coffee and food too) and shelter to enjoy the vistas while being comfortable and warm.
The town is 160 km north of Venice, and only the beautiful winding
mountain road makes the trip worth it. Have your camera ready from the
get-go!
Cyprus
Suggested by Maggie of The World Was Here First
If you're looking for the best places to visit in Europe in winter, then you absolutely cannot go wrong with heading to Cyprus. Situated in the southeastern Mediterranean, this island nation is one of the warmest in Europe and experiences over 300 days of sunshine per year. Even in the coldest months of the year, temperatures in Cyprus will rarely dip below 16°C and you can easily expect warmer weather than that.
Along with the perennially warm and sunny weather, there are countless things to do in Cyprus that are sure to occupy any type of traveller. While the winter months may be slightly too cold to lounge on the beach or swim in the Mediterranean, there are so many things to see and do throughout the country that aren't related to the sea that visitors have to try hard to be bored.
If you're a history buff, then Cyprus is an excellent place to visit — especially if you're interested in ancient Greek ruins. No matter if you decide to base yourself in the underrated capital of Nicosia or in one of the more popular coastal cities like Paphos, Larnaca or Limassol, you will only be a stone's throw away from some incredible ruins and fascinating history. If you're more interested in local culture and gastronomy, then heading to some of the mountain villages in the Troodos mountains to go wine tasting or exploring is also a fantastic winter option. Of course, hiking is also a great option in the winter months as you won't have to combat the oppressive heat that comes with the summer. If you want to experience some of Cyprus' best hiking trails, head to the Akamas Peninsula or the Paphos Forest.
All in all, if you're looking to escape the winter cold in continental Europe, then you cannot go wrong with a trip to Cyprus!
Florence, Italy
Suggested by Dhara of It's Not About the Miles
Winter is a fabulous time to visit Florence, Italy. You'll find tons of things to do in Florence any time you visit: after all, as the cradle of the Renaissance, Florence is a treasure house of art and architecture. But if you visit in the winter, you'll see it all with two big bonuses: fewer crowds and smaller lines at the major sights, and lower prices on accommodations.
Climb to the top of the Duomo di Firenze for magnificent views over the rooftops of the city. Or climb Giotto's Campanile next door for equally fabulous views. Walk the city's famous piazzas. Cross the historic Ponte Vecchio. Duck into a cafe it it gets cold, to sip on hot coffee or hot chocolate.
View some of the most famous art in the world at the renowned Uffizi Gallery, or stare in awe at Michelangelo's David in the Accademia Gallery. Other than these two famous museums, Florence is home to many others that are worth visiting. For example, the Bargello Museum holds many beautiful sculptures and is rarely super crowded.
At sunset, a visit to Piazzale Michelangelo is a must! You'll see the city spread out below you, glowing in the mellow light of the late day sun. As the lights come on, you'll be moved by one of the most beautiful views on the planet.
If you visit around the holidays, you'll find Florence decked up for Christmas, in green, red, and gold. Walk the historic center to see nativity scenes and decorated Christmas trees. Enjoy the Christmas markets and browse for souvenirs.
Lisbon, Portugal
Suggested by Ioana of The World is My Playground
Lisbon, one of the cheapest cities to visit in Western Europe, is also one of the coolest cities in Europe and perfect for a winter getaway. The hilly city will charm you with terrific architecture and panoramic views at every corner, great food, friendly people, and rich history.
Start your visit at Praca de Comercio, an oceanfront square that's considered the heart of the city. Pass under Arco da Rua Augusta and stroll northbound towards the trendy Rossio neighbourhood. This main commercial street has charming shops, restaurants and cafes, and includes gems like the Elevador de Santa Justa, a historical vertical elevator with a panoramic view from the top.
Next, head to Castelo de Sao Jorge, a well-preserved castle in the city. Spend a couple of hours exploring the grounds and enjoying the panoramic views over Lisbon. On your way downhill from the castle, take tram 28 for an authentic Lisbon experience on the famous vintage tram.
Beside its main attractions, Lisbon has seven viewpoints, or 'Miradouros', where you can see the city and its charming rooftops from every angle. Most viewpoints have a small bar at the top where you can stop for a drink while taking in the view – the bars even have blankets for those cold days. All seven viewpoints are unique and worth checking out, but if you're short on time, head to Miradouro de Santa Luzia and Miradouro da Graca.
Lisbon can be seen during any of the winter months, though if you prefer the warmest weather, I suggest you go during November. On average, the temperature during the day is between 12 and 18°C, which is perfect for roaming around the city and sightseeing. However, after sundown, temperatures can drastically decrease, so come prepared with extra layers.
Malta
Suggested by Inma of A World to Travel
After two visits, one in autumn and one in winter, today I am here to tell you how great this Mediterranean destination is during the off-season. Malta in winter rocks!
But why do I say this?
Well, first of all, you have to know that despite there is a common tendency to think that summer temperatures are enjoyed in all the coastal countries of the Mediterranean, this is a false belief. The temperatures are mild, yes, but they cannot be considered summery in many places. And Malta is one of them.
On the other hand, it also rains quite a lot during the winter season so if this destination is on your plans, get ready for it!
But the case is that, if wearing a jacket and a raincoat does not scare you, you can enjoy these islands (especially the two largest ones, Malta and Gozo) almost without tourists, with ridiculous prices and the locals much friendlier than usual as they don't have to deal with the infamous over-tourism issues.
Stop giving it so much thought and decide to spend a winter holiday in Malta. A quiet, cheap and beautiful destination with a lot of history to discover!
Ponte di Legno, Italy
Suggested by Isabelle of Boundless Roads
Ponte di Legno is a quirky small town in Val Camonica, located somewhere in the middle of the spectacular Italian Alps in Brescia Province.
Although it's considered a vacation destination all year round, I used to enjoy its winter the most, at a time when I loved snowboarding more than anything else.
To be precise Ponte di Legno is the closest and most popular town located in a more extended ski area that includes Ponte di Legno, ​Tonale, ​Presena Glacier, and ​Temù. Altogether the area offers something like 100 km of slopes available and 28 lifts transport, at an elevation between 1,121 and 3,000 m.
Differently from when I use to hang out there, now all the slopes and ski lift are connected for the full enjoyment of the tourists who can spend less time on the lifts and more flying over the soft white slopes.
There are many kinds of terrains and dificulties to suit every kind of skiers and snowboarder, including the little ones who have plenty of space where they can learn and practice.
In Pontedilegno-Tonale, as well as skiing, you can also go cross-country skiing, on winter hikes, snowshoe hikes or do spectacular night tours on snowmobiles.
Those who don't ski can enjoy nice walks in the beautiful town where they are also building a futuristic spa complex that will be ready for winter 2021. We all can't wait to try it as well.
Porto, Portugal
Suggested by Chris of Explore Now or Never
Porto's temperate Mediterranean climate makes it perfect for a winter visit! While it's not as warm as the beaches in the Algarve further south, it's still a welcome reprieve from cooler climes further north in Europe. Expect temperatures in winter that range between 43 to 76 degrees Fahrenheit (6 to 24 degrees Celsius).
There are so many things to do in Porto! And sunny winter days are the perfect time to do them. Unlike larger Lisbon, Porto is smaller, somewhat flat, and far more walkable. One of the very best ways, in fact, to discover this beautiful traditional fishing village is to take yourself on a walking tour of the gorgeous tile building facades here.
Start in Old Town on your first day, visiting the Chapel of Souls, famous Clérigos Bell Tower, and twin churches (Carmo and Carmelitas). If you're willing to brave the crowds, stop by the gorgeous Lello Bookstore of Harry Potter fame. Ride an antique trolley car, take in a Fado performance, and gasp at the tilework in the historic Sao Bento Train station. Go port tasting at the port houses on the River Douro!
With more time, plan a day or more port tasting in the nearby Douro Valley. The green terraced hillsides give way to a deep valley along the River Douro. It's a unique and scenic experience that even non-drinkers will enjoy. You can tour the vineyards on your own or choose a day tour from Porto.
Portuguese food is the perfect comfort food for winter, too. Think bachalau a brás, a beautiful dish of salt cod, diced potatoes, and scrambled eggs, seasoned with garlic, parsley, and olives. Porto is delightful any time of year, and particularly in winter with fewer crowds!
Rome, Italy
Suggested by Marta of Mama Loves Rome
Rome is a wonderful destination in most seasons but there is something special about Rome in winter.
At this time, you need to wrap up to go sightseeing and you may even get the occasional rainy day; however, the city has some special treats for those who brave its coldest season: great festive cheer (December), crowd-free sightseeing opportunities (January – March) and some of the most delicious food you can think of!
There is plenty to do in Rome in winter. If this is your first time in the city, you can make the most of the shorter queues to visit Rome's most famous sites. I always recommend to include the Colosseum and the Pantheon in any Rome itinerary, as well as adding long walks in Rome's famous piazzas.
Piazza Navona, Trevi and Piazza di Spagna are just the most famous but Rome has hidden gems around every corner and there is no better way to explore them than allowing yourself long walks in the city center.
Winter is also a great time to tuck into Rome's traditional food. The city is famous for warming, filling dishes and there is no better way to taste them than joining the locals in one of the cozy's wine bars in the city: usually decorated with dark wood shelves and endless bottles, they offer genuine fare and are the perfect place to escape a chilly night!
Last but no least, Rome in winter has great shopping opportunities. January is sales season in Rome and February starts bringing in the first signs of spring, both in the forms of blossoms and new seasons collections. The best place to go is the area of Via del Corso, in the center, where both sightseeing and shopping opportunities abound.
Sicily
Suggested by Mar of Once in a Lifetime Journey
Sicily in the peak summer months is a frantic and busy place where dozens of cruise ships dock every week. While winter can be colder, it rarely gets to freezing points with the average temperature hanging around 9 degrees and highs in the teens (at ground level). It's therefore the perfect place to relax and take in the gorgeous scenery in a less crowded environment–and it's definitely one of the best places to visit in Europe in winter!
The quaint town of Taormina is particularly wonderful at this time of year as it is nestled in a cove and surrounded by mountains, so the weather and temperatures are even better than elsewhere. Along with nearby Syracuse you can explore some spectacular ancient sights like the Greek and Roman ruins.
There are wineries to explore in the three main regions of Etna, Marsala and Trapani that serve up some unique volcanic soil based cultivars. If you have your sea legs and the sun is out, you can sail to the UNESCO-inscribed Aeolian Archipelago and its seven islands. Probably the most popular activity in winter in Sicily is to visit the Godfather movie locations in Savoca and Forza d'Agro (not Corleone). But of course, you can't visit Sicily without stuffing your face with cannoli, granita and other delicious Sicilian dishes.
Culture vultures will love exploring the churches in the capital of Palermo. Brave, intrepid and sporty travelers can trek up snowy Mount Etna, where they will get the chance to ski on an active volcano. The mountain is even cold in summer, so you will need to dress appropriately.
Pin it for later!