Contrary to popular belief, you don't actually need a car to see Iceland. While images of road trips around the island are probably the first thing that pop into your head, they're not the only way to see this absolutely amazing country. Whether you're spending 5 days in Iceland travelling solo and don't want to drive alone, don't want to brave the winter roads, or just don't want to spend each night in a new place, seeing Iceland without a car is totally possible!

How? By basing yourself in Reykjavik and taking guided day trips to the surrounding area.

I spent 5 days in Iceland in December based in Reykjavik and had a fantastic time. Over those 5 days I was not only able to see Reykjavik (duh), but the Golden Circle, the South Coast, the Snaefellsness Peninsula, the Blue Lagoon, and the freaking NORTHERN LIGHTS. I'll be thinking about it with stars in my eyes for the rest of my life.

If you, too, want to see the beauty of Iceland without a car, then keep reading. I've got some mad knowledge to drop on you.

So without further ado, here is the absolutely perfect Iceland itinerary for 5 days (without renting a car)!

HOW TO GET TO ICELAND

It honestly couldn't be easier to get to Iceland if you're based in Europe or North America. With the rise of the island's popularity has come a plethora of flight options, many of which are super budget friendly.

For this Iceland itinerary, you'll be flying into Keflavik International Airport, just outside of Reykjavik.

If you're coming from North America, the cheapest option will likely be with Icelandair, as Wow Air has just gone out of business. If you're planning on flying elsewhere in Europe and want to add a stop in Iceland, look into Icelandair's stopover program. With it, you can stay up to 7 days in Iceland without the cost of another flight.

If you're coming from Europe, both Easyjet and Ryanair fly into Keflavik!

WHERE TO STAY REYKJAVIK

When it comes to great places to stay in Reykjavik, you're spoiled for options. And you can find some great accommodations even if you're on a budget!

I stayed at Kex Hostel Reykjavik and absolutely LOVED it. Housed in a former biscuit factory, this hostel is perfect amounts trendy and functional. It's got a kitchen on every floor as well as a bangin' hostel bar & restaurant. It's got plenty of bathrooms. Oh, and the beds are comfy. Obviously.

Probably the best part about staying at Kex Hostel, though, was that it's located outside of the Reykjavik bus ban zone, meaning that when I took guided day trips the van could pick me up from directly in front of the hostel, rather than me having to walk to an allocated bus stop. For this Iceland itinerary, I'd definitely suggest staying at a hotel or hostel outside of the bus ban zone. That way, you don't have to walk to a bus stop every morning!

If you've got a slightly higher budget, here are a few more options with direct pick up that look awesome:
5 DAYS IN ICELAND: YOUR PERFECT ICELAND ITINERARY

Alright, now that you know how you're getting to Iceland and where to stay in Reykjavik, it's time to move on to the actual Iceland itinerary!

DAY 1: EXPLORE REYKJAVIK & NORTHERN LIGHTS

Spend your first full day in Iceland exploring downtown Reykjavik. Although Reykjavik is Iceland's capital, it's relatively small and can be easily explored on foot in a day. Here are a few can't miss things to see and do in Reykjavik:

Hallgrimskirka – this famous church was built to look like a mountain and is a kind of modern gorgeous you don't normally see in European churches. Head to the top for the best views over Rekyjavik! Entrance to the church itself is free, but it costs 1000 ISK to go to the viewing area.
Harpa Concert Hall – following the theme of buildings made to look like nature is the Harpa concert hall, which is supposed to look like a glacier. It's mirror-like windows are totally entrancing. And the inside even more so. You can wander around inside for free or see a show!
Skólavörðustígur Street – this street, leading up to Hallgrimskirka, is absolutely adorable and a perfect photo stop.
Funny museums – Reykjavik is home to several fun museums, including the Phallological Museum and the hole-in-the-wall Punk Rock Museum. Great to get out of the cold for a while if you're there in the winter!
Kolaportið Flea Market – a great place to pick up a second-hand Icelandic sweater!
Icelandic Street Food – Another great way to warm up is with a piping hot bowl of traditional Icelandic lamb soup. Even better? Put it in a freaking bread bowl. Even even better? Make it cheap and with a free refill. A freaking godsend in expensive Iceland.
Free Walking Tour – If you're looking for a good way to learn a bit more about Reykjavik while having a good laugh, then definitely go on a free walking tour with Free Walking Tour Reykjavik. Their guides are all local comedians! You don't actually see too many sites (although we did see a golden retriever convention) but the information is great!

REYKJAVIK NORTHERN LIGHTS TOUR

If you're in Iceland in the winter, then there's probably one thing on your mind: seeing the Northern Lights. So, once it's been dark for an hour or two head back to your hotel/hostel in time for pick up. You're going on a Northern Lights tour!

Going with a tour is actually the best way to see the Northern Lights. This is because the guides are super knowledgeable. They know where to go. They know how to get away from the light pollution and cloud cover. They can read the lights forecast like the back of their hand.

When it comes to northern lights tours from Reykjavik, there are options for every budget–from big bus and shuttle tours to 4×4 jeeps. My suggestion is to splurge for a slightly smaller vehicle because you'll be able to go further faster. A lot of the time on these tours you're getting out of the van, standing for a while, and then getting back in to head to a better spot. A big bus not only isn't able to go to all of the places that a small van is, but it takes way longer to get them filled back up!

Here's one of the best things about northern lights tours from Reykjavik, though: Even if you don't see the lights, you get to rebook for FREE until you do. So the best strategy is to start on your first night and keep going out (when the conditions are right) until you see them. Trust me, it's worth it.

DAY 2: GOLDEN CIRCLE

On your second of 5 days in Iceland take on one of the most popular Reykjavik day trips: the Golden Circle. The Golden Circle consists of 3 insanely famous and popular stops: Geysir Geothermal Area, Thingvellir National Park, and Gulfoss Waterfall. Alongside those 3 famous stops, there are absolutely loads of hidden, off-the-beaten path stops to find along the way.

Again, there are Golden Circle tours out there to fit any budget or travel style, but I highly reccommend EastWest Iceland's Golden Circle Tour. It's the perfect balance between budget-friendly and small and personal and I absolutely loved it. You can read my full review of the tour here!

If you didn't see the Northern Lights last night, then head back out on your rebooked tour tonight.

DAY 3: SOUTH COAST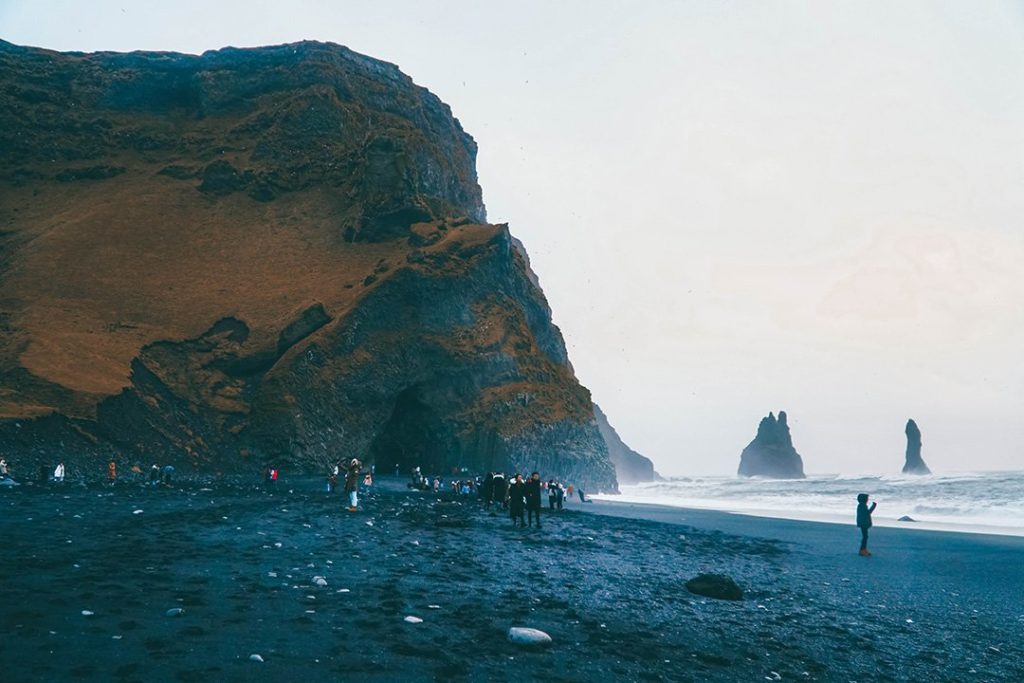 The South Coast is another easy Reykjavik day trip that's full of a lot of heavy hitters. Like, I'm convinced that at least half of the Instagram hotspots in Iceland are on the South Coast. Skogafoss Waterfall? Check. Black sand beach? Check. That plane wreck that everyone is obsessed with for some reason? Yup, that too.

I went on BusTravel Iceland's small group tour of the South Coast, which took us all the way down to Vík and the black sand beach. We also stopped at Seljalandsfoss and Skógafoss waterfalls and Sólheimajökull glacier. All in all, a pretty fantastic day trip. Nothing too exciting as far as the actual tour company went, though.

If you want to explore even more of the South Coast, there are loads of different options. Here's a South Coast day trip that takes you all the way to the Glacier Lagoon. Here's one that includes glacier walking. Here's one that takes you to that plane wreck if you really, really want to see it.

Do keep in mind though that if you go on one of the longer South Coast day trips, you likely won't be back in time to catch a northern lights tour. So it can be worth it to take a shorter tour to be sure you have another chance to see them. Or, you know, just really hope that you see them one of the first two nights.

DAY 4: SNAEFELSNESS PENINSULA

For your fourth day in Iceland, I highly reccommend taking a tour to Snaefelsness Peninsula. Although it is a much longer day trip, it's really worth it in my opion because you get to see "Iceland in Miniature". So if you don't have the ability to do a road trip around the whole island, this is a great option!

A few of the highlights of the Snaefelsness Peninsula include Kirkjufell Mountain, Djúpalónssandur lagoon, and Arnarstapi village.

I went with EastWest Iceland again and, one again, had a fabulous time. This tour was particularly special because it included a homecooked dinner at an Icelandic horse farm(!!!). You can read my full review of the tour here.
DAY 5: BLUE LAGOON & GOODBYE

On your last and final day in Iceland, it's the perfect time to head to the Blue Lagoon. This is because the Blue Lagoon is pretty perfectly located between Rekyjavik and Keflavik Airport.

Yes, it's touristy af. And expensive. But it's just one of those things that, if you're in Iceland, you kind of just have to do. Plus, it is honestly really cool!

In fact, stopping at the Blue Lagoon before or after your flight is so popular that you can book bus transfers from your hotel to the Blue Lagoon and then from the Blue Lagoon to the airport a few hours later (or the other way around). There's also luggage storage, so you don't need to worry about what you'll do with your suitcase.

I suggest giving yourself about 3 hours at the Blue Lagoon before your bus to the airport. That gives you plenty of time to get changed, cash in your free drink and face mask, take sh** loads of pictures, and actually relax in the water.

Pro tip: if you're traveling solo just find someone else who is. I literally just made a best friend for like half an hour because we were both solo and wanted pictures of ourselves. We had a full on photoshoot and I was living for it.

If your flight out is in the morning, then I suggest going to the Blue Lagoon after your incoming flight if you have time.

Goodbye!
And that's it! After the Blue Lagoon, head to Keflavik Airport to catch your flight home (or to your next destination).

If you follow this Iceland itinerary, I promise you truly will have the best 5 days in Iceland. Which day looks the best to you?

Heading to Iceland? Here are a few more posts you might find useful:
Pin it for later!