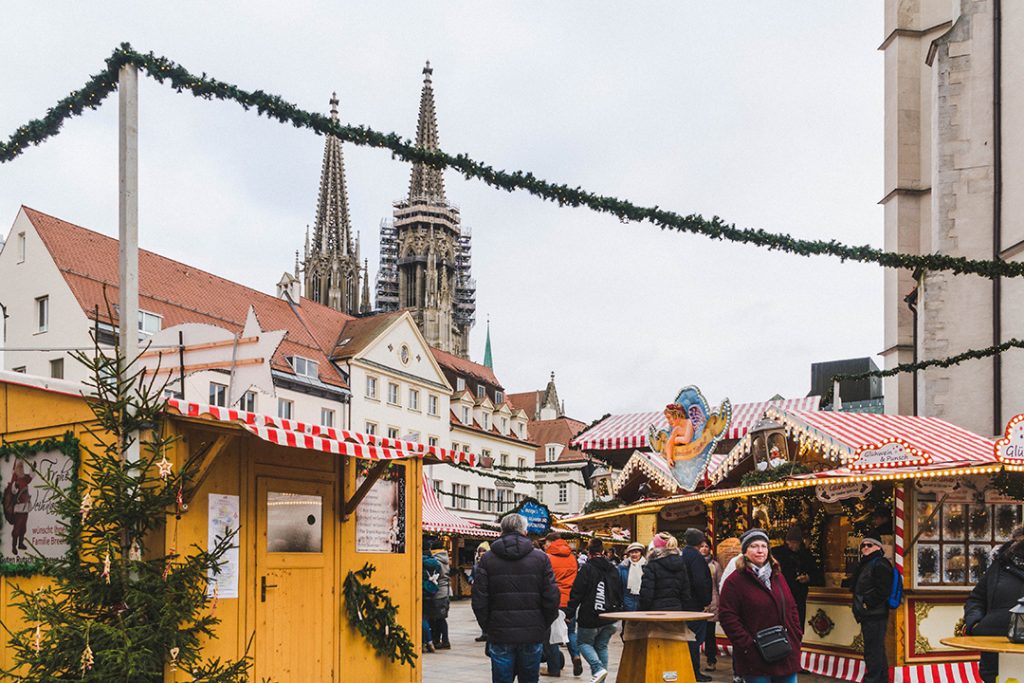 2020 Update: Unfortunately, the Regensburg Christmas Markets have all been cancelled this year – but it's never too early to start planning for 2021! The Katherinenspital Christmas Market in Regensburg has also gone online 🙂
Tiny, winding alleyways. Colorful houses. A gothic cathedral overlooking it all. Regensburg, Germany is an amazing place to visit any time of year. But visit for the Regensburg Christmas Markets and you'll be in for an extra special treat!
Whether it's sipping glühwein in the main market or experiencing the romance at the Thurn & Taxis Castles Christmas Market, Regensburg has a Christmas market for everyone.
The town of Regensburg is small and compact, as are the 4 Regensburg Christmas markets, so you can visit all of the top spots and markets in just a day or two (which is one reason why it's so popular as a river cruise stop, as well).
Here's everything you need to know about visiting the Regensburg Christmas markets, including information on each of the 4 markets, what to eat and drink, and what to buy!
How to Get to Regensburg
Regensburg is super easy to get to, which makes it a great spot for a Christmas market break!
If you're flying in, then the nearest airports are Munich and Nuremberg. From Munich, it's a 1 1/2 hour train ride to Regensburg (you can even hop on a train straight from the airport), and from Nuremberg it's only an hour by train!
Click here to search for flight deals to Munich and here to search for flight deals to Nuremberg.
When you're ready to book your train tickets, then the best place to do so is on the Deutsche Bahn website. If you book more than 3 days ahead, you'll also save a little bit of money!
The 4 Regensburg Christmas Markets You Must Visit
Regensburg has a total of 4 Christmas Markets, all within a 20-minute walk radius.
Each market is different and has something special to offer, so there really is no excuse not to visit all of them!
Regensburg Christmas Markets Map
Here's a handy-dandy little map of where all of the Regensburg Christmas markets are! Save it to your phone for easy navigation while you're there.
Regensburger Christkindlmarkt (Regensburg Christmas Market)
The main Regensburg Christmas market is located on Neupfarrplatz, overlooked by the Neupfarrkirche (church). It's a pretty typical German Christmas market, with plenty of food and gift stalls to browse.
If you have kids, then this is a good first stop as there's a little merry-go-round. There are also several artisans who demonstrate their craft at their stalls (the glass blower right next to the merry-go-round was my favorite), which is fun for all ages.
Be sure to sample at least one of the 40 different kinds of glühwein on offer here! This is also where you'll get a classic Regensburg Christmas market mug, if you're planning to collect one (more on that later).
Regensburg Christmas Market Opening Times 2019
Here are the opening times for the Regensburg Christmas Market 2019:
25th November to 23rd December, 2019
Sunday to Wednesday from 10 am to 8 pm
Thursday, Friday and Saturday from 10 am to 9 pm
For up-to-date opening information about the Regensburg Christmas Market, click here.
Romantic Christmas Market (Thurn & Taxis Christmas Market)
If you've been dreaming of a Christmas market beside a castle, then the Romantic Christmas Market in Regensburg is the one for you. Located in the courtyard of the Thurn and Taxis Castle in Regensburg, this is definitely the most magical Christmas market in Regensburg!
Lit up to the nines with plenty of stalls lining the courtyard, this is a great place to spend the evening.
There's also a special "arts and crafts village" in front of the east and south wing of the castle that's a great place to shop for gifts. And if you have kids, be sure to check out the "Kinderzauberwald" (Kid's Magic Forest) where there are plenty of magical rides .
If you're a night owl, then stick around for the "Hüttengaudi" at the end of the day when the market closes its doors. The Romantic Christmas market website describes it as a "aprés-ski atmosphere", but I wouldn't know as I passed out at like 9:30 pm the night I visited.
Romantic Christmas Market Opening Times 2019
Here are the opening dates & times for the Romantic Christmas Market in 2019:
22nd November to 23rd December 2019 (Closed Sunday, November 24, "Totensonntag")
Sunday to Wednesday from 12 pm to 10 pm
Thursday to Saturday from 12 pm 11 pm
Romantic Christmas Market Entrance Fees
The Romantic Christmas Market is the only one of the Regensburg Christmas markets which charges an entrance fee. While annoying, I still think it's totally worth the price!
If you're looking to save a bit of money, then try going on a weekday or in the evening, as ticket prices rise on the weekends. Also, for some reason, Monday is extra cheap, so if you can plan to be there on a Monday go for it!
I pretty much lucked out and happened to be in Regensburg on a Monday, so got the cheap ticket price and was pretty happy with myself.
Ticket Monday: €4,00
Ticket Tuesday-Friday: €7,00
Ticket Saturday-Sunday: €9,50
Night owls Sunday-Thursday from 8pm: €3.00
Night owls Friday & Saturday from 9pm: €5,00
Children's ticket: €2,00
Lucrezia Market
Lucrezia Market is by far the best market to go to if you're on the hunt for unique gifts or souvenirs, as its focus is on handmade and artisan stalls. There's a wealth of special, unique goods for sale in the market. And, of course, a few spots for Glühwein as well!
In addition to the stalls, there's a cute little advent calendar and a packed program of music events, etc. You can check what's on while you're in Regensburg here.
The market is located across two different squares–Kohlenmarkt and Haidplatz–so be sure that you stop by both of them!
Lucrezia Market Opening Times 2019
Here are the opening times for the Lucrezia Christmas Market in 2019:
29th November to 23rd December, 2019
Sunday to Monday from 11 am to 8 pm
Friday and Saturday from 11 am to 9 pm
Katharinenspital Market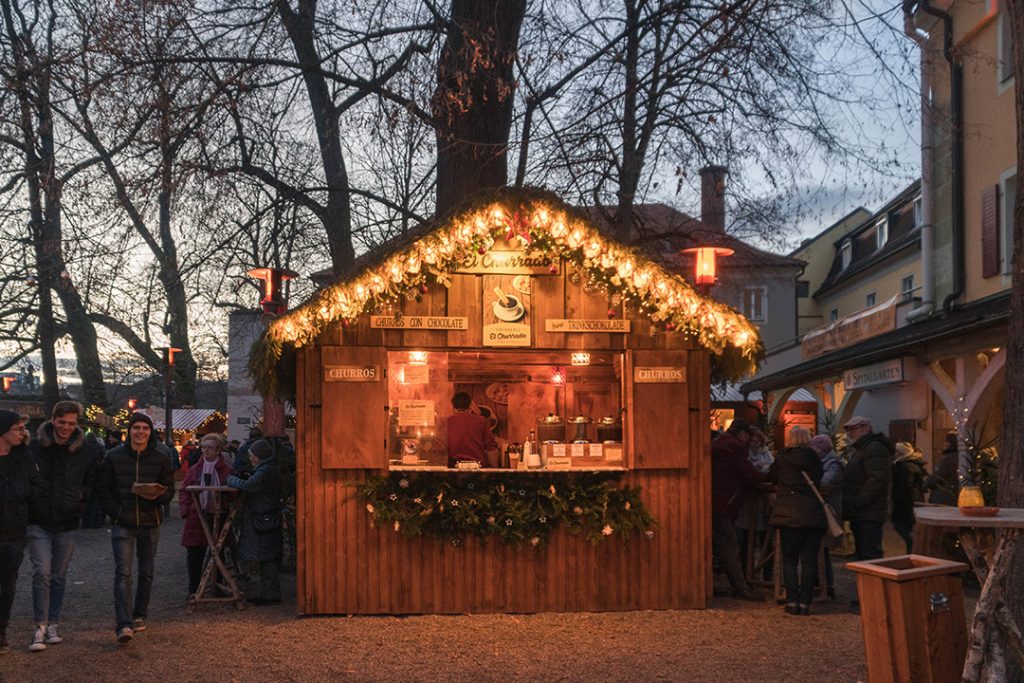 Finally, the smallest and coziest market in Regensburg! Located just across the Old Stone Bridge on the opposite side as the old town, it's just a short walk from the other markets but feels like a different world as most tourists don't make it here!
This was probably my favorite market out of all of the Regensburg Christmas markets for this very reason.
There aren't that many food or souvenir stalls, but this is absolutely the market to head to if you want to get your drink on. Not only is it located in a beer garden, but there are loads of different stalls selling not just glühwein, but feuerzangenbowle (glühwein but with a sugar cube set on top that is then SET ON FIRE), and artisanal spirits and liqueurs as well.
Oh, and check out this adorable little wooden merry-go-round!
Katharinenspital Market Opening Times 2019
Here are the opening times for the Katharinenspital Market in 2019:
28th November to 23rd December 2019
Monday to Friday from 4 pm to 10 pm
Saturday from 11 am to 9 pm
Sunday from 11 am to 9pm
Regensburg Christmas Markets Hotels
Regensburg is a popular stop on Danube river cruises, but if you're looking to spend the night while visiting the Regensburg Christmas markets, then here are a few recommendations:
Brook Lane Hostel – If you're on a budget, then you can't really go wrong with Brook Lane Hostel. Of the two hostels in Regensburg, it's the best located, just a 10 minute walk from the train station and right in the old town (and literally a minute's walk away from the main market). The actual hostel is nothing to write home about, but it'll do for a night or two!
Star Inn Hotel – A no-frills budget option close to the train station and less than a 10 minute walk from the markets.
Hotel am Peterstor – If you're looking for a cute & quirky stay right in the heart of Regensburg, then this is it! The guestrooms are decorated with Regensburg-themed murals, and the breakfast spread looks like it's to die for. Definitely where I would stay if I had a little bit more cash in the bank!
Eurostars Park Hotel Maximilian – Fancy fancy fancy is the name of the game at this place. The building features a Neo-Roccoco-style facade, and the dining room looks like a proper palace ballroom. And for what it is, it's surprisingly affordable!
Bohemian Hotel – A beautifully designed, cozy boutique hotel in a historic 12th-century building. Each of the rooms are individually decorated with Regensburg themes like the "hat maker's room" and the "brewery room". So cute!
What to Eat and Drink at Regensburg Christmas Markets
Glühwein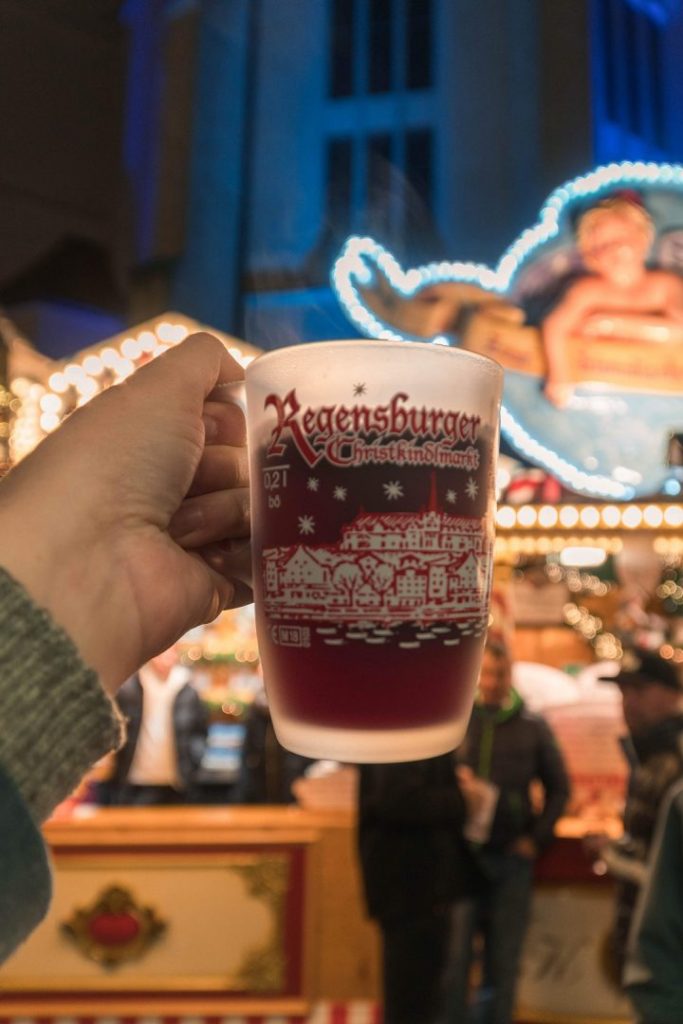 Anyone who's spent any time researching German Christmas markets has heard of Glühwein before, but that doesn't make it any less worth mentioning. This mulled wine is the perfect drink to sip on as you browse the market stalls.
One thing to note about Glühwein is that it comes in a special mug–Germany was way ahead on the no plastic waste trend! You'll need to pay a pfand, or deposit, for the mug (usually a few euros) which you'll get back when you return the mug.
Alternatively, you can keep it. Each mug is unique to the market that it's from, and at only a few euros a pop they make for great cheap souvenirs!
Feuerzangenbowle
Feuerzangenbowle is basically Glühwein but on steroids. How, you ask?
Well, you take your mulled wine and then you set a sugarloaf soaked in rum on top of it and LIGHT IT ON FIRE.
If you want to get lit quick, this is the way to do it.
You'll find Feuerzangebowle at all of the Regensburg Christmas markets, but I highly suggest trying it at the Katherinenspital market!
Gebrannte Mandeln
Ever since the first time my grandma handed me a handful of gebrannte Mandeln (candied almonds) when I was a child, I have been straight up obsessed.
Cooked in sugar, they are crunchy, sweet, and a little bit salty, and honestly you can't get much better than that.
You'll find gebrannte Mandeln at Christmas markets all over Germany.
Wurst (at the Historische Wurstküche)
Wurst, or sausages, are another staple at German Christmas Markets, but it Regensburg I actually suggest straying away from the markets for a second to grab a wurst at the Historische Wurstküche (Historic Sausage Kitchen).
Said to be the oldest continuously open restaurant in the world, this little wurst shop by the water is a must-eat while in Regensburg any time of the year.
Don't bother sitting in, as it's a little bit expensive and pretty touristy. Instead, grab a sausage to go for just €3 and eat it while sitting on one of the benches by the water!
Käsespätzle
If there's one thing I miss the most since my recent discovery of my lactose intolerance, it's Käsespätzle. Not that I get to eat it very often, since I don't live in Germany, but since I forgot my Lactaid on this trip I was just staring at it wistfully across the market.
Käsespätzle is basically mac and cheese but, like, ten times better. Egg noodles, cheese, and fried onions make up this delectable dish.
It's not a common staple at Christmas markets, but I did spot some absolutely ah-ma-zing looking Käsespätzle at the Romantic Christmas Market in Regensburg!
Baumstriezel
Perhaps better known as trdlnik or chimney cakes, Baumstriezel are everywhere you look at the Regensburg Christmas markets.
Although originally from Hungary, these sweet dough treats are also popular in Regensburg during the festive season, so go ahead and treat your sweet tooth by grabbing one!
What to Buy at Regensburg Christmas Markets
If you're on the hunt for great, handmade gifts while on your Christmas market trip, then Regensburg's Christmas markets are a great place to look. Because they're a little bit less famous and less commercialized than other markets in Germany, you can usually be sure that you're getting the genuine thing.
I highly recommend stopping by the Lucrezia Market for the biggest selection of things to buy.
Glühwein Mugs
If you're looking for simply and affordable souvenirs, then Glühwein mugs are definitely the way to go. Each market has their own mug, so collecting one from each city that you go to can be a great way to remember your trip.
You'll pay a pfand (deposit) of a few Euros when you buy your Glühwein, so if you want to keep your mug you just have to take it with you!
I've also heard of people packaging up the mugs with other little goodies like hot chocolate mix to give as gifts.
Sheepskin & Wool Products
If there's one thing that Regensburg seems to specialize in, it's Sheepskin and wool products. There are several different booths throughout the market, such as the one for Walhalla Lamm selling things like sheepskin-lined gloves, yarn, and knit goods. So cozy!
Silver Jewelry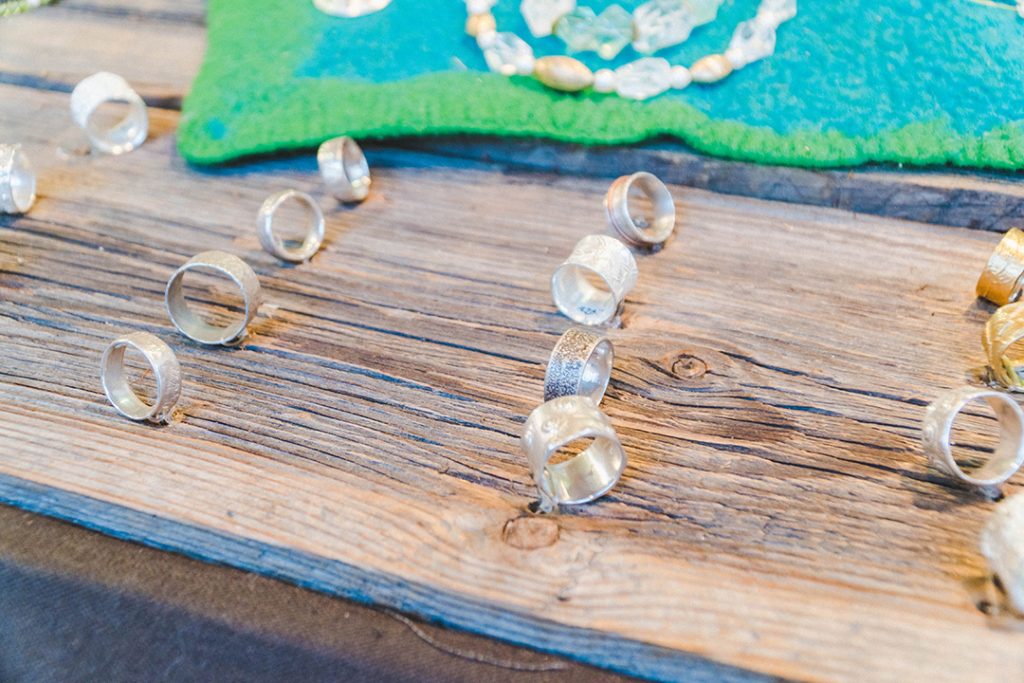 Another thing I noticed during my time in Regensburg is just how many jewelers there were. There are many jewelry shops throughout Regensburg as a whole, and once you get to the markets you'll see several different stalls selling gorgeous silver jewelry.
To make sure you've found the real thing, look to see if the stall has business cards set out and if the vendor can talk to you more about the products. They'll also definitely be decently expensive–at least €50 for a ring, likely more. Anything less than that and it's probably not real silver!
You'll also be pretty much guaranteed to be getting a quality product at the Lucrezia Market, since it's a specialty artisan's market.
Beeswax Candles
Another thing you'll spot all over German Christmas markets are beeswax candles. They're made and sold by beekeepers and are supposed to be much healthier than regular candles as they purify the air.
You'll find everything from simple pillar candles to much more decorative ones, so you're sure to find one that catches your eye.
And there you have it – a complete guide to the Regensburg Christmas markets! If you have any questions, please do leave them in the comments below.
Pin it for later!