I don't know if I've ever been to a place more magical than Copenhagen in winter. With only a few hours of daylight every day, the Danes had to figure out how to do Christmas right–lest they fall into a seriously deep depression.

After having visited Copenhagen in both May and December, I think I can safely say that Copenhagen in winter is one of the best times to visit. Even though it's cold, Copenhagen truly comes alive during this time of year, promising for a unique experience. And as for the cold, all you have to do is make sure you pack right 😉

Convinced? This post will serve as your complete guide to Copenhagen in winter: what to do, where to eat, and where to stay in Copenhagen in winter–plus the best Copenhagen Christmas Markets! And if I haven't convinced you to visit Copenhagen in winter yet, keep reading, because this guide will definitely change your mind.

HOW TO GET TO COPENHAGEN

Copenhagen is honestly ridiculously easy to get to. There are plenty of options, whether you're coming from elsewhere in Europe or halfway across the world. Here are just a few:

WHERE TO STAY IN COPENHAGEN IN WINTER

When it comes to choosing where to stay in Copenhagen in Winter, my suggestion is the find somewhere that just oozes hygge. Because if you can't curl up among a bunch of pillows and candles with your favorite book after a long day of exploring Copenhagen is there even any point?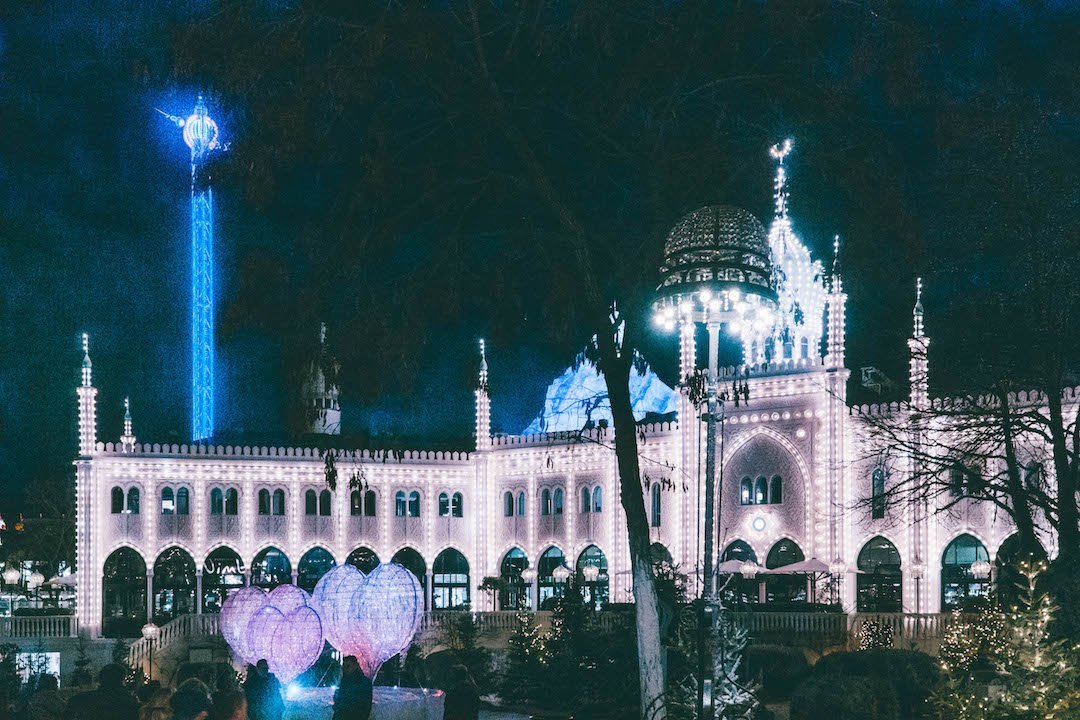 Here are a few suggestions for seriously hyggelig places to stay in Copenhagen:

Sleep in Heaven Hostel – $ – This is where I stayed for the 5 days I spent in Copenhagen in winter and I was pretty happy with my stay. Located in the trendy neighborhood of Norrebro it was a great base for exploring the city, and although there was no kitchen or free breakfast there were plenty of cheap places to eat nearby. It was also totally full of hygge.
Urban House Copenhagen – $ – Probably the most popular hostel in Copenhagen and another great choice if you're on a budget. From the reviews it seems to be a really social hostel, so you're sure to find hygge surrounded by your new friends.
Axel Guldsmeden –$$ – A trendy, Balinese inspired hotel with a spa and a good choice if you're on a mid-range budget but want a bit of luxury. There are a few other Guldsmeden hotels dotted around the city as well.
Nimb – $$$$– If you're a serious baller, stay at Nimb. It's located INSIDE OF Tivoli Gardens. Aka the place that inspired Disney Land. You honestly can't get more hygge than that–especially during Christmastime (but more on that later)
WHERE TO EAT IN COPENHAGEN IN WINTER

Copenhagen is stuffed full of great places to eat, but a lot of them aren't exactly the cheapest places in the world (I'm looking at you, Noma). If you want to eat well in Copenhagen without totally breaking the bank, here are some places to try.

Aamanns Deli and Takeaway – If you're looking to try the famous Danish smørrebrød (open-faced sandwhiches on rye bread), this is the place to go. They have a small menu of really delicious smørrebrøds which are reasonably priced (for Copenhagen). There's also a bus stop literally right outside, making it super easy to get to.
Reffen/Copenhagen Street Food – Copenhagen Street Food was once located just across the harbour from Nyhavn and was a really popular place with both tourists and locals alike. Unfortunately, Copenhagen Street Food shut down a while back, but it was quickly replaced with Reffen, run by the same people and essentially the exact same thing–just a lot more out of the way. I went to Copenhagen Street Food on my first visit to Copenhagen and loved it, but unfortunately didn't make it out to Reffen when I visited this time around. I hear it's just as good though, and is probably a lot less touristy now that's it's farther out of the way!
Tovernhallerne – Another famous food hall, Tovernhallerne is a great place to stop to buy supplies for a picnic in the nearby Rosenborg Castle gardens or stop by for your morning coffee at The Coffee Collective. There's also a really good Smørrebrød stand here if you don't have the chance to make it out to Aamans!
Det Rene Brød – We stopped by this bakery on our Hygge tour for traditional Danish pastries and I'm pretty sure I died and went to heaven. Get the snail-shaped pastry with cinnamon if you, too, want to enter another world.
Ramen to Bíiru – If you're looking to save a bit of money and find yourself in the Nørreboro neighborhood, check out Ramen to Bíiru from some seriously delicious ramen and to feel like you've been transported straight to Japan (plastic versions of the food in the front included). It's also right near Sleep in Heaven Hostel if that's where you choose to stay!
Christmas Markets – By far some of the best places to eat in Copenhagen if you're there during the winter are the Christmas markets. Go absolutely crazy stuffing yourself with sausages, Christmas ham sandwhiches, gløgg (the Danish answer to Glühwein that I honestly think is better), and aebelskiver (mini pancakes). You might gain a few pounds but I promise you won't regret a thing.
THINGS TO DO IN COPENHAGEN IN WINTER

There are SO MANY things to do in Copenhagen, and you can easily fill a few days just visiting all of the typical tourist sights. But there are some things that are made particularly special in the winter that you definitely don't want to miss.

GO ON A HYGGE TOUR

Copenhagen in winter is primetime for hygge, and if you really want to immerse yourself in cozy culture then one of the best ways to do so is by going on a hygge tour. Megan and I did this on our first day in Copenhagen and it was such a perfect introduction to the city.

A hygge tour definitely isn't the choice if you want to see all of the most famous landmarks, but if you really want to learn about Danish culture, see parts of the city that are more off-the-beaten-path, and try some delicious Danish food (including Danish pastries, artisinal chocolate, and coffee) then it's definitely a great choice!

You can read my full review of Urban Adventures' Hygge and Happiness tour in this post.

GO CHRISTMAS MARKET HOPPING

By far one of the best things to do in Copenhagen in winter is to go Christmas market hopping. Copenhagen has a ridiculous number of Christmas markets with options for everyone–from your traditional German style Christmas market to an alternative one in infamous Christiania.

For a list of my favorite Copenhagen Christmas markets, scroll down to the bottom of this post!

EXPLORE COPENHAGEN'S CASTLES

Copenhagen has 3 whole castles that you can visit just within the city limits alone, and the winter (when you want to be inside away from the freezing rain) is the perfect time to explore them all!

Christiansborg Castle is probably the most lavish of the three, with a huge great hall and plenty of extra attractions like the castle kitchens and ruins beneath the castle. Daniel and I visited only the ruins when we were in Copenhagen because we were on a budget. They were extremely cool and something I really hadn't expected to find in Copenhagen. If you have the money, definitely splurge for the all-inclusive ticket and explore the whole thing!

Rosenborg Castle is small but beautiful. The crown jewels are likely what draw most visitors here, but I went for the castle and it was an absolute charm. Originally built as the King's party palace outside of the city, it eventually drew the city towards it as it grew and the gardens are now a beautiful public park. Along with the crown jewels, the throne room is a huge highlight.

Amalienborg Castle is the current home to the Danish royal family and is actually four different palaces placed around one square. This is also where you'll find the changing of the guard.

TAKE A DAY TRIP TO SEE EVEN MORE CASTLES

If you aren't satisfied with the 3 castles in Copenhagen–or you just want to get out of the city for the day–then you're in luck. There are 2 more castles within spitting distance that make for a great day trip: Frederiksborg Castle and Kronborg Castle.

Frederiksborg Castle is located in quaint Hillerød and is a sight to behold from across the lake. It currently houses the Danish National Museum.

Kronborg Castle is best known as the castle where Hamlet was set and, in the winter, is also the location of one of the most magical Christmas markets of all time.

You can take the train from Copenhagen Main Station to Frederiksborg Castle, from Frederiksborg to Kronborg Castle, and from Kronborg Castle back to Copenhagen. For full details on how to take this day trip, check out my complete guide here.

VISIT SOME MUSEUMS

Copenhagen is home to quite a few world class museums that also conveniently provide an escape from the cold after a few Christmas market visits (though if you drink enough gløgg it'll probably warm you up too).

The Design Museum Denmark is one of the most highly reccommended museums in Copenhagen and covers Danish design throughout history including clothing, jewelry, and furniture. It's absolutely HUGE, so definitely set aside a whole morning or afternoon for visiting! Cost: 115 DKK (free for students).

The Theatre Museum is located right next to Christiansborg Palace and is a great stop if you're a fan of theatre or royal intrigue (or both). Set in the former court theatre, you can explore the wings and boxes while learning about the history of the theatre of the people who made it what it was. My favorite stories by far were that of the badass Countess Danner and the Italian opera singers who caused an upset. The museum is pretty small and can be gone through in about an hour. Cost: 40 DKK (30 for students).
NY Carlsberg Glytoteket is a great stop if you love either sculptures or beautiful buildings. Home to Carl Jacobsen's HUGE sculpture collection (that guy is literally everywhere you look in Copenhagen), you can spend a few hours here admiring the work. Cost: 115 DKK (85 DKK for students) or free on Tuesdays!
If you plan on visiting a lot of museums in Copenhagen, the Copenhagen Card can be a great way to save some money!
TAKE A SOAK AT COPENHOT

Besides heading inside to keep warm, another option is to take a soak in a hot tub on the harbour at Copenhot–perhaps one of the most unique things to do in Copenhagen. If you have a large group (or just prefer a bit of privacy) you can rent a hot tub almost any time. Otherwise, soak among locals and save a bit of money during one of their Hot Days.
Definitely book ahead of time if you plan on visiting Copenhot on one of their Hot Days – we missed out because we didn't plan in advance!
Cost: 1300 DKK/hot tub rental (up to 6 people) or 300 DKK/person for Hot Days entrance.

CHECK OUT THE COFFEE SCENE

If you like good coffee, you'll love it in Copenhagen. And in my personal opinon, sitting back with a delicious cup of coffee while people watching or chatting with friends is one of the best things to do in Copenhagen in winter.

I stopped by Democratic Coffee, located in the Copenhagen Public Library, one afternoon for good coffee and eavesdropping on study abroad students from Copenhagen University (it's right next door). Other great options include The Cofee Collective in Tovernhallerne, Copenhagen Coffee Lab (I visited their Lisbon location and it was v good), and The Living Room (the most hyggelig).

BEST COPENHAGEN CHRISTMAS MARKETS

If you happen to be visiting Copenhagen during the absolute best month to visit (December) you'll be lucky enough to get to visit some of the best Copenhagen Christmas markets. I truly have never felt more in the Christmas spirit than I did in Copenhagen, and the Christmas markets are definitely why. Out of all of the Copenhagen Christmas markets that I visited, here were my favorites:

TIVOLI GARDENS CHRISTMAS MARKET

Tivoli Gardens is magical year round. A fairytale amusement park located in the center of Copenhagen–what more could you ask for? I mean, the thing freaking inspired Disneyland. You can't beat that, right?

Oh wait, you can. Because in December, Tivoli goes FULL CHRISTMAS. A place that was already magical to begin with gets 1000x more magical as its decked out with fake snow (surprisingly necessary in Copenhagen in winter), sparkling lights, and more booths selling aebelskiver and gløgg than you can count. It was honestly more than I could even handle.

The best time to go to the Tivoli Christmas market is at night when all of the lights are lit up and have their full effect. Luckily, night in Copenhagen in winter starts at like 3 pm, so you can go pretty much any time.

KRONBORG CASTLE CHRISTMAS MARKET

If there's one Christmas market that's in the running for beating Tivoli at being the most magical ever, it would be the Christmas market that is straight up inside of a real life castle. Yes, you read that right.

For the first two weekends of December, Kronborg Castle, located just outside of Copenhagen, plays host to one of the best Copenhagen Christmas markets, complete with artisinal food and handcrafted gifts galore. It's everything a Christmas market should be–AND it's inside a castle.

For more information about visiting the Kronborg Castle Christmas market, be sure to read my post about taking a day trip there!

CHRISTIANIA CHRISTMAS MARKET

A Christmas market for people who love the alternative–or just want to escape the commercialisation of some of the more popular ones–Christinia Christmas Market is located in the famous independent community of Christiania. Here you'll find absolutely loads of artists selling their own work–from gorgeous jewlry to perfect pottery and more–as well as a few good food stalls.

Because it's so different from everything else, the Christiania Christmas market was one of my favorite Copenhagen Christmas markets!

NYHAVN CHRISTMAS MARKET

If you're looking for a traditional Christmas market in the most photographed spot in Copenhagen, go to Nyhavn. The Nyhavn Christmas Market lines Nyhavn Canal, another place that's already pretty magical just simply by being. With fairy lights hung from the masts of the boats (which, fun fact, were placed there to look pretty–they can't actually fit under the bridges) and a bit of gløgg in your system you'll be sure to have a fantastic time.

The Nyhavn Christmas Market is also a great spot to try all of the traditional Danish Christmas foods, including aebelskiver and gløgg.

OTHER COPENHAGEN CHRISTMAS MARKETS

My four favorite Christmas markets weren't the only Copenhagen Christmas markets I visited. I also stopped by the Hans Christian Andersen Christmas Market and the market on Højbro Plads, but both of them were relatively small and unremarkable. If you're in the area feel free to stop by, but I wouldn't seek them out specifically!

I was really bummed to have missed the Visit Carlsberg Christmas Market. I really loved my visit there when I went to Copenhagen in May and would have loved to see what it was like in Christmastime. I'm also bummed I missed the Christmas festivities at Reffen.

For a complete guide to Copenhagen Christmas Markets, check out this guide from Visit Copenhagen.

WHAT TO EAT AT COPENHAGEN CHRISTMAS MARKETS

There's no shortage of food to eat at Copenhagen Christmas markets, and it can be overwhelming to decide what you want. Here's a few things you should definitely try:
Christmas ham sandwich – The perfect bit of "real food" before you go in on desert.
Aebelskiver – basically mini pancakes. You can usually get them with either sugar or Nutella. They are the best things ever.
Gløgg – The Danish answer to Glühwein–mulled wine with spices. In my personal opinion, it's also better than Glühwein. But obviously you need to try it for yourself to see 😉
Phew, that's it! By now you too should be an expert at visiting Copenhagen in Winter. I hope you have the greatest time!

As always, if you have any questions don't be afraid to leave them in the comments below.

If you're looking for more inspiration or advice for your Copenhagen trip, check out these posts:
Pin it for later