A Spontaneous Trip to Heidelberg
Hey there! Travel looks a little different right now. Please be sure to follow local restrictions and double-check openings and guidelines for places you visit. And stay safe and wear a mask! Also, his blog post likely contains affiliate links, including Amazon Associates links. If you make a purchase through one of them I may receive a small commission at no extra cost to you.
---
I was supposed to go to Interlaken after Lucerne. I had a hostel booked, and was literally in the Interlaken train station. But while I was on the train I saw a forecast for rain the whole four days that I was planning on being there. Not very conducive to hiking, which was pretty much all I wanted to do. So, I made a spontaneous decision. Not fifteen minutes after I stepped off the train in Interlaken, I was getting on another one bound for Germany. Five and a half hours later and I was walking up to a hostel in Heidelberg – 250 miles from where I originally thought I was going to be spending the night.
I'm not going to lie, I was freaking out a lot a little bit. I am not the type of person to make spontaneous decisions. Not about what I'm going to eat for dinner, and certainly not about where I'm going to be traveling next. After planning this Switzerland trip for months, I now, for some reason, found myself in Germany. I hadn't even thought about what I was doing before my feet were already moving. I don't even know why I chose Heidelberg. It's not like it was close, or there was anything in particular calling me to it. It was just the first place that popped into my head. Maybe the power of traveling solo with a Eurail pass had just gone to my head.
I called my boyfriend from my hostel dorm room. He lovingly talked me down from a minor panic attack and helped me make plans for where to go from here. I booked a hostel in Zurich for the two extra nights that were now unaccounted for. Then, I made a plan for my one full day in Heidelberg the following morning and went to sleep.
One Day in Heidelberg
I awoke the next morning to a feeling of (delicate and easily breakable) calm. After eating breakfast and packing my bag, I set out for the day. My hostel, though conveniently located next to the train station, was a good 20 or 25 minute walk to the Altstadt (aka the part of the town I was actually interested in seeing). If I had planned ahead of time, this is something that I would have been aware of, so I was pretty disappointed in myself when I realized this. All the same, I'm pretty used to walking, so it was an easy enough trip.
The buildings turned from modern to quaint before my eyes. I instantly fell in love with the colorful houses and narrow streets of the town.
Tight alleys gave way to bustling squares, and every once in a while the famous castle peeked its head out from the clouds.
Seeing the castle looming above me, I knew that I had to go there. And, since I had absolutely no obligations or plans, that is exactly what I did.
Although the funicular railway that bears visitors up to the castle was closed for renovations, a replacement bus service was available — which my tired feet happily availed of. A few minutes later, we were at the entrance to the palace grounds.
I stopped by the information office to purchase a ticket for a guided tour — the only way to see the interior of the castle. At only €2.50 extra for students (on top of a €4 student entrance fee), I thought that I might as well take advantage of the opportunity (and subsequently rolled in the cash that I was saving by not being in Switzerland for two days). By asking for the ticket in German, I found myself on the German tour. Thankfully, I was able to understand everything. But I wasn't able to avoid the laughs when everyone was saying where they were from and I was the only non-German.
The interior of the palace was so much fun to walk through, and I learned so much more about the history of the place than I ever would have if I had just walked around the outside. I highly suggest taking a guided tour, even if you're not able to take advantage of the steep student discounts. Unfortunately, I wasn't allowed to take any photos of the interior, but the outside more than made up for that.
A few extra, fun quirky things included the largest wine barrel I've ever seen (there's a balcony on top of it) and a Pharmacy museum.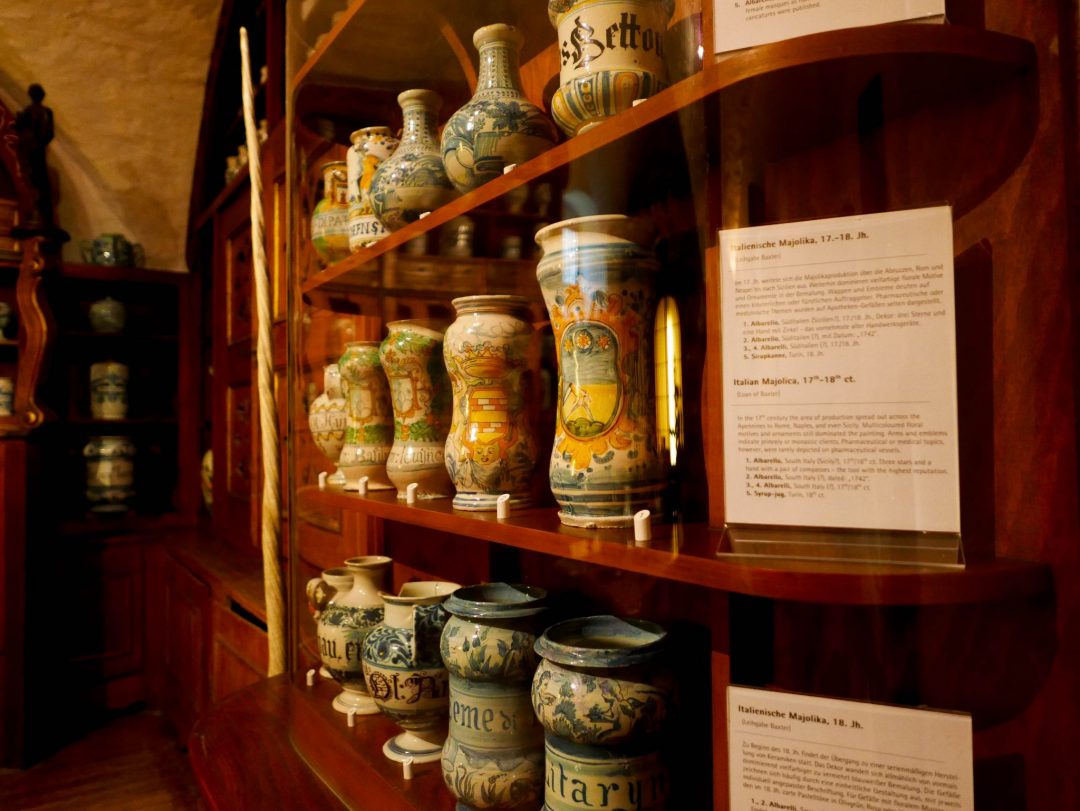 Oh, and the views? Not half bad. If you only have one day in Heidelberg, visit the castle. Hands down.
I wandered around the gardens for a short while while I waited for the next bus back down to the town. Then, it was time for even more exploration.
I found the Old Bridge and the Monkey with his mirror.
Then, I made my way to the Studentenkarzer – aka Heidelberg University's very own student prison. Although no longer in use, the prison used to be used as a place for students who disrupted the peace between Town and Gown. Although the students were locked up for the majority of the time, they were still allowed to attend classes. A stay in the student prison was seen as a right of passage by many.
This might have been my favorite stop of all that day. The graffiti covered walls were so interesting to look at, and the history behind the place was just too funny. There's not much to see, but the entrance fee is negligible and it's a fun place. I'd definitely suggest stopping by if you're ever in Heidelberg.
Looking back on my spontaneous trip to Heidelberg, I'm really glad the place randomly popped into my mind.
For one, I would have been stuck in my hostel for four days if I had decided to stay in Interlaken. Secondly, I saved a little bit of cash by popping into Germany for a little while. And finally, I now have one of those spontaneous Eurail stories that everyone and their mother loves to tell. I don't know if I'll do it again – I love planning things too much. But it was an interesting experience, and great practice for a world in which things don't always go according to plan. I'll just have to make in back to Interlaken some other time.
Have you ever dropped everything you planned or done something spontaneous while on a trip? How did it go? Leave your story in the comments down below!
Like what you read? Pin it!
This week, I'm linking this post up with Lauren, Marcella, Van, and Isabel for Wanderful Wednesday, and with Erin, Katy, and Clare for Faraway Files.
MY FAVORITE TRAVEL TIPS & RESOURCES
Booking Flights: The first place I turn when I'm searching for flights is actually just Google Flights - it's great to figure out what sort of routes are available. Then, I check Skyscanner and Kiwi for deals. I also love Kiwi for its destination: anywhere feature!
Transportation: I love Omio for figuring out the cheapest way to get from one place to another, and Trainline for booking train tickets within Europe.
Accommodations: I absolutely love Booking.com for finding great hotel deals. After you stay a certain number of nights, you get Genius discounts! For hostels, Hostelworld is my go-to, and I use Airbnb occasionally as well (click here for $40 off your first booking!)
Travel Insurance: I knew that I shouldn't travel without insurance for the longest time, but I really learned my lesson when I got an infected cut in Bali. Thank goodness I had travel insurance! I use and love World Nomads for their extremely comprehensive coverage.
Travel Insurance: I knew that I shouldn't travel without insurance for the longest time, but I really learned my lesson when I got an infected cut in Bali. Thank goodness I had travel insurance! I use and love World Nomads for their extremely comprehensive coverage.
Tours: I always check Urban Adventures for great day tours of cities first–I'm obsessed with them! GetYourGuide and Viator are also great options. For multi-day tours, I highly recommend Intrepid.
Camera Gear: I use a Sony Alpha A6300 camera with an 18-105 mm lens and a 35 mm lens. My tripod is the MeFoto Backpacker Air and I loooooove it! I also use a DJI Mavic Air and a GoPro and which allow me to capture everything my regular camera can't.