Bacalar, Mexico: 19 Photos That Will Push This Hidden Spot To The Top Of Your Bucket List
Hey there! Travel looks a little different right now. Please be sure to follow local restrictions and double-check openings and guidelines for places you visit. And stay safe and wear a mask! Also, his blog post likely contains affiliate links, including Amazon Associates links. If you make a purchase through one of them I may receive a small commission at no extra cost to you.
---
Bacalar, Mexico is possibly the best hidden gem I've ever found. Even though it's located only 2 hours south of Tulum, it's a completely different world. Set on Bacalar Lagoon (also known as the Lagoon of Seven Colors, for its many startling shades of blue), this pubelo magico (magic town) is absolute paradise.

I only had 2 days to dedicate to Bacalar, but I wish I could have stayed a lifetime.

These 19 photos will, without a doubt, shoot Bacalar, Mexico straight to the top of your bucket list.

HOW TO GET TO BACALAR, MEXICO

Despite being off the beaten path, Bacalar, Mexico is surprisingly easy to get to. You can fly in to either Cancun International Airport or Chetumal International Airport. From Cancun, you can take the direct ADO bus to Tulum and connect there for the ADO bus to Bacalar (approx. 4 hours). From Chetumal, you can take an ADO bus (approx. 45 minutes) or a taxi. If you have multiple people in your group, it might be cheaper to take a taxi.

If you're already in Mexico as part of a larger trip, there are ADO bus connections to Bacalar from all over the Yucatan Peninsula. You can find the full list on Lonely Planet.
For a seriously excellent guide to making sense of the ADO bus system, give My Wanderlusty Life's post a read–it helped me so much!
WHERE TO STAY IN BACALAR, MEXICO: YAK LAKE HOUSE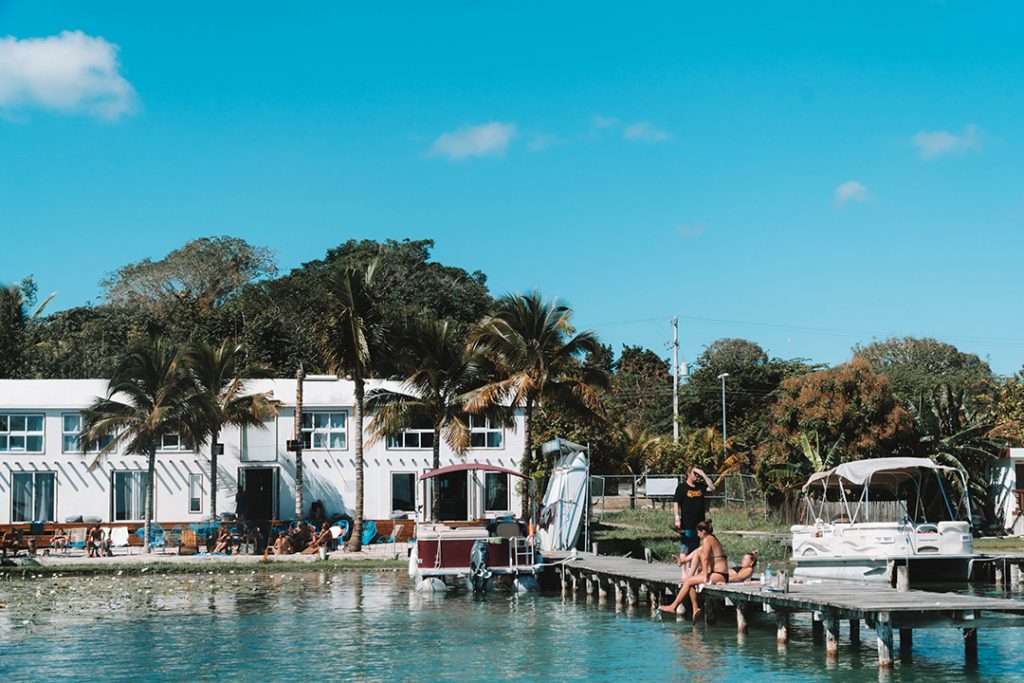 The Yak Lake House is by FAR the most sought after hostel in Bacalar and, in my opinion, the best place to stay in the whole town.

Why? Because they're right on the lagoon and have their own private dock. This boutique hostel was also the nicest hostel I stayed in on my whole trip to Mexico. It was immaculately clean and had everything you could ask for: from mountains of fresh fruit at breakfast to a full calendar of activities.

If you're looking for things to do in Bacalar, then Yak Lake House is the place to be. They have boat trips and SUP tours leaving multiple times every day, free kayak rentals, and social activities every single night of the week. I went on both a boat and SUP tour straight from their dock as well as taking a mojito making class one evening. And let me tell you… that mojito making class turned into the best night I've ever had while traveling. I never thought I would end up being the life of the party at a salsa bar in a small Mexican town, but here we are.

The Yak Lake House has 4, 6, 7, and 8 bed mixed dorms starting from 430 pesos (approx. $22) and double bed privates starting from 1,600 pesos (approx. $85). It's a little bit more expensive than most hostels in Mexico, but for good reason!

THINGS TO DO IN BACALAR, MEXICO

SUNRISE SUP TOUR OF BACALAR LAGOON

I'm usually not a morning person, but getting up for a sunrise SUP tour of Bacalar Lagoon was totally worth it. Going on my first morning in Bacalar, Mexico made it the perfect introduction to this magical place.

We had to be in the lobby of Yak Lake House by 6:30 AM, which ended up being a little early. So we had to wait until it was closer to sunrise before we headed out on the water. As the sun peeked over the horizon, we started to get the hang of the stand up paddleboards and gained a bit of confidence.

We watched the sun rise at Cenote Azul, and then paddled over to El Canal de Los Piratas for a quick swim. Then, it was a straight shot across the lake and we were back in time for breakfast.

EL CANAL DE LOS PIRATAS

El Canal de Los Piratas is one of the most popular spots on the lagoon and for good reason: it's astoundingly cool. The abandoned boat structure sitting to the side was once going to be a restaurant. But the project was eventually cancelled due to environmental concerns (go Bacalar!). Then, a bunch of artists were invited to paint the structure with environmentally-themed art. And the result is kind of perfect.

To the other side of the Pirate's Lagoon are a few mud pits. Go right ahead: slather yourself up for a free spa treatment!

CENOTE AZUL

Unlike other cenotes in the Yucatan, Cenote Azul is not located inside of a cave but is actually connected to the lagoon. It's also one of the deepest in the Yucatan at 90m (295 feet).

Many people visit Cenote Azul by going to the nearby restaurant, but they charge you an entrance fee. But you can visit the cenote for free via boat, SUP, or kayak.

BIRD ISLAND

Bird Island is a nature sanctuary smack dab in the middle of Bacalar Lagoon. Although you can't step on the island itself, you can stop nearby to try to spot some birds!

THE GAIA EXPERIENCE IN BACALAR, MEXICO

On my last day in Bacalar, I took a boat tour of the lagoon with The Gaia Experience, leaving straight from my hostel. This boat tour takes you to all of the top spots on the lagoon and is a fantastic morning or afternoon out. Just don't forget the sunscreen! I got burned real bad when I forgot to reapply.

BACALAR TOWN

Finally, I would be remiss if I didn't share a few of my favorite spots in the actual town of Bacalar, Mexico. Although the lagoon is definitely the main attraction, the town itself is also a hidden gem. It's small but cute, and I absolutely fell in love how laid back it was there.

From the quaint town square to the handicraft shops to the fort overlooking the lagoon, it's honestly perfect.

If you're looking for good places to eat in Bacalar, I highly recommend Mango y Chile (vegan cafe), Mr. Taco (the best tacos in town, 3 for 60 pesos), and El Manatí (hipster brunch).

Do these stunning photos have you dying to go to Bacalar yet?

Pin it for later!
MY FAVORITE TRAVEL TIPS & RESOURCES
Booking Flights: The first place I turn when I'm searching for flights is actually just Google Flights - it's great to figure out what sort of routes are available. Then, I check Skyscanner and Kiwi for deals. I also love Kiwi for its destination: anywhere feature!
Transportation: I love Omio for figuring out the cheapest way to get from one place to another, and Trainline for booking train tickets within Europe.
Accommodations: I absolutely love Booking.com for finding great hotel deals. After you stay a certain number of nights, you get Genius discounts! For hostels, Hostelworld is my go-to, and I use Airbnb occasionally as well (click here for $40 off your first booking!)
Travel Insurance: I knew that I shouldn't travel without insurance for the longest time, but I really learned my lesson when I got an infected cut in Bali. Thank goodness I had travel insurance! I use and love World Nomads for their extremely comprehensive coverage.
Travel Insurance: I knew that I shouldn't travel without insurance for the longest time, but I really learned my lesson when I got an infected cut in Bali. Thank goodness I had travel insurance! I use and love World Nomads for their extremely comprehensive coverage.
Tours: I always check Urban Adventures for great day tours of cities first–I'm obsessed with them! GetYourGuide and Viator are also great options. For multi-day tours, I highly recommend Intrepid.
Camera Gear: I use a Sony Alpha A6300 camera with an 18-105 mm lens and a 35 mm lens. My tripod is the MeFoto Backpacker Air and I loooooove it! I also use a DJI Mavic Air and a GoPro and which allow me to capture everything my regular camera can't.