Updated November 25, 2019
Are you taking a trip to Denver soon? This 5 day Denver itinerary will have you spending your short time in Colorado exploring and adventuring to the max!
Colorado is the perfect place to visit if you're seeking adventure. From hiking, to rock climbing, to whitewater rafting or mountain biking, everything is within your reach. 5 days in Denver alone is a lot of time,but that gives you plenty of opportunities to get out of the city and enjoy the best that Colorado has to offer!
With 5 days in Colorado, you can get a lot of adventure in. Just keep reading to see how you can have the perfect Colorado itinerary!
Denver itinerary Logistics
How to Get to Denver
Unless you're road tripping, you'll most likely be flying into Denver International Airport. Flights within America aren't cheap, so start searching early and often to grab a good deal.
Click here to search for flight deals to Denver.
Where to Stay

in Denver

Although this Colorado itinerary will be taking you all around the Denver area (meaning that it might mean slightly less transportation time to change hotels every night), I highly suggest that you base yourself in or nearby Denver as a convenience. While I was in Colorado I stayed with a friend in Littleton, a suburb of Denver, and it was a great base for exploring the rest of the area.

If you don't have a friend in the area, then there are plenty of great hotels in Denver. Here are a few I recommend:

Ember Hostel – $ – This place is a luxury boutique hostel if I've ever seen one. With a 12-person hot tub, outdoor fire pit, and privacy bunks with blackout curtains, outlets, and shelves, you'll never want to leave.

Hostel Fish – $ – Another quirky hostel option located in a building that used to be a brothel. Located in Downtown Denver, so if you're only planning to explore the city you won't need a car!

Hyatt Regency Denver – $$ – If you're looking for a no-fuss, affordable hotel stay, then this is the place to go. It has great reviews and some rooms even offer mountain views!

Kimpton Hotel Born – $$$ – Kimpton Hotel Born is a boutique hotel with classy mountain cabin vibes and a terrace that offers mountain views. I really don't think it gets much better than this!

The Ramble Hotel – $$$ – If you're looking for a hotel that feels like you've stepped into a modern, glamed-up version of 17th century France, then this is it.
How to Get Around

for this Colorado Itinerary

I highly suggest renting a car if at all possible while you're in Colorado. Although it is theoretically possible to get around with public transport, it takes up much more time and could potentially be even more expensive than renting a car. This Colorado itinerary takes you all over the place (most places are a 1+ hour drive), so a car will make your life much, much easier.

Click here to get the cheapest deals on rental cars from Denver Airport!

If you don't want to rent a car, you can take the train from the Airport to Denver Union Station. From there, there are some public transportation services to get you to your final destination. Check denver.org for more information.
Five Days in Denver Itinerary
Colorado Itinerary
Day

One – Downtown Denver
You've spent most of your time in Colorado so far out in the wilderness loving all of the adventure that this state offers. Now, head into Denver (or stay where you are if that's where you've based yourself) and explore the Mile High City.
Here are a few ideas of things to add to your Denver itinerary.
Take a City Tour
If you're looking for a great introduction to downtown Denver, then a walking tour is a great idea. I'm a huge fan of Urban Adventures, and their Denver Highlights tour will give you an absolutely amazing overview!
Not only will you pass by all of the top sights of Denver, with plenty of selfie opportunities, but you'll also stop for a snack at a French creperie and admire the newly reformed Cherry Creek.
Don't forget to ask your guide for their best local's recommendations at the end–and use code ADDIE for 10% off!
Stroll Down 16th Street Mall
16th Street Mall is a mile-long pedestrian mall designed by I.M. Pei. It's a must on any Denver itinerary!
One of my favorite parts of the 16th Street Mall while I was there was all of the colorfully painted pianos. Have a seat and play at one of them if you're feeling musical!
Find the Best Denver Street Art
Denver is absolutely chock full of fun street art like the giant Blue Bear that peers into the Colorado Convention Center.
Denver's street art and murals are all over the place, and a must on any Denver itinerary!
Visit the Denver Art Museum
Another great artsy stop for your Denver itinerary is the Denver art museum. With over 70,000 pieces of all different kinds of styles, you're sure to find something to catch your interest.
On a hot summer's day, it's an amazing respite from the heat as well!
Take a Food Tour
If you're less of a culture vulture and more of a foodie, then a Denver food tour is an absolute must. You might be surprised, but Denver actually has an amazing variety of cuisine in its food scene!
This Denver food tour with Urban Adventures (I will ALWAYS choose them over any other tour provider when I'm in a location where they have tours, thanks to their local guides and off-the-beaten-path ethos) takes you from the LoDo (Lower Downtown) district to RiNo (River North), one of the fastest up-and-coming neighborhoods in the city.
You'll sample food at an amazing locally-sourced restaurant, try 15 different Colorado beers, and even explore a bit of RiNo's art scene (but with a full belly, so no worries 😉 ).
You can also use code ADDIE for 10% off any of Urban Adventures' tours!
Grab Some Voodoo Doughnuts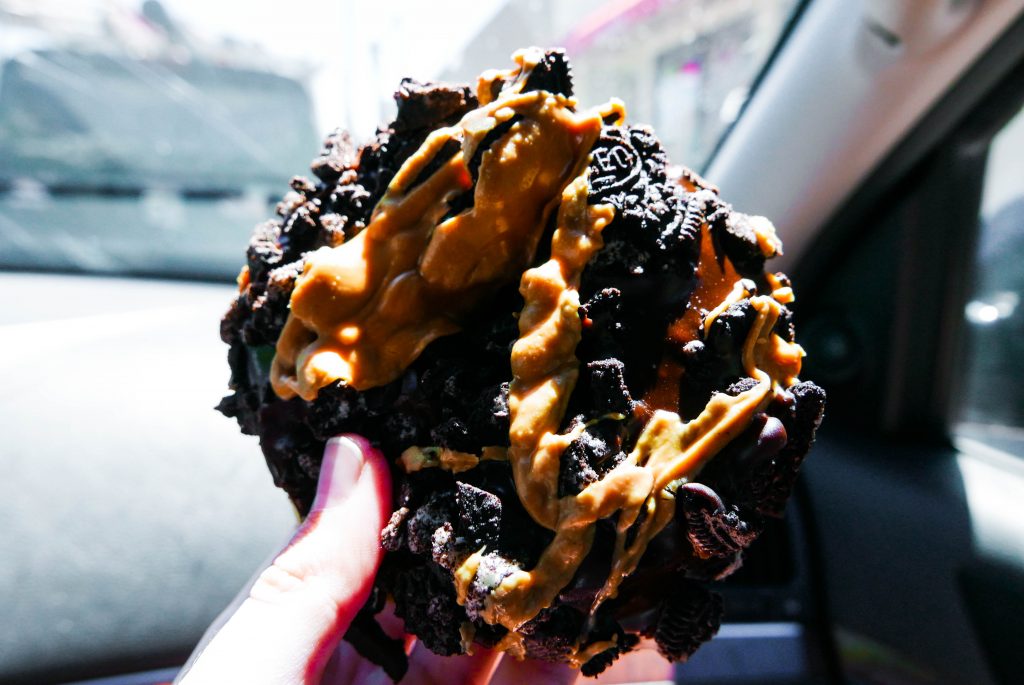 Voodoo Doughnuts is a cult favorite with locations in only a few trendy cities around the US. Denver has 2 locations – one on Broadway and one on Colfax Ave.
Their doughnuts are absolutely HUGE – but you deserve one after all the hiking you've been doing!
I highly recommend the Dirty Old Bastard (pictured above) or the classic Voodoo Doll.
Take a Brewery/Beer Tour
Denver is definitely known for its breweries, so you shouldn't leave without trying at least a few of them.
Unfortunately, I was still under the legal drinking age in the US when I visited, but if I were to go back now I'd definitely want to take this breweries, cideries, distillieres, and fooderies tour from Urban Adventures (use code ADDIE for 10% off)! Talk about the quickest way to my heart.
For even more ideas on things to add to your Denver, Colorado itinerary, check out this awesome local's guide to Denver!
Colorado Itinerary
Day Two

– Boulder, Colorado

Start your time in Colorado off right by getting up bright and early and driving towards Boulder. There, you'll get a real taste of everything that Colorado has to offer: from hiking, to excellent food and culture, to hippie tea. For more insight on a day in Boulder, check out my post about what I did.
Go Hiking in Eldorado Canyon State Park
Spend your morning just outside of Boulder at Eldorado Canyon State Park, popular with the locals for hiking. If you're feeling particularly adventurous, go for the strenuous Rattlesnake Gulch Trail, which climbs to the elevation of the Empire State Building and gives you amazing views over the continental divide.
Alternatively, take a guided hike like this one through Boulder's Settler's Park! Or this one, which involves a beer tasting at the end 😉
Visit the Celestial Seasonings Factory
If you got an early start to your day (like I told you to 😉 ), then you should be able to make it for one of Celestial Seasonings' factory tours with plenty of time to spare. While you're there, learn all about how this famous herbal tea brand (and their tea) came to be, and try loads of free samples along the way. Oh, and did I mention that it's free?
If you're looking for something a bit more boozy, try a Boulder beer tour or cocktail tour!
Enjoy Pearl Street

& Downtown Boulder
Finally, make your way back into downtown Boulder and waste away your evening on Pearl Street. Grab some dinner, go shopping, and enjoy the plentiful street performances.
If you have a bit of extra time, consider taking an e-bike tour of the downtown area, or fill up on a food tour!
If you haven't fallen in love with Boulder by the end of the day, you probably don't have a soul.
And if you're not quite ready to leave, there's always the option to stay up late for an amazing astronomy tour!
Colorado Itinerary
Day Three

– Colorado Springs, Colorado
Garden of the Gods
If you're feeling exhausted after your first full day in Colorado, feel free to sleep in a bit this morning. Once you're up and ready to go, head to Garden of the Gods near Colorado Springs to check out the famous red rock formations. You'll agree that they were put there by gods.
One thing you can't miss while you're there is the Perkins Central Garden Trail, which gets you up close and personal with the largest rocks in the Garden of the Gods. The Central Garden Train is paved and easy to walk–or you can even take a segway tour.
If you have more time, explore/hike the outer edges of the park. There are plenty of trails in the park to enjoy-just be sure to bring enough water! If you're looking for a guided hike, then this is a great option.
If you're feeling super adventurous, then you could even go rock climbing in the Garden of the Gods!
For more information, check out my post about my time at Garden of the Gods.
Dinner and Exploring in Downtown Colorado Springs
Once you've gotten your fill of otherworldly rocks, head into downtown Colorado Springs. Explore the quaint old mining town and grab dinner at one of the restaurants in the vicinity.
We ate at a really charming family Italian restaurant called Dat's Italian! A cheesy name for sure, but it was everything American Italian food should be.
Alternatively, take a food tour!
Colorado Itinerary Day Four – Idaho Springs
Whitewater Rafting in Idaho Springs
Take a break from all the hiking in the middle of your five days in Colorado and go whitewater rafting! If you thought you'd had adventure yet, just wait. I highly suggest going with AVA Whitewater Rafting in Idaho Springs. Hear why in my post all about how I beat a little bit of my anxiety with them.
Colorado itinerary
Day Five

– Estes Park & Rocky Mountain National Park

On your final day in Colorado, make your way to Estes Park for the best hiking yet — and a few ghosts.
Rocky Mountain National Park
Spend your morning experiencing Rocky Mountain National Park in all of its glory. If you're a hiker, be sure to hike the Emerald Lake Trail to get a taste of everything that the park has to offer. From alpine lakes to snow topped peaks, you'll be blown away at every turn.
For more information, check out my post about hiking the Emerald Lake Trail.
The Stanley Hotel
Do you believe in ghosts? If not, you'll leave the Stanley Hotel a full blown believer. Best known as the hotel that inspired Stephen King to write The Shining, the ghost stories here are pretty crazy. If you're brave, take their nighttime tour. Otherwise, go for the daytime history tour — you'll get plenty of ghosts there as well. Just with more daylight.
For more information of the Stanley Hotel Ghost Tour check out my post on my visit.
Another alternative is to take a guided tour of Rocky Mountain National Park & The Stanley Hotel.
Final Thoughts on this Denver Itinerary
If you're looking to get a taste of everything that Denver and Colorado have to offer, then this 5 days in Colorado itinerary is it. Explore downtown Denver, get out and hike, and maybe even do a super adventurous activity like whitewater rafting or rock climbing!
And there you have it! The perfect 5 days in Denver itinerary! Be sure to let me know if you do anything that I've suggested — I'd love to hear all about it!
Pit it for later