Disclaimer: this post may contain affiliate links. If you make a purchase from one of them I will recieve a small commision at no extra cost to you, which allows me to keep this blog up and running!
---
I've never been much of a risk taker. In general, if something's not 100% safe, you won't find me doing it.
Now, I know what you're thinking. From what I normally write on this blog, you might assume that I am always up for an adventure. And it's true. I am. As long as that adventure is safe and promises to be in no way life threatening.
Life threatening adventures aren't exactly my idea of fun. And yet for some reason, when I was visiting a friend in Colorado this summer and she suggested that we go whitewater rafting, I jumped at the chance.
And sure, I might be being a little overdramatic here. There's not really anything life threatening about whitewater rafting. But I've seen those videos of people falling out of boats, and let me tell you, that is NOT my idea of a relaxing afternoon. And knowing myself, I'm exactly the type of person who would have the bad luck of being the one to fall out of the boat. Unfortunate accidents are what I excel at (see: passing out and having to get five staples in my head after getting a cartilage piercing).
So why exactly did I agree to go whitewater rafting? I have no idea.
The (Dougnut-Themed) Prequel
Madison and I woke up bright and early the morning of our scheduled whitewater rafting trip and made the drive into downtown Denver to pick up some famous Voodoo Doughnuts. Somehow we majorly lucked out because there was only one person in line ahead of us, and soon enough we were staring wide-eyed at all of our choices, trying to decide what to get.
Thanks to our powers of indecision, we ended up buying six doughnuts — three for each of us — that we would end up eating over the next day and a half.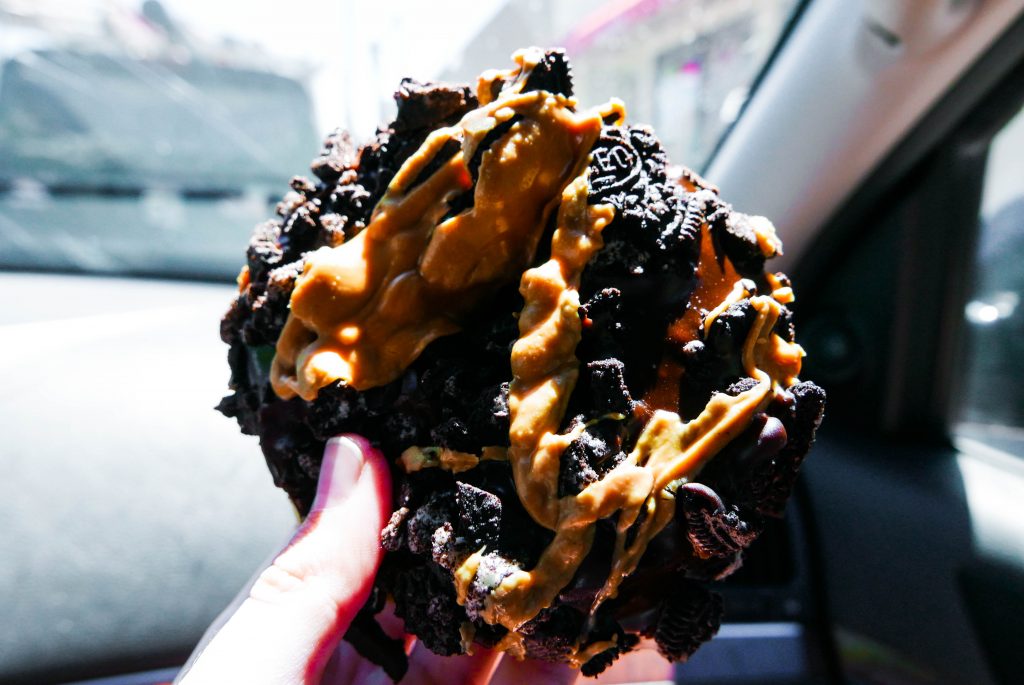 To excited to wait until we got back, we ate our first doughnut in the car outside of the store. And let me tell you. I. Was. In. Heaven.
Until about two minutes later when all of that doughey, chocolate peanut butter Oreo goodness caught up to me. I was in a stupor the rest of the drive home. Thanks, doughnut.
The Arrival
We had about an hour back at home to nap off our doughnut comas before it was time to drive down to Idaho Springs and get rafting. The whole drive there my stomach we feeling more than a little bit upset, and I had a sneaking suspicion that it wasn't because of the doughnuts this time.
Soon enough, we arrived at the AVA headquarters, where we checked in. We headed around back, where we were handed already wet wetsuits (I guess that's what we get for going on the afternoon raft) that we struggled to squeeze into in the changing rooms. Laughing at our inability to get wetsuits on definitely helped ease some of my anxiety, and it was helped even more when we went outside to pull on windbreakers, life vests, and helmets (I put mine on backwards because I'm a #pro).
Then, it was into the van for a ten minute drive down to our push-off point.
The Training
Once we got to our push-off point, we pulled the rafts down from the trailer and were divided into groups. Madison and I ended up with a father and son duo who seemed like they had plenty of experience in this department and one of those picture perfect Instagram couples who probably does something crazy like this every weekend. There was exactly one person in our group who had no whitewater rafting experience: me. At the very least, I thought to myself, if I fell in the water they would probably be able to pull me back up.
The other group was a large party of red-neck youths (I am also a youth, but this is beside the point) who were split in two. One of their guides was a large, burly guy who was wearing a fuzzy hat in the shape of the bull. His hat made me laugh, but I had to admit that I was glad I was with a guide who was most likely a little bit less crazy.
Before we got properly started, we (aka I) learned a little bit about the different strokes and things that our guide would be calling out. "Lean in!" For example, meant that we should lean in. Pretty straight forward. Except for the fact that, you know, leaning in meant that we were going over a huge rapid. Chill.
I was going to be totally, completely, 100% fine.
The Beginning (Of the End?)
Before I even knew what was happening, we were wading through the water and hopping into our spots on the raft. As soon as the countdown from three was over, we were off. And… nothing happened. In fact, we were basically just having a pleasant paddle down the river.
I don't really know what I was thinking. That we would push off right into a Class 4 rapid? Our guides seemed vaguely insane, sure, but not THAT insane. I relaxed a little bit.
A few minutes later, we hit our first big rapid — but not before our guide, Caleb, could talk us through exactly what was going to happen (and tell us the name of the rapid, which I do believe was something along the lines of "Deliverance"). I was reassured by the reminder that he had done this route a million times before. And that that didn't mean that he was reckless about going through it one more time, but that he knew all of the ins and outs of the rapids we would be doing and how to get through them safely. I relaxed a little bit more.
The Part When Things Started to Get Fun
I don't know how, but after my first rapid or two I actually started to have fun. Maybe it was the feeling of cold water splashing in my face (I've always loved the water — my family lived by a lake when I was younger and I could swim before I could walk), or maybe it was the fact that I had made it through a few rapids without falling in the water, but I was genuinely having a great time.
Sure, I was still a little scared that I would find myself overboard at any moment, but I had built up a good enough report with my raft-mates that I trusted them to pull me back in. I guess those paddle high fives really do work wonders.
Before I knew what was happening, I was laughing along with the rest of the group as our guides made funny jokes and competed with each other to see who could jump the highest out of the raft without falling in the water.
"There are two types of people in this world," said the guy in the bull hat somewhere along the way. "People who pee in their wetsuits and people who lie about peeing in their wetsuits."
I nearly peed my wetsuit.
Of course, despite the fact that we were all having fun, things never once dipped below an extremely high standard of safety. And it was precisely because we were being so safe that I was able to have so much friggin' fun. Caleb talked us through every single rapid that we went over, giving us just the right amount of instruction to get us through them. We paddled forward, backward, leaned in, and to one side, and I'm proud to say that I didn't even fall in once.
The Actual End
By the time we reached our end point, I was having so much fun that I didn't want to stop. If it wasn't for the fatigue setting in in my upper arms and the fact that I couldn't feel my feet, I probably could have kept going all day. But we had only paid for a half day's worth of rafting, so out of the water we went and back into the van to drive back to the AVA headquarters.
Back on dry land and back in dry clothes, we flicked through the pictures that a photographer had taken from the banks of the river. There were a few we looked absolutely ridiculous in (mostly Madison, she seems to have a gift for that), but there were also a few where I was genuinely smiling. You could tell we were having the time of our lives. We eagerly stuck two of the photos in our cart, excited to be able to relive the memories through them (and swallowing the $25 cost — I have a blog to write, after all!).
We waved goodbye to everyone on the way out, and didn't shut up about how much fun we'd had the entire drive home. I passed out that night, totally exhausted, but totally ready to take on whatever adventure life through at me next — just as long as there were proper safety measures in place.
If You Go
AVA has loads of locations throughout Colorado. We went to their location in Idaho Springs. In addition to their whitewater rafting trips, they also lead zip-lining, stand-up paddle boarding, and horseback riding along with several other adventure activities. I seriously cannot recommend them enough, especially if you're a first time rafter. Their guides brought the perfect mix of humor and safety to our trip, and I truly had one of the best experiences of my life thanks to them (and I'm not being paid to say that).
We did the half day intermediate whitewater rafting trip, which cost $64/person. We went over class 3 and 4 rapids on the trip, and even though I was a beginner I didn't have any trouble handling them. If you have younger kids, though, you may want to consider the beginner whitewater rafting trip, which costs $54/person.
And that's the story of how whitewater rafting helped me overcome my anxiety (at least one tiny bit of it). Have you ever done anything that you were nervous to do? How did it turn out? I'd love to hear your own adventure stories in the comments down below!
ADD_THIS_TEXT
Like what you read? Pin it!