3 Days in Copenhagen // An Itinerary for First Timers
Hey there! Travel looks a little different right now. Please be sure to follow local restrictions and double-check openings and guidelines for places you visit. And stay safe and wear a mask! Also, his blog post likely contains affiliate links, including Amazon Associates links. If you make a purchase through one of them I may receive a small commission at no extra cost to you.
---
---
Copenhagen is quickly becoming one of the trendiest cities in Europe to visit. With its colorful ports, delicious food, and the permeation of hygge throughout the city, it's no wonder why. 3 Days in Copenhagen is a perfect amount of time for first timers to get an overview of the city. If you're looking to go to Copenhagen, here's what to do!
Getting There
There are plentiful budget flights to Copenhagen Airport from around Europe. From the airport, you can take either the metro, train, bus, or a taxi to the center of the city. For more information on transport from the airport, see Visit Copenhagen.
My personal suggestion would be to take the metro, as they run frequently and in only one direction (towards the city center), so you can't go wrong.
If you travel by train, you will likely arrive at Copenhagen Central Station, which has plentiful transport links to the rest of the city. You can also grab a taxi from just outside the station.
Where to Stay
We stayed in an Airbnb in Frederiksberg. It was farther out from the center of the city, which meant that we got to experience a bit of local life, which we really enjoyed.
If you're looking for a budget place to stay, then Airbnb or a hostel is your best bet. Urban House Copenhagen is a popular hostel with great reviews.
Copenhagen is super expensive, so if possible I highly suggest staying somewhere with a kitchen. That way, you have the opportunity to cook some meals for yourself, which will save a lot of money.

Alternatively, if you're looking for a luxury experience right ON Nyhaven, then check out 71 Nyhavn Hotel!
How to Get Around
Copenhagen is a big city with loads of public transport. The buses, metro, and trains are all very easy to navigate. For route suggestions, I always use the CityMapper app, which gives suggestions based on transit time, amount of walking, and price.
If you don't want to buy a ticket every time you need to take public transport, or plan on taking public transport often, then investing in a City Pass or a Copenhagen Card may be a good idea.
City Passes can be bought for 24 or 72 hour periods and allow for unlimited rides on public transportation in the city (including from the airport), while Copenhagen Cards allow unlimited public transportation and free entrance to 79 museums and attractions.
Unless you're planning on visiting a lot of museums during your 3 days in Copenhagen, I suggest the City Pass.
Three Days in Copenhagen // An Itinerary for First-Timers
Day One
Take a Copenhagen Canal Tour
Taking a canal tour is the perfect way to start out your three days in Copenhagen. Head to Nyhavn and get some pictures of the colorful buildings before hopping on a tour from Netto Badene (40DKK) around the canals of Copenhagen.
Eat Lunch at Copenhagen Street Food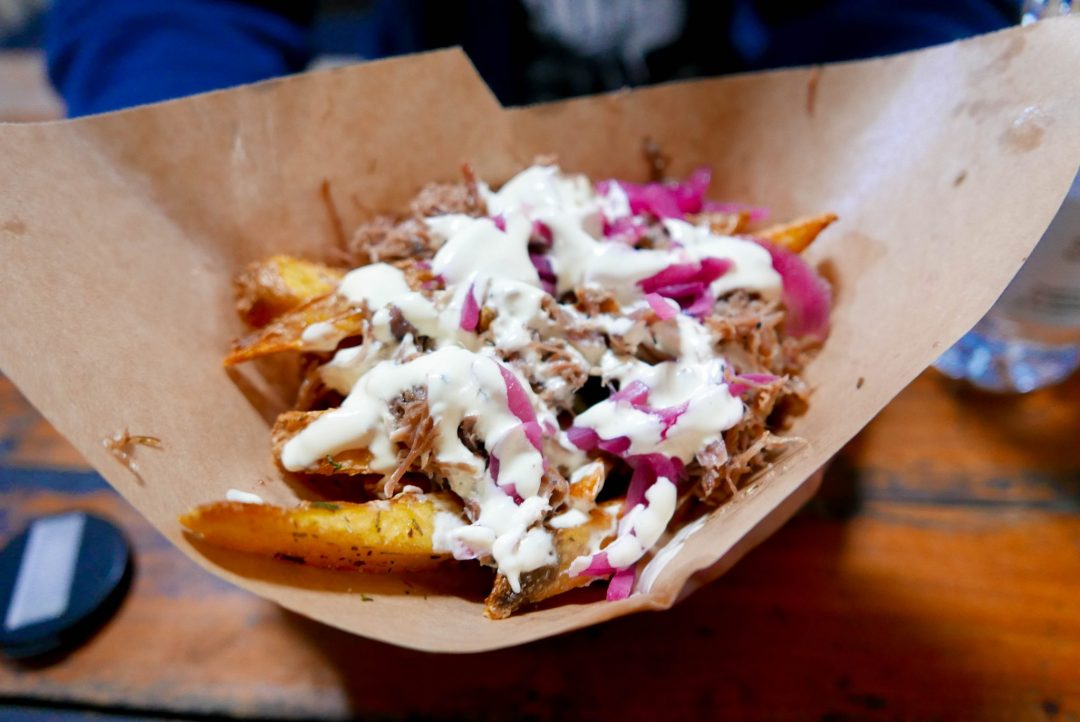 After you've gotten a taste of Copenhagen it's time to… get a taste of Copenhagen! Visit Copenhagen Street Food, a huge warehouse full of food trucks and every delicious food item you can think of. Check out this post for some tips on what to eat while there!
Take a Walk
After your bellies are full, take a walk back through Nyhavn and towards Amalienborg Castle and the Marmorkirken, where you'll find photo opportunities galore. If you have time, stop off at the Danish Design Museum (DKK100 for adults, DKK70 for seniors, free for anyone under the age of 26 and students).
Kastellet
Though not often mentioned in lists of top things to do in Copenhagen, you might have noticed this star-shaped fort while looking at a map of the city. Take a walk through Europe's best-preserved star shaped fortress before making your way to the famous Little Mermaid statue.
The Little Mermaid
Even though she's often described as being 'much smaller' than people expected, The Little Mermaid Statue is a symbol of Copenhagen. Unless you're a major cynic at heart, you just have to stop by to say hello!
Tivoli Gardens
After dinner (I suggest cooking for yourself to save some money), head over to Copenhagen's very own amusement park – Tivoli Gardens! Visiting at night means that you get to see the park at it's most charming, when everything is lit up! It'll be no wonder why the place inspired Walt Disney to make Disneyland. If you have a taste for adventure, be sure to ride the world's oldest wooden roller coaster while you're there.
Day Two
Rosenborg Palace
If you go in one palace while you're in Copenhagen (there are 3!), make it Rosenborg Palace. Home to the crown jewels and nestled in a charming little park, it's an absolute must see.
Torvehallerne
For lunch, walk over to Torvehallerne, a hall full of stands selling food. Buy some bread and cheese and have a makeshift picnic, or grab some pre-made smørrebrød and chow down.
The Latin Quarter
If you're inclined to walk to your next destination (which I always suggest), take the opportunity to wander around the Latin Quarter for a bit, as it's located right in between Tovernhallerne and the NY Carlsberg Glyptoteket. If you have time, pay the DKK25 (DKK5 for children) to climb up to the top of the Rundetaarn for views of the city.
NY Carlsberg Glyptoteket
If you're an art fan, then you're really going to love this stop. The NY Carlsberg Glyptoteket houses Carl Jacobsen's (the son of the founder of Carlsberg Brewery) personal art collection – including a replica of Rodin's 'The Kiss' and statues from all over the world. On Tuesdays, entry is free!
Day Three
Frederiksberg Have
If it's nice outside, begin your morning with a slice of local life at the Frederiksberg Have, a beautiful park which is also home to the Copenhagen Zoo! Plan to spend an hour or so wandering around or just enjoying the weather (and all the birds!)
Carlsberg Brewery
If you've walked in the right direction, you should be very close to the Carlsberg Brewery once you emerge from Frederiksberg Have. Spend a few hours here learning all about the history of beer, grab some lunch (and a free beer, included in the price of admission), and take a horse and carriage ride!
Christiania & Christianshavn
If you enjoyed the views of Christianshavn from your canal tour on the first day, then spend your last afternoon wandering around the neighborhood. Or take a free walking tour! If you're so inclined, take a little while to explore the famous autonomous neighborhood of Freetown Christiania.
What you shouldn't miss in 3 Days in Copenhagen
Be sure to take a canal tour while you're in Copenhagen. For only 40DKK, you get a fantastic overview of the city.
I also highly suggest Tivoli Gardens. Even if you're not a huge fan of roller coasters, the place is absolutely charming.
If you're a fan of beer (or even if you're not but you're curious about how its made), then be sure to take a trip outside of the city center to visit Carlsberg Brewery.
What I didn't love in 3 days in Copenhagen
I could have taken or left The Little Mermaid statue. She was cute, but I wouldn't make the trip just to see her (especially because she's a little bit out of the way of everything else – I'd suggest visiting Kastellet at the same time if you really want to see her).
I also wasn't the biggest fan of Christiania. While I'm sure it's a cool place, the open sale of marijuana didn't leave me feeling super comfortable. But if that's your jam, then go for it!
Have you ever been to Copenhagen? What did you love, and what do you think you could have skipped? If you haven't been to Copenhagen yet, what do you think you'd love the most? Let me know in the comments down below!
Like what you read? Pin it!
MY FAVORITE TRAVEL TIPS & RESOURCES
Booking Flights: The first place I turn when I'm searching for flights is actually just Google Flights - it's great to figure out what sort of routes are available. Then, I check Skyscanner and Kiwi for deals. I also love Kiwi for its destination: anywhere feature!
Transportation: I love Omio for figuring out the cheapest way to get from one place to another, and Trainline for booking train tickets within Europe.
Accommodations: I absolutely love Booking.com for finding great hotel deals. After you stay a certain number of nights, you get Genius discounts! For hostels, Hostelworld is my go-to, and I use Airbnb occasionally as well (click here for $40 off your first booking!)
Travel Insurance: I knew that I shouldn't travel without insurance for the longest time, but I really learned my lesson when I got an infected cut in Bali. Thank goodness I had travel insurance! I use and love World Nomads for their extremely comprehensive coverage.
Travel Insurance: I knew that I shouldn't travel without insurance for the longest time, but I really learned my lesson when I got an infected cut in Bali. Thank goodness I had travel insurance! I use and love World Nomads for their extremely comprehensive coverage.
Tours: I always check Urban Adventures for great day tours of cities first–I'm obsessed with them! GetYourGuide and Viator are also great options. For multi-day tours, I highly recommend Intrepid.
Camera Gear: I use a Sony Alpha A6300 camera with an 18-105 mm lens and a 35 mm lens. My tripod is the MeFoto Backpacker Air and I loooooove it! I also use a DJI Mavic Air and a GoPro and which allow me to capture everything my regular camera can't.