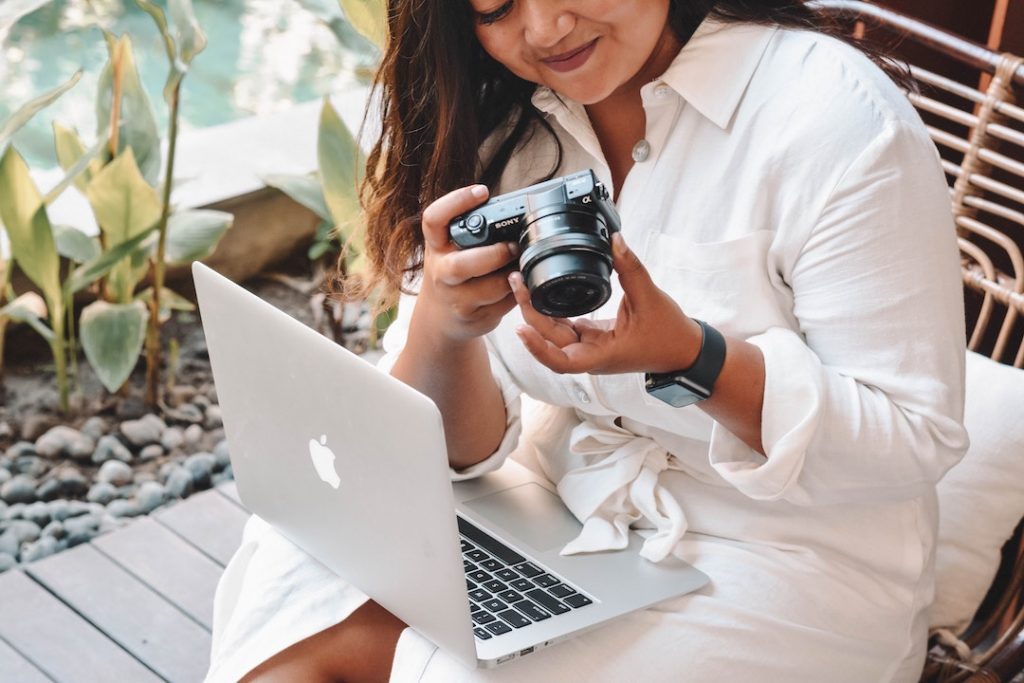 If you took a look at my credit card statement, you would be able to figure out pretty quickly that I'm an online course addict. I absolutely love learning new skills, and am always trying a new course-whether it's to help me with my blog or with something like photography! This post is going to be all about online travel photography courses–what they are, why they're awesome, and a few of my favorites! So let's get started 🙂
What are online travel photography courses?
Travel photography courses have long been multi-day workshops taught by professional photographers. These can seem majorly intimidating, and I don't blame you if you never even gave a thought to taking a photography course before because of this–I never have!
Nowadays, though, with the world of online courses absolutely booming, there are a plethora of amazing online travel photography courses to take that will teach you how to use your camera and become an amazing photographer, all from the comfort of your home.
Online travel photography courses vary in exactly what they cover, but in general you'll find that they'll teach you about things like aperture, shutter speed, and ISO (so you can use your camera on manual mode) as well as more artistic tips and tricks. There are also loads of niches, from Instagram-style travel photography to photography for moms!
I honestly couldn't recommend taking an online travel photography course (or 2 or 5!) more. Here's why.
Why take online travel photography courses?
There are plenty of reasons that you might what to take an online travel photography course, but here are some of the best that I can think of.
To Improve Your Photography Skills (Duh)
If you've ever wanted to take better photos, then taking an online travel photography course is going to be one of the best ways to do it. Rather than trying to hack together an understanding of everything based off of a mish-mash of blog posts and other random tips, an online course will teach you absolutely everything you need to know and give you a complete understanding of how to take great photos.
I took my first online travel photography course as an online homeschool student in high school as one of my electives, and it seriously helped shape me into the photographer I am today!
To Finally Learn How to Use Your Camera
If you've been using your camera on Auto mode for years now because you're way too intimidated by all of the buttons, then you need to get your butt into an online travel photography course, like, yesterday.
Although auto mode will, yes, take pictures, you bought that big, fancy camera for a reason: to take seriously high quality pictures. And I hate to break it to you, but Auto mode is not going to do that for you.
In order to get the full capabilities of your amazing camera, you're going to need to know what all those buttons mean. A photography course will help you learn just that, as well as what those crazy concepts like aperture and shutter speed are all about, so you can finally move up to manual mode and take control of your photos!
To Capture Memories
Whether you're a mom with a new baby or on your first ever trip abroad backpacking around Europe, you want to be able to capture the memories that you make. And sure, a camera phone will do the trick in a pinch, but for pictures you'll put in a scrapbook and that will take off on Instagram, it always helps to take something a little higher quality.
The longer you don't know how to use your camera or know things like how to use composition and lighting to your advantage, the more memories you're going to miss. Just think about how much you'll regret that in 50 years when you're old and all you have are a few Snapchat memories or your Insta story archives to show your grandkids…
To Save Time & Money on Travel Photography Courses
Traditional travel photography courses can be seriously expensive. Like, hundreds and hundreds of dollars expensive. They're also long. Some even go several days. And honestly? No one has the time or money for that these days.
Not only that, but actually understanding how to use your camera will save you loads of time when it comes to taking pictures. Instead of taking 10 minutes to figure out the exact settings you need to take a great picture, you'll start to know right away, so you won't miss anything!
So You Don't Have to Travel
Again, traditional travel photography courses only happen in person, and often only in big cities. If you don't live in a place where a travel photography course is happening and you want to take one, you'll have to travel for it. But if you take an online course, you can do it from the comfort of your home, on your own time, and in your pajamas!
I know it sounds super counterintuitive to not want to travel for a travel photography course, but like… save that for actual fun travel!
5 Amazing Online Travel Photography Courses
Alright, so now that I've convinced you you absolutely need to take an online travel photography course if you're interested in improving your photography skills, here are 5 that I can personally recommend (aka, I have taken/created them myself and know they're good s***).
The Wanderlust Photo Lab
Okay, am I maybe a little biased about this one seeing as it's my own course? Yes. But I also truly believe that my online travel photography course, The Wanderlust Photo Lab, is truly one of the best out there. I spent more than 3 months earlier this year creating it, and I am so, so proud of this thing.
Of course, hearing that I spent 3 months creating The Wanderlust Photo Lab, you might think that it's an absolute behemoth that you'll never be able to get through, but it's actually quite the opposite. I spent so long creating the course because I dedicated a lot of time figuring out the absolute best way to teach you how to take great travel photos from scratch without making it confusing or adding in anything extra that you don't actually need to know.
The result is a short and sweet, 4 module course that you can get through in a few hours but will teach you everything you need to know to take amazing travel photos, even if you're a complete beginner!
The course starts with a guide to equipment, including how to choose the best camera for travel photography and all of the gear that I recommend. Then, it gets into the nitty-gritty and talks about everything from lighting and composition to aperture, shutter speed, and ISO – aka how to actually use your camera.
The third module is all about different kinds of travel photography, from portrait, to landscape, to wildlife, with tips on how to take great photos in each situation. And finally, I've got a whole module all about editing your photos like a pro!
Beginner's Guide to Memorable Vacation Photos
Now, if my online travel photography course isn't enough for you, then I couldn't recommend Courtney from Click It Up a Notch's course, Beginner's Guide to Memorable Vacation Photos more.
This course is less about the tech and more about how to deal with things like harsh light and cloudy days, which I love because you can never guarantee that the weather is going to cooperate on your dream trip!
This course is more concentrated on family photography, so it has some great tips on getting kids to cooperate for great photos (which I'll be using to get my boyfriend to cooperate for great photos). There's also a great, short module at the end about printing your photos!
The Capture Course: Photographing With Ease In Manual Mode
If you're looking for a deep-dive into the tech side of things, then Lindsay Davenport's The Capture Course: Photographing With Ease In Manual Mode is for you. While it's still a short and sweet little course, it really dives into everything you need to know about how to use all the buttons on your camera, how to get the perfect exposure, tack-sharp photos, and more!
Lindsay is a professional wedding and family photographer and her photos are absolutely GORGEOUS, so you know she knows what she's talking about!
Create. Capture. Conquer.
Now, what if you don't have a big, fancy camera, but still want to take amazing pictures of your travels? Well, you're in luck.
I know I said that phone pictures aren't what you want for capturing your memories earlier, but if it's all you have then you don't want to be left just getting by. And contrary to popular (and apparently my) belief, it's actually possible to take amazing pictures on your photo – you just need to know what you're doing!
The Create. Capture. Conquer. course from Ivory Mix teaches you how to use photography tips like the rule of thirds and perspective in your mobile photography, as well as how to have more control over things like settings.
Even if you do have a big, fancy camera, it's a must take course for when you don't have it on you and are stuck with your phone!
iPhone Photography Boss: How To Get Amazing Pictures From Your iPhone
Another great mobile photography course is the iPhone Photography Boss course. This one is specifically meant for iPhones, which I love because even though iPhones have amazing cameras, a lot of people don't know how to use them!
This course will teach you all of the tips and tricks to take amazing photos that, for some reason, Apple don't seem to want you to know – like how to actually lock focus and take pictures on bright, sunny days that aren't totally washed out!
How to save money on online travel photography courses
Now, here's the thing about online travel photography courses (and online courses in general, honestly): while they're not as expensive as the in-person things, they can still be pretty expensive – especially if you're looking into taking more than one.
The 5 courses I talked about in this course alone cost more than $500 if you buy them normally. That's a lot of money.
And they're definitely worth that money. I wouldn't charge $197 for my course if I didn't really, truly believe that it was worth that much money. But it's a lot of money.
Which is why, for a limited time only, I've actually teamed up with the absolutely AMAZING Ultimate Bundles in order to offer The Wanderlust Photo Lab in their Photography Super Bundle! All of the other courses I mentioned in this post are a part of the bundle as well, meaning that you can get them all (+ 8 other ecourses, 6 ebooks, templates, and presets) for only $37.
Yup, you read that right.
Getting your hands on the Photography Super Bundle is an amazing way to save money on online travel photography courses, so if you're reading this post while the sale is still live (it's on from October 30-November 4, 2019!), then head on over to the sales page right now to check it out and grab it!
Pin it for later!