Disclaimer: this post may contain affiliate links. If you make a purchase from one of them I will recieve a small commision at no extra cost to you, which allows me to keep this blog up and running!
---
As much fun as packing all of the major sights of Paris into one day was, I was especially excited about exploring the parts of the city that I hadn't seen in pictures a million times before. Basically, I was ready to see off the beaten track Paris. And boy, did the Latin Quarter really deliver.
After reading through the Latin Quarter section of my trusty Lonely Planet Pocket Paris guidebook, I had a selection of sights that I wanted to see. Everyone else pretty much just agreed to tag along. So, we set out in the middle of the morning with the intention of having a goal-oriented wander. If you've been reading this blog for a while, you'll know is one of my absolute favourite things to do. As always, it turned out to be a great idea.
Mosquée de Paris
Our first stop of the morning was at the Mosquée de Paris. I never expected to find a Mosque in the middle of Paris, but there it was. And it was drop-dead gorgeous.
Although it's possible to enter the mosque for a small fee, it was closed for the hour that we were there, so we only got a small glimpse into the courtyard. The mosque is also home to a hammam, a souk, and a restaraunt. Needless to say, I will definitely be returning if I'm even in Paris again.
Arènes de Lutèce
Who knew that there was a Roman amphitheater in the middle of Paris? I sure didn't. When I read about it in my guidebook, though (especially the bit that there was no admission fee), I knew we had to go.
From a random street in the Latin Quarter, we walked through a tunnel and straight into history. As our eyes adjusted to the light, we realized that we were standing in the arena – and a whole bunch of people were sitting in the stands, watching us. Or maybe they were just enjoying their lunch. The Sarbonne was nearby, so there were plenty of students with a break from class. It was a beautiful spring day out, after all, so it shouldn't have been a surprise that so many locals were out enjoying the sun.
From the floor of the arena, we went a bit of a roundabout way to the stands, stopping to smell the flowers first.
There were all sorts of interesting things in the immediate vicinity of the arena, from Roman-style statues to a playground.
We had a fantastic time exploring the place and soaking in the local atmosphere. It definitely isn't everywhere that you can have your daily lunchtime picnic in the stands of a Roman amphitheater!
When we did finally make it up to the stands, we didn't spend much time there. Most of that time was spent staring across the way at a group of kids who were jumping from giant step to giant step. We were sure that one of them was going to fall. As soon as one of them did and the game came to an end, we took it as our cue that it was time to move on. This time to a slightly more well-known monument…
The Pantheon
While the Pantheon may not be as off the beaten track as some of the other destinations we had in mind that morning, we knew it simply wasn't something that we could pass up. The walk there took us past La Sarbonne and Saint-Étienne-du-Mont before we arrived at the gates of the Parisian Pantheon.
The Pantheon left us breathless before we even went through the doors. It was larger than life and beautifully ornate. Pictures certainly don't do it justice.
We entered the Pantheon, where I coughed up the €7 entrance fee. Once I got a glimpse of what I was paying for, though, I had to admit that the price was worth it (if a little bit steep for a budget traveller like myself). The inside of the building was just as beautiful as the outside.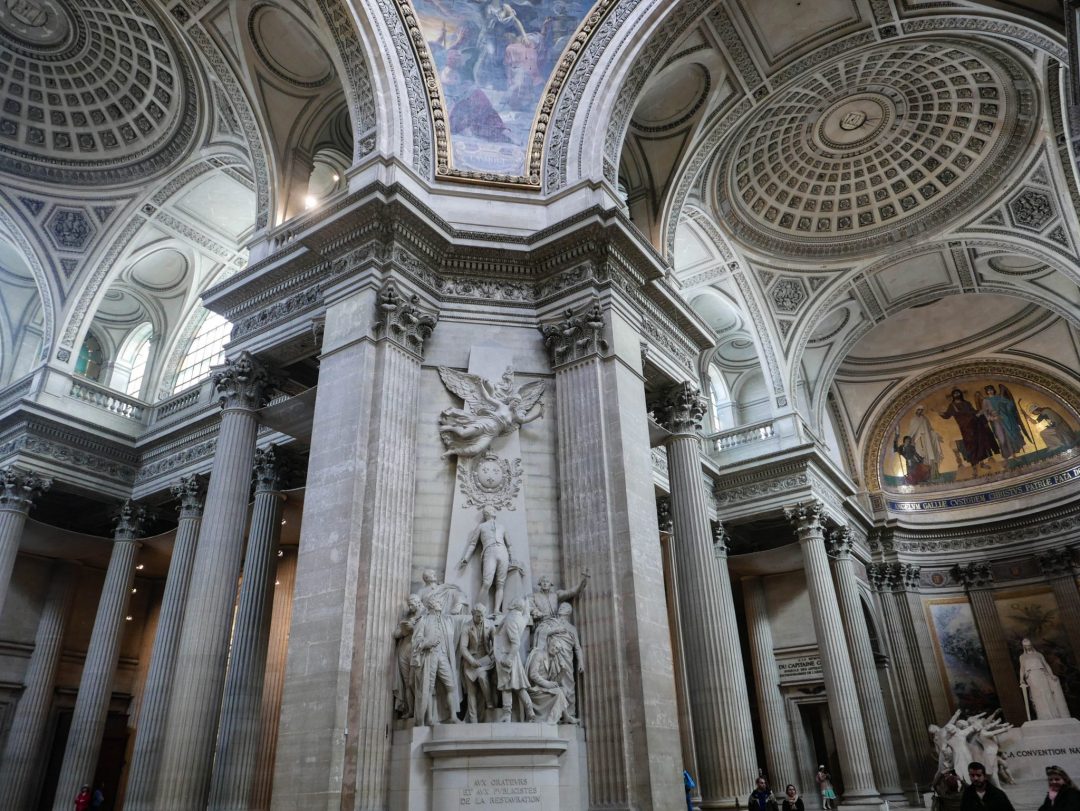 The Crypts
When we were done marveling at the beauty of the above ground portion of the building, we found our way down to the crypts. If we hadn't seen the small sign pointing down to them, we would have had no idea that they existed, so I'm really glad that someone in our group noticed it, as they were yet another big highlight of the day.
The crypts started off with a bang, with Rosseau and Voltaire staring across the aisle at each other. I thought back on this moment when I was on a walking tour in Geneva the following week and our guide mentioned the two's hatred for each other. I couldn't help but smile thinking I had been there just a short while before.
The further we made our way into the slightly chilly vaults, the more surprises awaited us. Victor Hugo, Marie Curie, and Louis Braille were all among the group. It seemed like every way we turned another recognizable name popped up.
We spent a good twenty minutes exploring the winding passageways of the crypts, loving every minute of it. We only went upstairs when the cold really started to get to us, and then it was on to our next stop.
Shakespeare and Company
With several book lovers and one English major/Lost Generation fanatic in our group, there was never any question about us stopping at Shakespeare and Company. We originally planned to stop at their newly opened cafe for lunch as well, but ran in the other direction after seeing the prices. We ended up at a cafe on a small side street, unintentionally drawn in by the nice old man working the street and the €10 prix fix lunch menu. I couldn't tell you the name of it, but the food was delicious. As our only sit down meal in Paris, it was a pretty special treat for us, and we savored every moment of it.
Finally, we returned to Shakespeare and Company to do a little browsing. I left with an overpriced copy of Tender is the Night because it didn't feel right to buy something by any other author. I made damn well sure to get it stamped.
And that was it!
From Shakespeare and Company we pushed onto the Louvre, where we would spend our afternoon – but more on that later.
Looking back on it, this morning was my absolute favourite part of everything we did in Paris. The previous day, I had felt a bit jaded by all of the major sights. I had seen them a million times before in pictures, movies, and tv shows, after all. What we saw this morning was nothing like that. Some of the places we explored I had never even heard of before! I was so proud of us for taking the road less traveled and seeing a bit of off the beaten track Paris. It made our stay just that much more enjoyable.
If You Go
If you're craving a bit of off the beaten track Paris, be sure to visit some of these sights. Starting from any metro station near the Jardins de Plantes, you can follow the same route that we did. Or, you can veer off track and find your own hidden gems. Just use Google Maps to get you there and then forget that it even exists!
Like what you read? Pin it!