Disclaimer: this post may contain affiliate links. If you make a purchase from one of them I will recieve a small commision at no extra cost to you, which allows me to keep this blog up and running!
---
Six months ago, if you had asked me what I thought the first Central American country I would visit would be, I probably would have said Costa Rica. After all, it does seem to be the most popular tourist destination of the area. And it was the only country that I actually knew anything about. But then, my dad started dating a woman from Panama, and all of that changed.
As it turns out, I had a pretty miserable time my first three days in Panama City. From tension headaches to crying on the Panama City Causeway to every travelers worst nightmare: not exploring a place in depth, this trip had it all. That's right, here's how NOT to visit Panama City.
Day One
After touching down in Panama City, we were immediately whisked off in the cab of one of her relatives to another of her relative's house for a visit.
It was eleven o'clock at night. All of the non-Panamanians in our party spoke very basic to absolutely no Spanish. To say that we experienced some culture shock would be an understatement. We were shocked, confused, and drinking it all in, because you can't get more immersed in the culture than this.
[clickToTweet tweet="You can't get more immersed in the culture of a new country than having no idea what's going on" quote="You can't get more immersed in the culture of a new country than having no idea what's going on"]
Day Two
The Panama Canal
The next morning, we left the hotel and climbed into the relative's cab once more to visit the Panama Canal.
If there was one thing I would have happily missed during my time in Panama, it would have been the canal. But then again visiting the Panama Canal is just what you do when you're in Panama.
It wasn't until a giant of a boat started rising that I realized how cool this all actually was. The two eleven year olds in our party were long bored with the process. But I was still standing starry-eyed, gazing at the boat and demanding that we stay until it got through the next lock.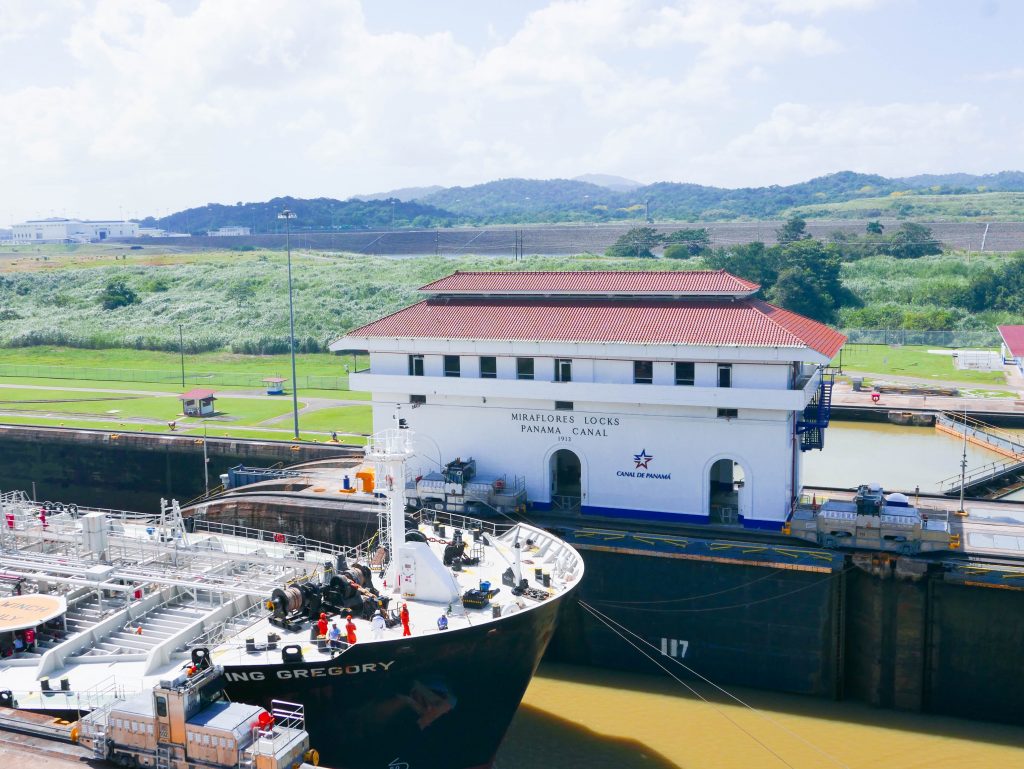 From there, it was on to find some food. Mostly because the eleven year olds were becoming unbearable and that could only mean one thing: they were starving. And to be honest, so was I. Somehow, we ended up at a small fish restaurant on the water. I couldn't tell you the name of it, but I can tell you that you could see fishermen bringing up the daily catch from your table. Oh, and that the food was mindblowingly delicious.
[clickToTweet tweet="Hangriness is the true travel enemy" quote="Hangriness is the true travel enemy"]
At the time, I had no idea that the rest of the trip would involve somehow ending up somewhere and having no idea how any of it happened. That's Panama for you, I suppose. But I'm not going to lie and say that this was something that I enjoyed.
Panama City Causeway
Even with food in my stomach, a tension headache was growing in my temples as we were told we were going to Casco Viejo. Somehow I just knew we weren't going to end up where we planned. Just like clockwork, we drove across a bridge to a strange Chinese monument. And then past what I recognized from my guidebook as the Biodiversity Museum to the causeway.
Running on a combination of barely any sleep and anxiety, I cried because I did NOT like not knowing what was going on.
I guess that's just what you get when you get too used to planning your own trips and then end up on a family vacation with someone who knows the country better than you. I adjusted, and it got easier, but I still like being able to plan my own life. That's probably not ever going to change. No matter how much time I spend in a country where going with the flow and being four hours late is the norm.
Casco Viejo
Eventually, we did make it to Casco Viejo. But by the time we did the eleven year olds were once again pretty miserable and could only really focus on going back to the hotel to swim. So we spent maybe half an hour walking down two or three streets before heading back.
From what I did see of Casco Viejo, it is an absolutely beautiful section of the city. I made a mental note to make sure to get some more time to properly explore it in the second half of my trip, when the family left and I was joined by the boyfriend.
Day Three
The next morning my dad's girlfriend's cousin-in-law was supposed to pick us up and take us to her home city at 9am. Stuck in New Year's Eve Eve traffic, though, that wasn't happening. Somehow, we ended up at Panama Viejo instead.
Panama Viejo
With everyone working on a slightly fuller night of sleep, we were able to properly enjoy ourselves for once. And so we explored the ruins of the old site of Panama City. Filled with tales of treasure-looting pirates and slave-owning nuns, you couldn't ask for a better morning.
[clickToTweet tweet="Did you know? The nuns in Panama Viejo owned slaves. #travel #funfact" quote="Did you know? The nuns in Panama Viejo owned slaves. "]
Our last stop was just across the street from Panama Viejo, in a slightly sketchy neighborhood to visit my dad's girlfriend's aunt. They greeted us with hugs and sent us away with cheek kisses and fried fish for the road. This time, I had slightly more of an idea of what was going on. And for once, was actually able to enjoy the experience. I drank in the craziness as best I could – talking parrot, shirtless old man, and all.