16 Shenandoah National Park Cabins Perfect For Your Next Getaway
Hey there! Travel looks a little different right now. Please be sure to follow local restrictions and double-check openings and guidelines for places you visit. And stay safe and wear a mask! Also, his blog post likely contains affiliate links, including Amazon Associates links. If you make a purchase through one of them I may receive a small commission at no extra cost to you.
---
When it came to my first trip in this new era of travel, I knew I didn't want to mess around with safety. So when we came up with the idea to rent one of the many Shenandoah National Park cabins available, it seemed like the perfect option! Just a 2-hour drive from our town, totally self-contained, and in the middle of nature. Honestly, what is there not to love?
Probably the biggest struggle in planning the whole thing was actually picking out which cabin that we wanted to rent! Because let me tell you, there are a LOT of seriously amazing cabins in and around Shenandoah National Park that it made it hard to narrow down.
So, I figured I would compile a list of some of our top choices – including the one we ended up going with – so you can drool over all of them too and start planning your own cabin getway!
P.S. Want to jump right to the Shenandoah cabin we picked? It's right here!
Shenandoah National Park Cabins for Couples
Anyone else think this place is straight out of Little House on the Prairie? I know!
I mean honestly, could a place like this get anymore perfect?
From the antique-looking candlesticks on the dining room table to the plush looking bed and exposed log walls, this place is perfect for the romantic in all of us – and even more perfect for a romantic getaway near Shenandoah (see what I did there?)!
A few more amenities this place offers? A private pond, wood-burning fireplaces, and views of the Blue Ridge Mountains!
Sign. Me. Up.
Wanna know what caught my eye about this place? Well, for anyone who knows me it shouldn't be a surprise… it was that charming turquoise door!
But honestly? Absolutely EVERYTHING about this place is charming!
From the matching shutters and patio furniture to the pointy attic bedroom, this place is the perfect place to escape for a romantic weekend. It's also only a 5-minute drive away from one of the entrances to Shenandoah National Park!
Once again, I was drawn to this cute little cabin by the blue.
If you're looking for a place that really has it all, then this is definitely the one. Nestled on a 110-acre farm in Rockingham County, you'll have access to hiking trails, ponds, a fire pit and outdoor grill, and more!
Of course, being so close to Shenandoah you'll also want to pop over to the National Park at least once during your stay!
The inside of the cabin is super cozy as well, with a bed that looks like you can just sink right into it and a kitchen with everything you need to whip up a good meal.
This little loft is PERFECT for a romantic retreat near Shenandoah! With mountain views and luxurious touches throughout, you'll want to just hole up and never leave.
Of course, you'll definitely want to poke your head out at least once to explore the grounds and say hi to the goats, donkeys, dogs, cats, and all the other animals on the farm. The goats look particularly cheeky and cute 😉
Finally, the loft is just minutes from Shenandoah National Park, Luray Caverns, wineries, and more! You'll have absolutely everything you need for the perfect romantic getway.
Ok, just LOOK at that giant photo of a Highland Cow hanging in the living room! You all KNOW I'm a sucker for a highland cow.
And if you're looking for one of the more modern-style Shenandoah National Park cabins for your romantic getaway, then this one definitely fits the bill. With colorful and stylish decor, along with all the modern amenities, you'll be in for a luxurious stay.
Shenandoah National Park Cabins for Big Groups
If you're looking for the perfect Shenandoah National Park cabin for a big group, this one is it. This 4 bedroom, 3 bathroom cabin can comfortably fit 9.
The cabin is perched on top of a mountain and features 180-degree sunset views from 4 different balconies. Yup, you read that right: 4 balconies!
If you're looking to get out of the house, it's just a short drive to downtown Luray or to one of the Shenandoah National Park entrances. Otherwise, you can spend a day in making use of the extensive DVD and board games collection and the foosball table!
Oh, and if you're traveling with kids then they're going to LOVE the adorable bunk room and lego drawer.
Another great Shenandoah National Park cabins option for groups is Shenandoah Peak. This cabin is designed with classic cabin decor: wood plank walls, a moose head over the fireplace, and cozy quilts on the bed.
What really makes this place special, though, is the floor-to-ceiling windows that line the front of the house, making for AMAZING views over the Massanutten Mountain's southern gap and the Blue Ridge.
This cabin has 4 bedrooms, 3.5 bathrooms, and can comfortably sleep up to 12 people.
Finally, if you're looking for a really cozy place to spend the weekend with your family or a group of friends, then you'll want to check out Spotted Fawn Cabin, located in between the towns of Shenandoah and Grove Hill and a 30-minute drive away from the northern entrance to Shenandoah National Park.
This 3 bed, 3.5 bath cabin can comfortably sleep 12 and features a gorgeous fireplace and exposed wood beams, as well as a gourmet kitchen and a hot tub.
Most interestingly, the cabin also runs on the newest technology in Solar and Geothermal heat, air, and hot water, making it a sustainable stay!
Shenandoah National Parks Cabins with Hot Tubs
Although there were plenty of options for great Shenandoah National Parks cabins, we eventually chose to stay at Lydia Mountain Lodge (we stayed in Cabin #6 – Laurel Haven) for a few reasons – most importantly its location. Just a 5-minute drive from an entrance to the park, it was perfect for getting out and hiking every day during our stay.
It was also just the right size for the two of us, and with its hot tub and amazingly comfortable bed it made for the perfect romantic escape.
They also have amazing 3- and 5- night deals which you can take advantage of!
If you're looking for a bit more space than what the cabins at Lydia Mountain Lodge offer, but are still just the two of you, then Breccia Cabin might be a good option.
With a loft sleeping area and a full gourmet kitchen, it has everything you need and more.
Oh, and did I mention that the hot tub out on the deck features sweeping views of the valley below? Yeah, you can't really beat that.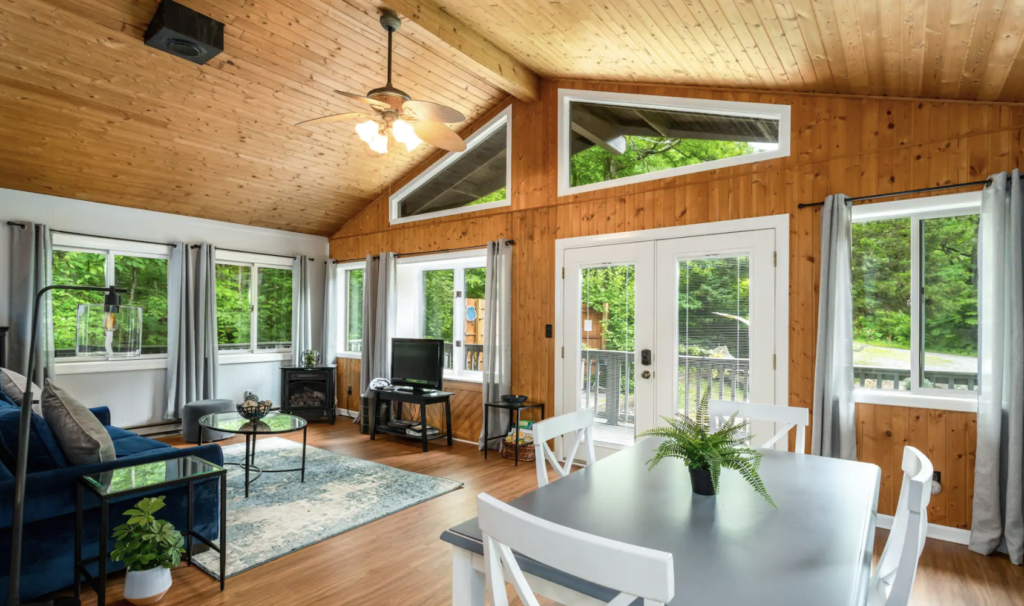 If you've been dying to get back across the pond, then this cabin might just be the one for you. Why? Well, it features an adorable little Garden Pub in the back yard! And yes, it is exactly as adorably quirky as it sounds.
Of course, the house also features everything you need for a comfortable stay, including a HUGE, modern kitchen and space for up to 6 guests!
Tiny Houses & Unique Cottages
Want to try your hand at tiny house living? Here's your chance! This adorable red tiny house is located on Ravens Ridge Farm, on the outskirts of Shenandoah National Park.
Play with the adorable working dogs, watch the wildlife, or hike the country roads into the South River Valley.
Your mental health is sure to make a serious upswing after a getaway to this spot!
Another tiny house option is this cozy 1-room cabin in the mountains. It's a little bit more on the rustic side, with a small kitchen and a futon for sleeping, but if you're looking to get back-to-basics then this is the perfect choice.
The house is also only 1 mile from White Oak Mountain and Old Rag, so if you're a hiker it would be the perfect base!
Want to feel like you're living in a Lord of the Rings book? Well, you're in luck, because this little Hobbit House is available to rent and just a short drive away from Shenandoah National Park!
Complete with whimsical furnishings along with all the luxuries you need for a comfortable stay, you definitely won't regret booking a getaway in this little Hobbit house.
Oh, and you can bring your friends! Although it looks small, the Hobbit House sleeps 4.
Alright, this one might just be my favorite of all of the Shenandoah National Park cabins on this list, and so I've saved the best for last!
This gorgeously decorated cabin is in a converted vintage barn and is the *epitome* of the perfect artists' hideaway.
Complete with an open downstairs with a full kitchen and a lofted sleeping area, I would literally spend all of my time here if I could.
Pin it for Later
MY FAVORITE TRAVEL TIPS & RESOURCES
Booking Flights: The first place I turn when I'm searching for flights is actually just Google Flights - it's great to figure out what sort of routes are available. Then, I check Skyscanner and Kiwi for deals. I also love Kiwi for its destination: anywhere feature!
Transportation: I love Omio for figuring out the cheapest way to get from one place to another, and Trainline for booking train tickets within Europe.
Accommodations: I absolutely love Booking.com for finding great hotel deals. After you stay a certain number of nights, you get Genius discounts! For hostels, Hostelworld is my go-to, and I use Airbnb occasionally as well (click here for $40 off your first booking!)
Travel Insurance: I knew that I shouldn't travel without insurance for the longest time, but I really learned my lesson when I got an infected cut in Bali. Thank goodness I had travel insurance! I use and love World Nomads for their extremely comprehensive coverage.
Travel Insurance: I knew that I shouldn't travel without insurance for the longest time, but I really learned my lesson when I got an infected cut in Bali. Thank goodness I had travel insurance! I use and love World Nomads for their extremely comprehensive coverage.
Tours: I always check Urban Adventures for great day tours of cities first–I'm obsessed with them! GetYourGuide and Viator are also great options. For multi-day tours, I highly recommend Intrepid.
Camera Gear: I use a Sony Alpha A6300 camera with an 18-105 mm lens and a 35 mm lens. My tripod is the MeFoto Backpacker Air and I loooooove it! I also use a DJI Mavic Air and a GoPro and which allow me to capture everything my regular camera can't.