A few years ago, Lisbon would have classified as an off-the-beaten-track destination. But nowadays, it's one of the most trendy cities to visit in Europe.
Going into my 4 days in Lisbon (on a longer, two week trip through Portugal), I was told time and time again how much I would love Lisbon. For the most part, I definitely believed what I was being told. But I was also worried that it was being overhyped. Or that, a week into my trip, I would be super exhausted and wouldn't be able to experience everything that Lisbon had to offer.
Thankfully, I didn't actually have anything to worry about. Lisbon was every bit as beautiful as people had made it out to be and even though I was, in fact, exhausted, it turned out not to be a problem.
Why? Because as it turns out, Lisbon is the perfect place for a lazy city break.
HOW TO GET TO LISBON
BY PLANE
Lisbon is home to Lisbon Portela Airport which welcomes plenty of budget flights to its runways. From the airport, you can take the subway or a bus to the city center.
If you're flying from somewhere else in Europe, check Easyjet and RyanAir's websites for the best deals. Otherwise, I love Google Flights for finding cheap flights.
BY TRAIN
Lisbon has several train stations with trains coming in from all over Portugal and Spain. If you're traveling around Portugal the train is a really great option. All train stations have public transportation connection to wherever you need to go in Lisbon.
You can buy train tickets for trains within Portugal from Comboios de Portugal's website.
BY BUS
If you're traveling around Portugal on a budget the bus is another great way to get to Lisbon. I came by bus from Obidos and it was super duper easy.
GoEuro is a great resource for finding cheap bus tickets. For a comprehensive listing of bus companies in Portugal, check out this guide to Portugal's buses.
WHERE TO STAY IN LISBON
LISBON LOUNGE HOSTEL
I stayed in Lisbon Lounge Hostel for my 4 days in Lisbon and it was absolutely fantastic. It was the perfect mix of trendy design, comfy dorm beds, and organized activities (there were plenty of tours leaving directly from the hostel and daily family-style dinners). I couldn't recommend it more!
Check Prices on: Hostelworld
YES! LISBON HOSTEL
Yes! Lisbon Hostel was recommended to me by a friend who had been to Lisbon before. Although I didn't end up staying there because it looked to be a bit more of a party hostel than I usually prefer, it has great reviews and is really centrally located. Reviews also mention comfy beds–a must!
Check Prices on: Hostelworld | Booking.com
WHAT TO PACK FOR LISBON
In general, I suggest sticking to your go-to packing list for city trips: enough clothes to last you, maybe an outfit for going out, etc. BUT, here are a few things I definitely suggest packing that you might not have thought of:
Shoes with traction – Lisbon is basically JUST hills, and the tiled sidewalks aren't exactly the easiest things to walk on. You'll definitely want to have a good, sturdy, and comfortable pair of walking shoes to get you around town–and make sure they have good traction!
Reusable water bottle – I always always always have a reusable water bottle on me not only because it helps save money but also because it's so much more environmentally friendly. Especially if you're in Lisbon in the summer, you'll be drinking a lot of water, so be sure to pack a reusable water bottle! I really like this collapsible one because it doesn't take up space when it's not actually full.
Travel towel – If you're staying in a hostel, it's highly likely that towel rental will cost you a couple of euros. If you're planning on staying in more than one hostel in your life, a nice microfiber travel towel like this one can save you a lot of money in the long run.
MY LAZY 4 DAYS IN LISBON
DAY ONE
I arrived in Lisbon by bus from Obidos around eleven and made my way to the Lisbon Lounge Hostel, my home for the next 4 days in Lisbon, to drop my backpack off before heading out to grab some lunch.
My time in Lisbon overlapped with a friend of mine from university's for a day, so the next thing on the agenda was to meet up with her on the Praça do Comércio. After a week of traveling solo, I couldn't have been more excited to finally get to talk to someone that I already knew.
It was absolutely pouring rain (what a great welcome to Lisbon, am I right?), so there were hordes of people huddling under the giant arch on the square. I found my spot there as well and soon enough Jenna and a friend of hers she first met in Porto found me by way of my bright blue rain jacket.
Then it was time to grab an Uber to LxFactory, a trendy strip of converted factory buildings.
LXFACTORY
LxFactory was every bit as hipster and trendy as it had been made out to be, and it was therefore very much up my alley. We wandered around the shops, dreamed of the days when we would have enough money to buy things from them, and grabbed coffee from one of the many stylish coffee shops.
We grabbed drinks and snacks from Rio Maravilha and enjoyed their rooftop terrace which had some seriously great views of Lisbon's rip-off Christ the Redeemer statue and Golden Gate Bridge.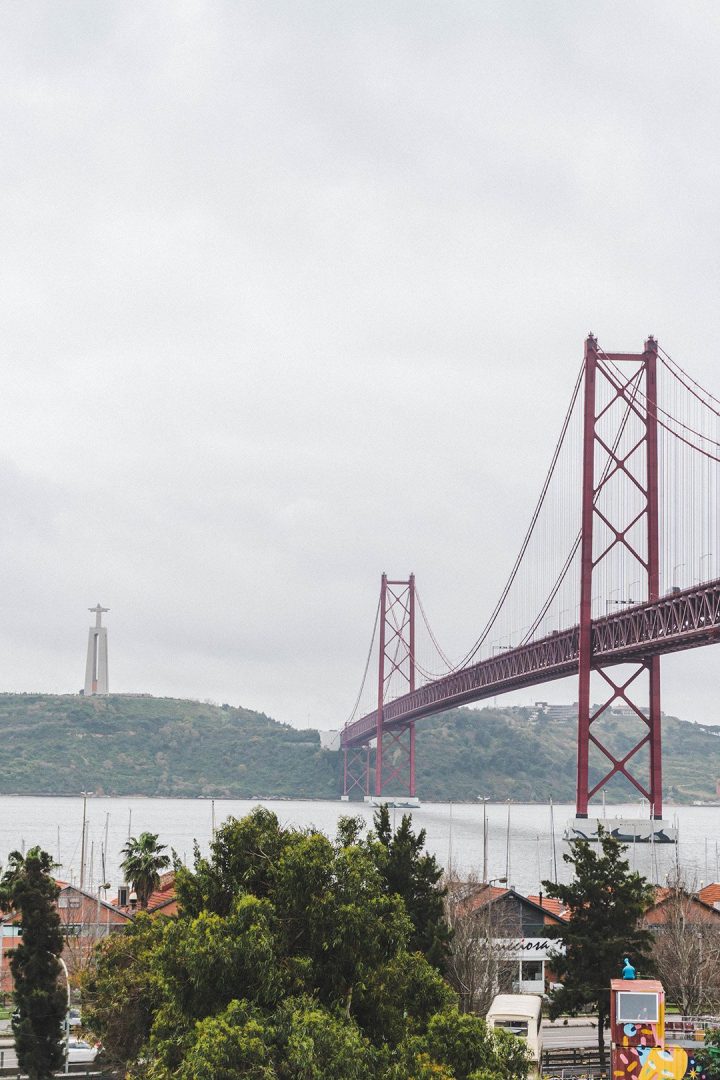 Dinner was at Mez Cais LX, a Lucha Libre-themed Mexican Restaurant with some seriously banging (and strong) Margaritas. We cried a bit at the holes the check put in our wallets, but also knew we probably should have expected it, eating dinner at a hipster restaurant in a hipster district. Still totally worth it.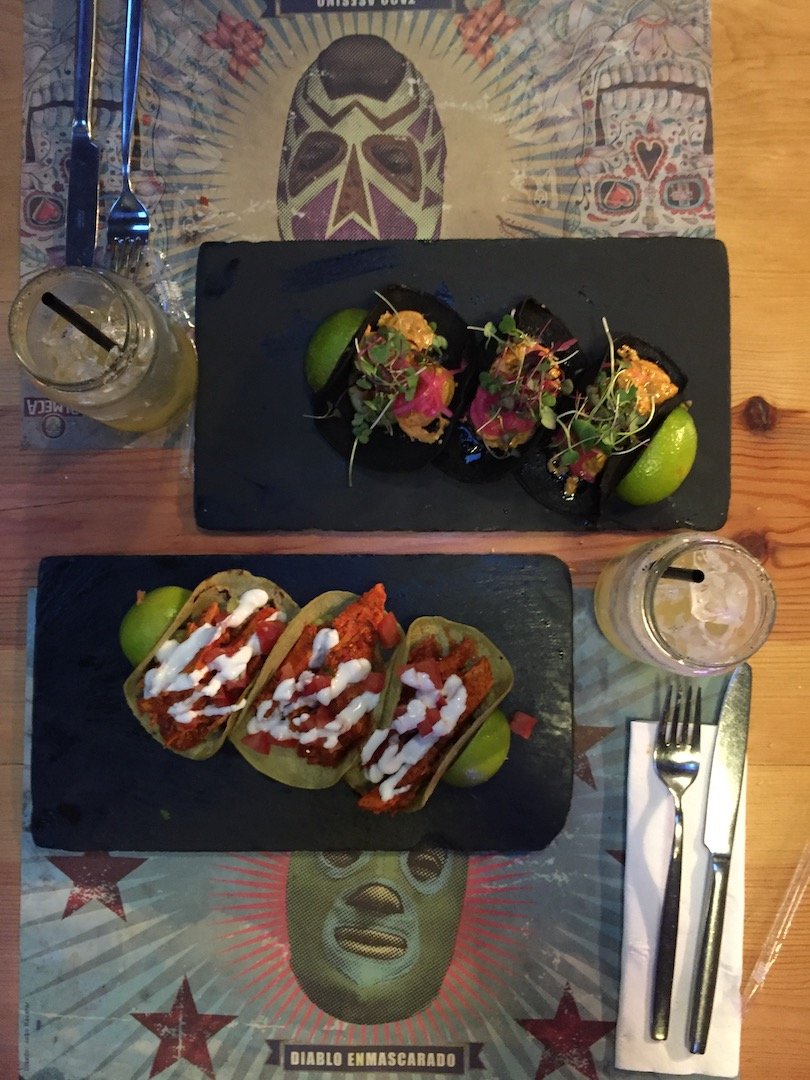 DAY TWO
KING OF THE HILLS TOUR WITH WE HATE TOURISM TOURS
The next morning I was up bright and early for my jeep tour of the seven hills of Lisbon with We Hate Tourism Tours. Unfortunately, it looked like rain, so we weren't able to take the tour in the aforementioned open-top jeep, but I still had so much fun getting a proper introduction to Lisbon driving around the entire city. Seeing the city from a bird's eye view (multiple of them, actually) was straight up amazing as well.
Perhaps the best part of the King of the Hills Tour and We Hate Tourism Tours in general is that it really focuses on sustainable tourism and showing you parts of Lisbon that you might never have heard about otherwise.
I wrote a whole post on this tour, so you can read all about it here!
LUNCH AT COPENHAGEN COFFEE LAB
Continuing with the hipster theme from the night before, I walked about ten minutes from the end-point of the tour to Copenhagen Coffee Lab, a scandi-chic cafe with some seriously great coffee (which I definitely needed after my early start). After the delicious and huge pastel de natas we had on the tour, I wasn't super hungry, so a large bread-roll with jam and cheese was the perfect lunch for me.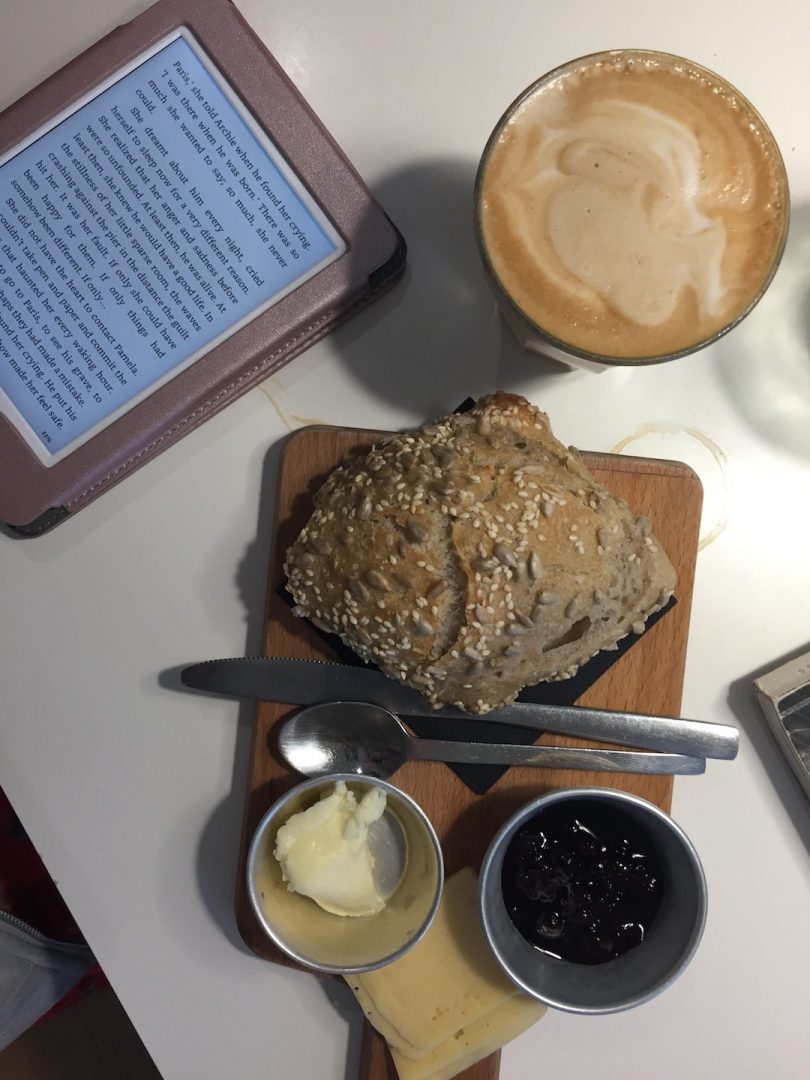 If you're into hipster-chic coffee shops, definitely head to Copenhagen Coffee Lab when you're in Lisbon.
LISBON CITY CENTER FREE TOUR WITH TAKE LISBOA
I was on a guided tour high after my time with We Hate Tourism Tours, so I decided to join Take Lisboa on one of their free tours in the afternoon. Our guide Kate was originally from Manchester but was now living in Lisbon and loving life, and it really showed in her enthusiasm while taking us around downtown Lisbon.
We saw loads of important, beautiful buildings, learned about the literary history of Lisbon, peeked into an empty Fado bar in Barrio Alto preparing for the nighttime rush, and finished the tour for Sunset at the Praca do Commercio. It was easily one of the best free walking tours I've ever taken, and I really couldn't recommend it more!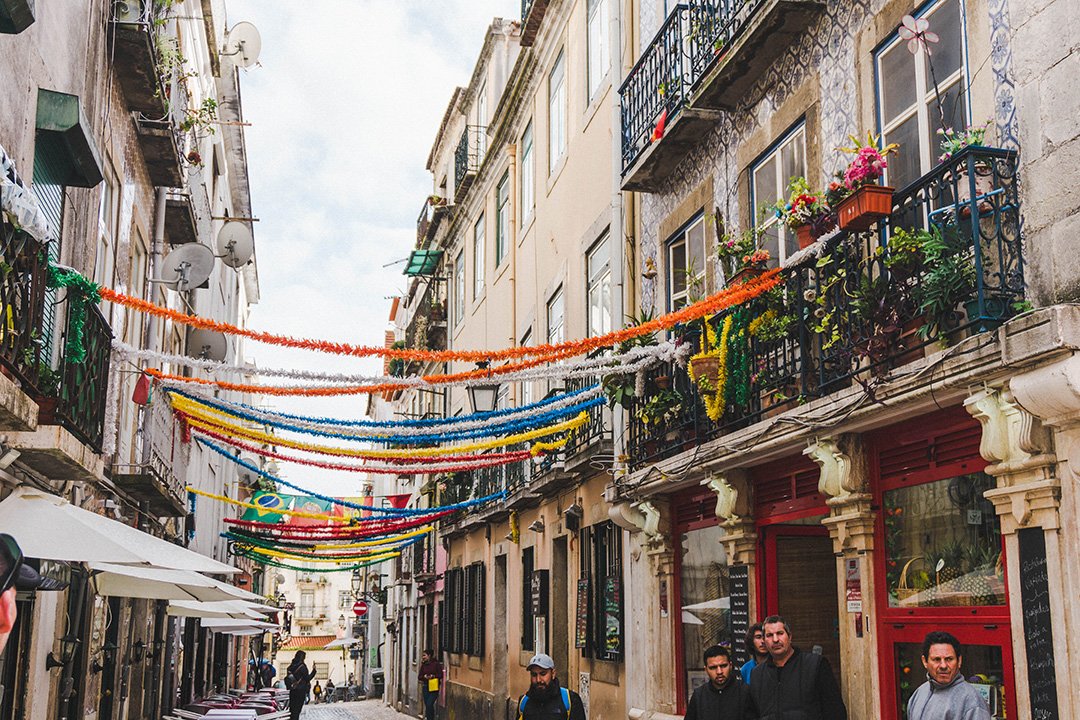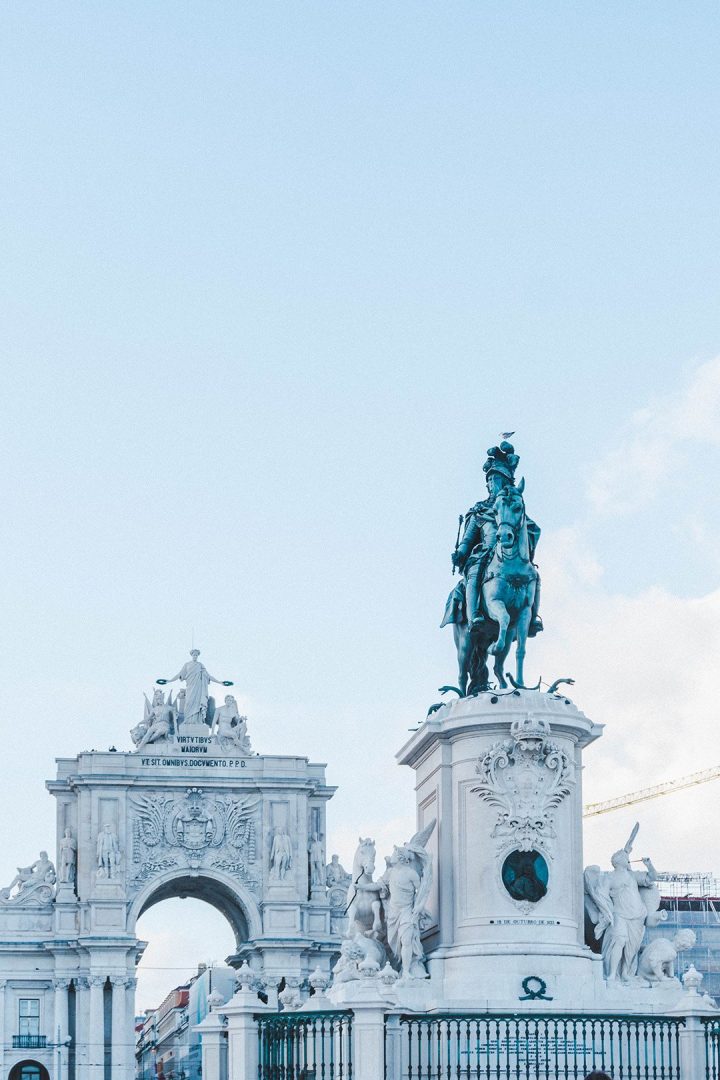 DAY THREE
My original intention for my third day in Lisbon was to take a day trip to Sintra, the famously colorful town full of castles. Instead, I woke up that morning feeling deathly ill and spent the entire day in bed.
Although I was really pissed I would be missing out, it turned out to be a blessing in disguise. The day before had been so busy and I was absolutely exhausted. Having to take the day to do absolutely nothing forced me to slow down and remember that travel isn't just about seeing everything you possibly can, but about soaking it up too. I really took that reminder to heart the next day.
DAY FOUR
ALFAMA AND MOURARIA TOUR
Although I definitely wanted to take it easy as I was still recovering a little bit from being sick, I also desperately wanted to make it for another one of Take Lisboa's free walking tours: the Alfama and Mouraria tour. And since it was my last day in Lisbon, I was up and ready to go for the 10:30 AM start time.
Thankfully, the tour was 100% worth it. Just like the city center tour I had taken two days before, it was packed with beautiful sights and loads of information. We learned about the history of Fado, explored the beautiful Mouraria and Alfama districts, and spotted Portuguese grannies poking their heads out the window to spy on us.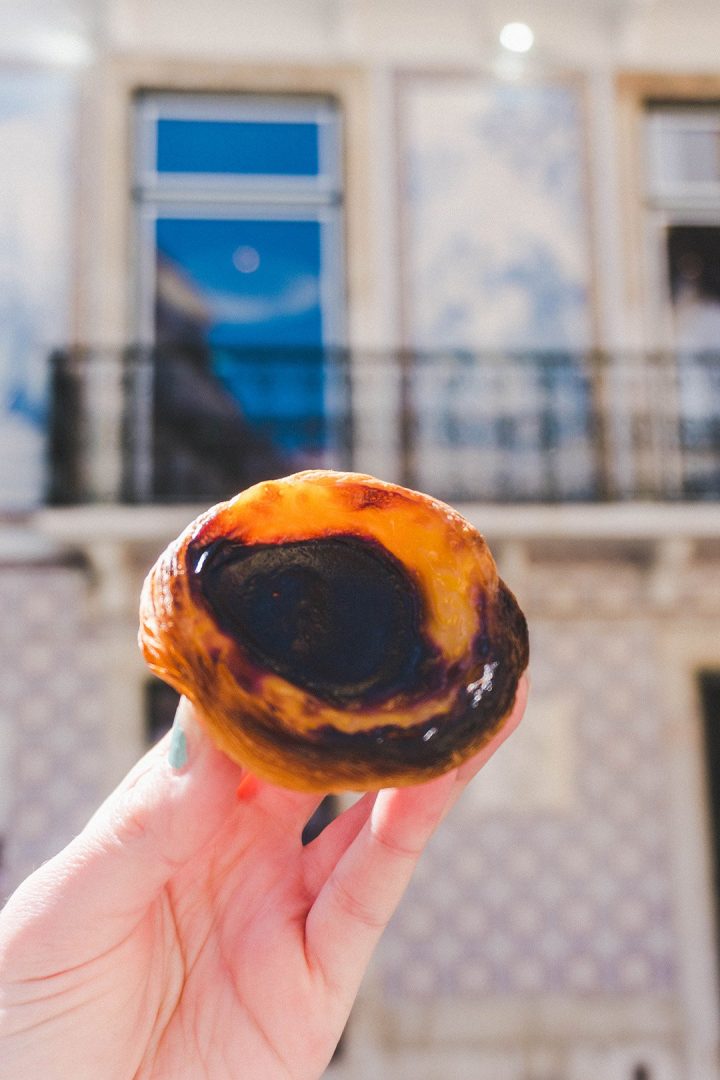 By far the most memorable moment of the tour, though, was when our guide Claudia led us down a random side street, knocked on a random window, and a woman named Tininna poked her head out the window. She made her own, homemade ginjinha, a famous cherry liqueur from Portugal, and, according to Claudia, it was the best ginjinha in Lisbon. I certainly didn't disagree.
LAZING AROUND LISBON
After heading back to my hostel to grab some lunch, Emily, a new friend from my dorm room, and I headed back up the hill towards Alfama to grab some coffee and laze around Lisbon for the afternoon.
We did a little bit of walking and staring out across the city from the million different viewpoints, but for the most part, all we did was sit, talk, and enjoy the atmosphere. And it was the perfect end to a perfect time in Lisbon.
4 DAYS IN LISBON ITINERARY
Looking for the perfect itinerary for 4 days in Lisbon? You've come to the right place! Below I've outlined what I would call the ideal 4 days in Lisbon, inspired by the time that I spent there but made even better.
If you'd like to keep things a bit lazier, then feel free to cut a few things out! Sitting, drinking coffee, and enjoying the atmosphere is just as important in Lisbon as seeing the sights!
DAY ONE
CITY CENTRE FREE WALKING TOUR
Depending on when you arrive in Lisbon, you may have loads of time to explore the first day or absolutely none. I suggest taking it generally pretty easy on the first day, but if you do have a few hours to spare I couldn't recommend the City Centre Tour with Take Lisboa more. It's a great way to stretch your legs and get a short introduction to the city!
DAY TWO
KING OF THE HILLS TOUR WITH WE HATE TOURISM TOURS
On your first full day in Lisbon, get up bright and early to catch an open-top jeep tour of Lisbon's hills with We Hate Tourism Tours. It's the perfect overview of the city and will provide you with loads of tips and recommendations for the rest of your trip. You can read all about the experience in this post.
LXFACTORY
We Hate Tourism Tours is based out of LxFactory, so just after your tour with them is a perfect time to visit this trendy strip of converted factory buildings. Explore the shops, grab something to eat, and then watch the sunset from the rooftop bar.
For a complete guide to LxFactory, check out this article by Suitcase Mag.
DAY THREE
DAY TRIP TO SINTRA
A day trip to Sintra is an absolute must while you're in Lisbon, and I'm really sad that I missed it (just a great excuse to go back, I guess!). You can either DIY it or take a tour (this is the one I was planning on taking had I not been sick).
DAY FOUR
On your fourth and final of your 4 days in Lisbon, you can either take it easy or try to pack in as much as possible. Here's what I suggest you do if you want to pack it all in:
ALFAMA AND MOURARIA FREE WALKING TOUR
I thoroughly enjoyed the Alfama and Mouraria free walking tour I took with Take Lisboa, and it provided me with one of the most special moments of my entire trip to Portugal. If you do one thing in Lisbon, this should definitely be it!
BELEM
Belem is another place I missed on my first trip to Lisbon as I ended up lazing around Alfama some more rather than heading there for the afternoon as I originally intended. If you have the time and energy though you definitely shouldn't miss this district of Lisbon. While you're there, definitely don't miss your chance to try the original pastel de nata from Pastéis de Belem!
PIN IT!
[/et_pb_text][/et_pb_column][/et_pb_row][/et_pb_section]