Disclaimer: this post may contain affiliate links. If you make a purchase from one of them I will recieve a small commision at no extra cost to you, which allows me to keep this blog up and running!
---
Updated December 26, 2017
When I first found £30 tickets from Edinburgh to Barcelona on RyanAir, I thought I was dreaming. It was already 10 pm after all, and I had never seen the tickets drop below £100 before. Not wanting to miss my opportunity, I bought tickets for my boyfriend and me without even stopping to consult him, so it's a good thing he's used to me dragging him along on my travel whims!
A month and a half later, we touched down in Spain and I was able to cross another country off of my list! After checking into our Airbnb, we set off to grab some lunch and get exploring.
How To Get Bewitched by Barcelona
Thanks to our trusty best friend Yelp, we found ourselves in a trendy little cafe a few minutes walk away from our apartment. It was there we had our first encounter with trying to use our less than stellar Spanish (my boyfriend took it in high school, while I'm 30% fluent on Duolingo. You guess who did most of the talking.)
Not gonna lie though, we were pretty excited to be able to eat something other than dining hall food for the first time in a long while. Especially once we saw the food that was set down in front of us.
After inhaling our lunch, we set out for the essential Barcelona experience of walking down La Rambla. We pointed out all of the dogs we saw, stopped to smell the flowers, and made it all the way down to the Columbus Monument, where we talked a little bit about how much Columbus sucked and appreciated the beauty of the city that was surrounding us.
From there, it was onto the Plaça Reial, where we took in the peacefulness of the square before getting our bearings and starting to explore the Gothic Quarter.
This little square was honestly the highlight of our entire time in Barcelona. I don't know what it was about those yellow buildings, but they caught and held my attention like they were some serious works of art. If we weren't so broke, I would have demanded we get a coffee at one of the cafes lining the square. Instead, we just took our pictures, enjoyed the atmosphere, and continued on.
Exploring Barcelona's Gothic Quarter
We didn't have much of a plan in mind, though there were a few points that I knew I wanted to hit. So we just started walking and, funnily enough, managed to find them without really trying to. That is, I suppose, the magic of wandering.
We happened upon La Cathedral with a Christmas market set up in front of it, where Daniel bought a pooping statue for his best friend.
At one point we managed to do a circle back to Plaça Reial, which was when we finally resorted to Google Maps to find the Barcelona City History Museum. Tucked away in the midst of the Gothic Quarter, we would have walked right past it if I hadn't been determined to go there. And that would have been a tragedy.
Ever since I read about the Barcelona City History Museum in my trusty Lonely Planet guidebook and learned that you could walk through actual Roman ruins, I knew we had to go. And of course, they did not disappoint. Because Roman ruins are freaking awesome.
That Time We Failed at Ordering Tapas
Exhausted from an afternoon of exploring, we decided to head back to our room for a few hours to just rest before dinner, which ended up being worth it as we perfectly timed it to escape the rain.
Around 8, we showed up at a tapas bar and once again struggled wowed everyone with our Spanish.
Eventually, we decided to just order by sight from the tapas that were laid out on the counter. As a result, I couldn't tell you exactly what we had, but I can tell you that they were DELICIOUS.
Unfortunately, Daniel's hangry-ness meant that tapas were NOT going to work. So from there, it was on to a proper dinner on a terrace overlooking the Cathedral de Santa Maria Del Mar.
The food was surprisingly cheap for such an excellent location and was also DELICIOUS. I'm still dreaming about the soya sauce on the chicken that I had. #fingerlickingood
Day 2: Pigeons in the Picasso Museum
The next morning, we were up quite a bit later than planned. Probably due to the fact that we had been up at 3 am and on our feet for the rest of the day the day before. We decided to have a chilled out late morning at the Picasso Museum, which ended up being the perfect size for about an hour's worth of entertainment before we embarked on our big afternoon adventure. AND it was free for students. #win
Since the museum was organized chronologically, you got to see the paintings get trippier and trippier as you went along. I'm not art aficionado by any means, but I did particularly enjoy the room dedicated solely to the eight days that he spent painting eight large paintings of pigeons. It was awesome.
After a short stop for breakfast for lunch at a little hole in the wall cafe that had DELICIOUS scrambled eggs (can you sense a pattern here?), we set off for an hour-long trek all the way up to Park Güell.
Sure, we could have taken public transport, but since it only saved us about fifteen minutes and we were running low on money, we figured that walking was the way to go. Especially since we could see a whole bunch of the city that way.
Most of the walk was through neighborhoods that most tourists don't set foot in, which was a great way to get a glimpse of local life. We even accidentally stumbled upon the Arc de Triomf!
Park Güell
After a long, LONG trek uphill, we finally reached Park Güell. I had booked tickets ahead of time for the Monumental Zone, and we were pretty blown away by just how ridiculous it was.
All of this just for a
residential complex
? It seemed a little crazy to us, but then again we're budget travelers, not rich residents of Barcelona.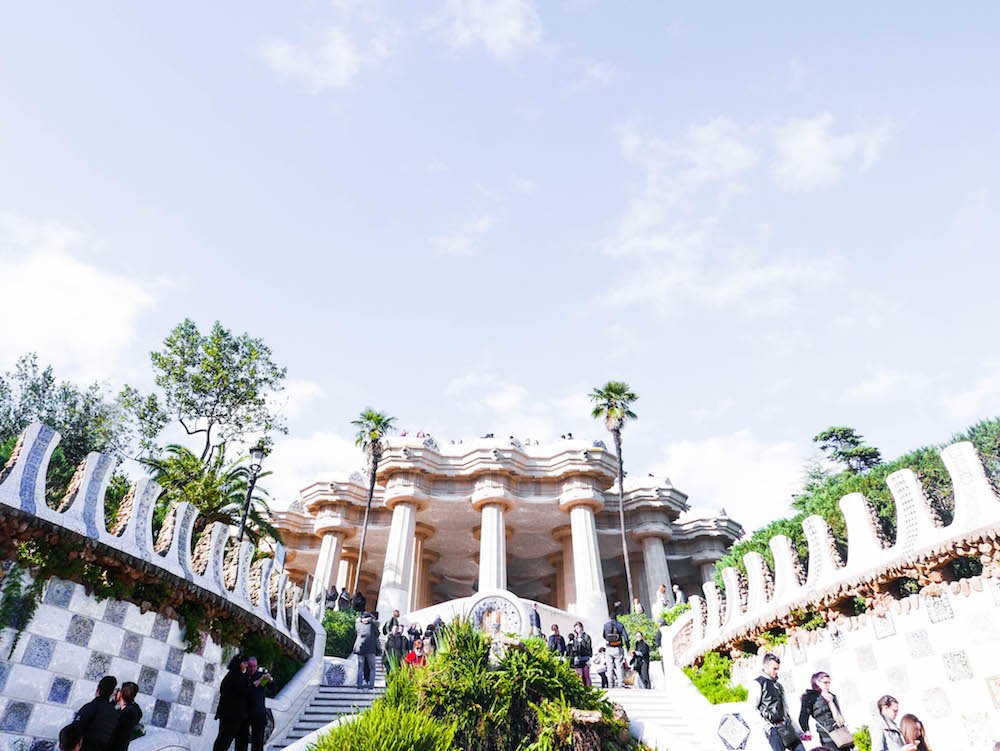 We spent a pretty good amount of time up on the main terrace, resting our feet and waiting for a spot at the front to open up so we could get that famous shot in. It was definitely worth it, as the views were pretty out of this world (and our feet really, really hurt).
Even though we had already seen what all of the guidebooks and Instagram shots tell you to see, we decided to take some time to explore the rest of the park. Aka the bit that you don't have to pay for.
When it started with steep stairs and walks uphill, we were pretty discouraged. But it was totally worth it. Although the rest of the park is definitely different from the monumental zone, it still has a sense of whimsy to it. It's also a hell of a lot more peaceful than the famous part of the park.
I got plenty of time to shoot a view of the city with some cooperative pigeons as my subjects and take all of the pictures of the giant succulents that I wanted to without ever feeling rushed.
Then, it was time to head off again. Since Daniel was starving (classic), he grabbed a jamón sandwich from a little cafeteria before we got too far, and I unabashedly stole half of it because jamón is friggin' AMAZING.
Our next stop?
La Sagrada Familia
Even though every guidebook ever tells you to visit as early in the morning as you can, we decided to save the best for last, since tickets were half price for under-30s after 4 pm (through the end of 2016).
Since we visited in late November, we were lucky enough for there to be practically no one around, and, well, La Sagrada Familia took our breath away. My pictures don't do it nearly enough justice, especially since my camera decided to die about five minutes after we made it inside, but it was absolutely beautiful.
And that was it! We flew out the next morning, pretty sad to have to head back to university life and our upcoming exams. Even though we only had 2 days in Barcelona, I think we managed to pack a lot in without getting overtired. But I also know that I'll be back as soon as I possibly can. Barcelona stole my heart.
How to Spend 2 Days in Barcelona
Where to Stay in Barcelona
We stayed in a straight up a m a z i n g Airbnb only a few minutes walking from the Gothic Quarter. Seriously, I don't think we've ever stayed in a better location. And all for only $31 dollars a night. I was seriously chuffed when I found the place, and even more so when we arrived.
If you're looking for where to stay in Barcelona on a budget, I definitely suggest taking a look at Airbnb (though beware that the city is cracking down on unlicensed rentals). If you're not signed up for Airbnb yet, be sure to do so via this link to get $40 off your first booking!
You can also search for deals on Booking.com.

2 Day Barcelona Itinerary: Day 1
Your first day in Barcelona is all about getting a feel for the city. Since you'll only have arrived the night before (or even that morning), don't take it too hard. Just enjoy yourself!
Walk down La Rambla
Walking down La Rambla is definitely a quintessential experience for your time in Barcelona – though beware that it's definitely a tourist trap. Either way, it's a good place to start off for exploring Barcelona's Gothic Quarter.
Explore the Gothic Quarter
If you do one thing during your 2 days in Barcelona, make it exploring the Gothic Quarter. This Barcelona barrio is every photographer and wanderluster's dream. No s**t.
Barcelona is absolutely full of history, and the Gothic Quarter is where to find it. Let yourself get lost and you'll never be the same person again.
For more inspiration, here are the top 10 things to do in the Gothic Quarter.
Barcelona City History Museum
While you're in the area, be sure to stop by the Barcelona City History Museum. This underappreciated little museum really gives you an appreciating of the history of Barcelona. AND it's built on top of some pretty lit Roman ruins.
Go Tapas Bar Hopping for Dinner
Make sure you grab a snack in the afternoon because Spaniards like to eat late. And in small portions. But it's a classic cultural experience to go tapas bar hopping in Barcelona, so you just can't miss it.
The Lonely Planet Pocket Barcelona guidebook details an awesome self-guided tapas walking tour of the El Born district. This is what we started doing before Daniel's stomach directed us towards main dishes.
2 Day Barcelona Itinerary: Day 2
Visit the Picasso Museum
I'm not a huge fan of art museums, but the Picasso Museum in Barcelona is one exception. Because it's organized chronologically, you not only get to see how talented of a technical artist Picasso was but his steady progression towards more and more abstractness.
Definitely don't miss out on this during your 2 days in Barcelona! You can also grab some delicious breakfast from that hole in the wall locals place we found… if you can find it. Stupid me didn't write down the name. If I ever return to Barcelona finding that place will be my number one mission. It was that good.
Park Güell
Depending on how fit and adventurous you're feeling that day, make your way to Park Güell either by foot, public transport, or taxi. A taxi will be the fastest way, but it will also be super expensive. If you're a budget traveler, then go for public transport or walking.
I suggest walking if you're up for it. Especially because public transport only takes you as far as the base of the hill Park Güell is on anyway and barely saves you any time.
Reserve tickets ahead of time for the Monumental Zone. Even in December, it was pretty packed. But don't forget to go beyond the Monumental Zone as well. That's where the real beauty lies.
La Sagrada Familia
You can't spend 2 days in Barcelona without going to Gaudi's famously unfinished church: La Sagrada Familia.
Reserve tickets ahead of time for this attraction as well. You'll feel awesome skipping the line 😉
Have you ever been to Barcelona? Let me know all about your experience in the comments below!
Pin it for later