Two Days in the Bruce Peninsula
Hey there! Travel looks a little different right now. Please be sure to follow local restrictions and double-check openings and guidelines for places you visit. And stay safe and wear a mask! Also, his blog post likely contains affiliate links, including Amazon Associates links. If you make a purchase through one of them I may receive a small commission at no extra cost to you.
---
After our time in Toronto, we wanted to experience some of the natural beauty that Canada is so famous for. So, we decided to head up to the Bruce Peninsula for a few days of pure Canadian wilderness and small-town charm.
Day One // Bruce Peninsula National Park
After stopping to grab groceries (and Tim Horton's) in Toronto, we were off and running. Once there, we set up camp in Bruce Peninsula National Park. Then, we headed off on our first hike.
Bruce Peninsula National Park might be most famous for its cave swimming hole, The Grotto. Shortly after that comes its rock beach, Indian Head Cove. Since the two are within a few minutes of each other we decided to make them our first destination. After a short half hour hike the bright blue waters of Lake Huron came into view. We set straight to exploring its rocky shores.
Even though we had donned our swimsuits, it had rained earlier that day. Being the whimps that we are when it comes to cold water (see: sitting on the beach on the Toronto Islands), we deemed it way too cold to even try to swim in the crazy crystal clear waters. So instead, we just laid out on the rock beach and enjoyed the sun that had finally come out to play.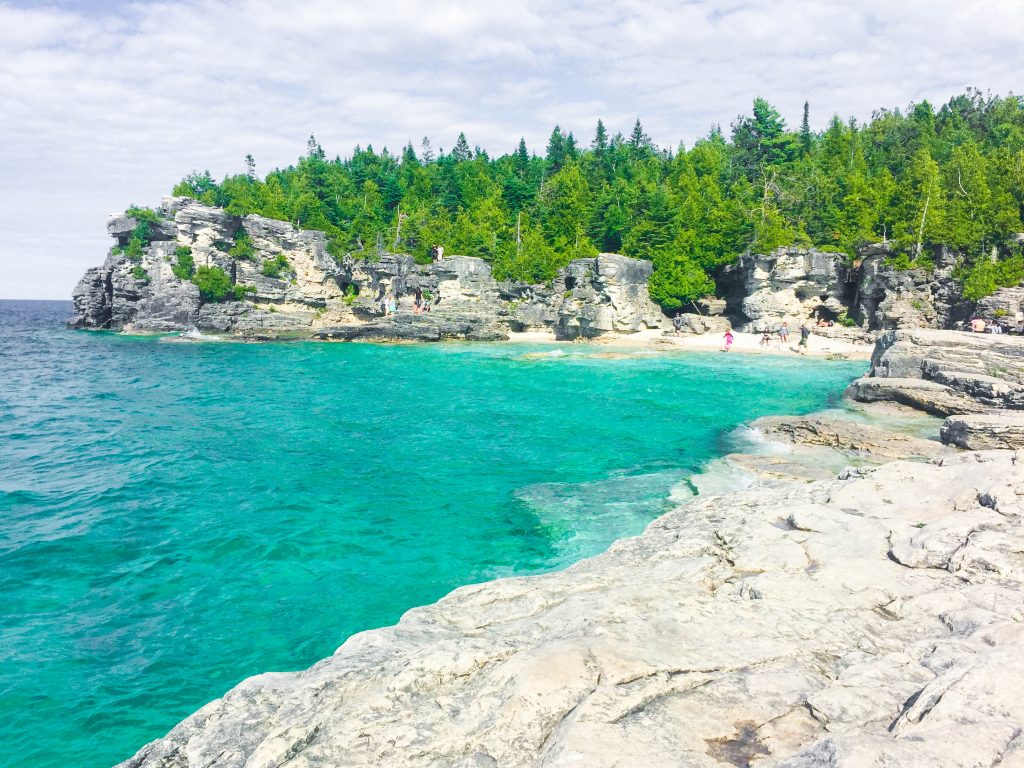 After we got our fill of the sun we headed over to The Grotto. It was only a five minute walk, but once there, we had to scale down a rock wall in order to get to the prize: a cave that, if that water wasn't so absolutely freezing, we would have been able to swim in. Unfortunately, since we're major wimps, we didn't swim. Instead, we made our way back to camp to cook up some dinner.
Day Two // More Hiking and Tiny Tobermory
We woke up that morning to the sights and sounds of nature. This was something that I hadn't done since I was a little kid, and it reminded me off all those Girl Scouts camping trips that I loved so much (but complained about nonetheless).
After a breakfast of muffins and granola bars, we donned our hiking shoes once more. This time, we set out on the Marr Lake Trail to Boulder Beach.
Despite the fact that we practically killed our ankles getting over the rocky beach, we continued on to Overhanging Point along the Bruce Trail. Although we're not sure if we actually reached the lookout point or not, we had a picnic lunch while overlooking Lake Huron. There was no one else around, and we couldn't have been more at peace.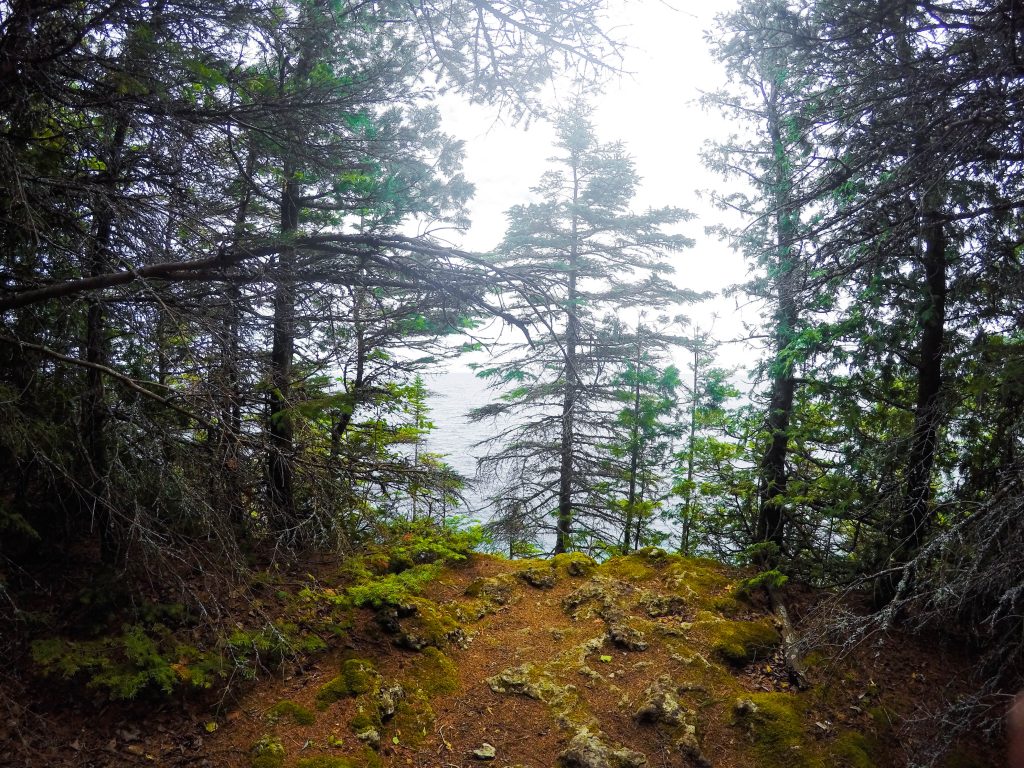 We went into the nearby town of Tobermory for the afternoon. We spent our time there exploring the tiny downtown and grabbing some delicious ice cream from The Sweet Shop. For dinner we had some of the most amazing fish and chips I've ever eaten at just about the cutest little restaurant overlooking the harbor.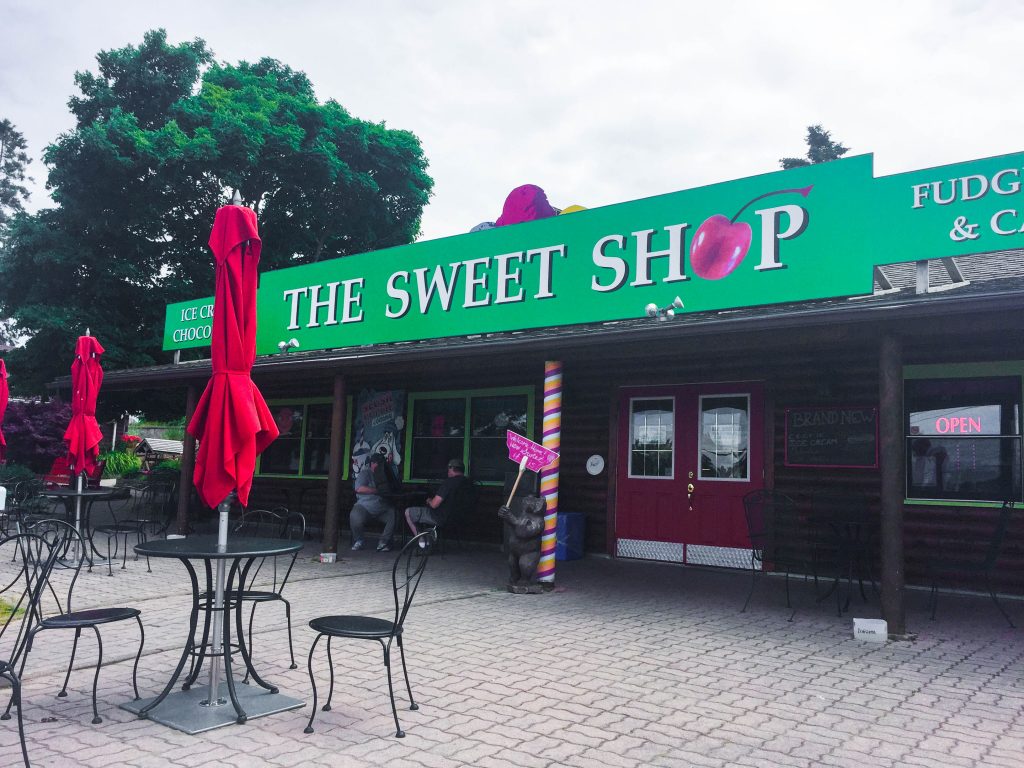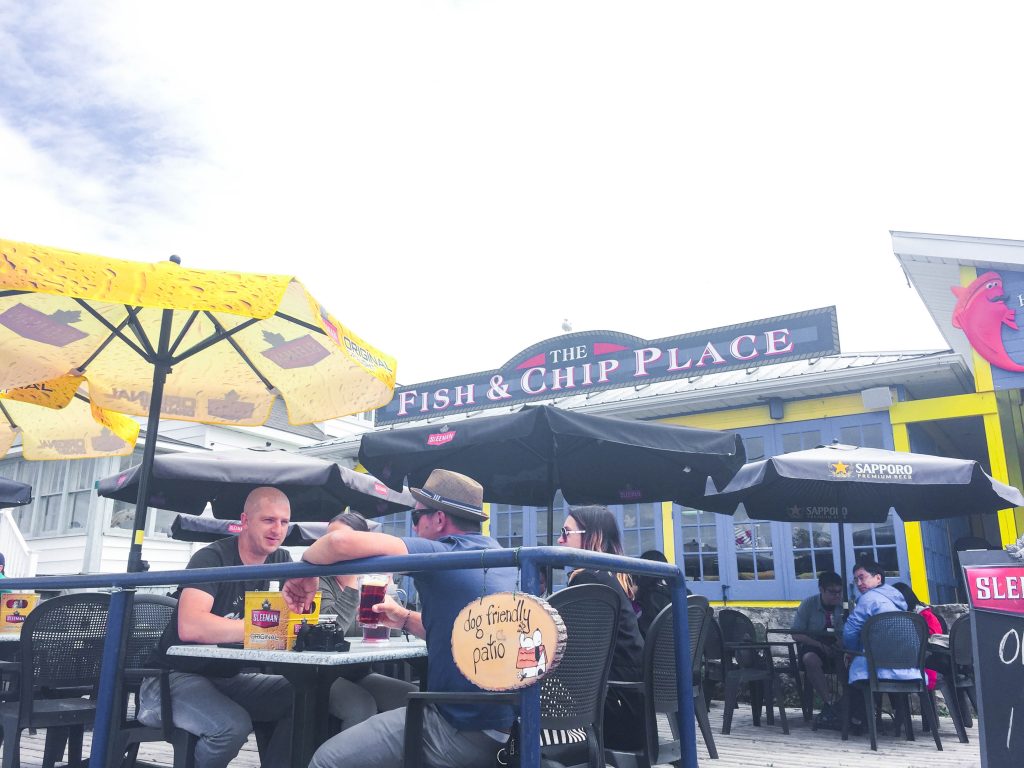 As the sun set on our final day in the Bruce Peninsula, we wandered around the harbor and enjoyed the views. I couldn't help but think about how much I had fallen in love with this tiny little town in the middle of nowhere. And, of course, how I couldn't wait to come back.
If You Go
Tobermory and Bruce Peninsula National Park are approximately a 3 and a half hour drive from Toronto. If you don't have access to a car, you can take the Parkbus from Toronto (return prices: $89 for adults / $80 for students/seniors / $45 for children). It stops both in Bruce Peninsula National Park and the town of Tobermory.
I highly recommend camping in Bruce Peninsula National Park if you can. You can either bring your own gear to the Cyprus Lake campground or try your hand at glamping in a Yurt.
Even if you're not a hiker, you can't miss The Grotto. It's only a short half hour walk along a boardwalk, so it's totally worth it. If you're looking for a more strenuous hike, there are plenty to choose from. We did the Marr Lake Trail to Boulder Beach and loved it – just be sure you wear shoes with ankle support!
In the actual town of Tobermory, there's not that much to do. But I definitely still suggest visiting. It's too cute not to miss! Be sure to check out The Sweet Shop and head to The Fish and Chip Place for dinner one night.
Like what you read? Pin It!
MY FAVORITE TRAVEL TIPS & RESOURCES
Booking Flights: The first place I turn when I'm searching for flights is actually just Google Flights - it's great to figure out what sort of routes are available. Then, I check Skyscanner and Kiwi for deals. I also love Kiwi for its destination: anywhere feature!
Transportation: I love Omio for figuring out the cheapest way to get from one place to another, and Trainline for booking train tickets within Europe.
Accommodations: I absolutely love Booking.com for finding great hotel deals. After you stay a certain number of nights, you get Genius discounts! For hostels, Hostelworld is my go-to, and I use Airbnb occasionally as well (click here for $40 off your first booking!)
Travel Insurance: I knew that I shouldn't travel without insurance for the longest time, but I really learned my lesson when I got an infected cut in Bali. Thank goodness I had travel insurance! I use and love World Nomads for their extremely comprehensive coverage.
Travel Insurance: I knew that I shouldn't travel without insurance for the longest time, but I really learned my lesson when I got an infected cut in Bali. Thank goodness I had travel insurance! I use and love World Nomads for their extremely comprehensive coverage.
Tours: I always check Urban Adventures for great day tours of cities first–I'm obsessed with them! GetYourGuide and Viator are also great options. For multi-day tours, I highly recommend Intrepid.
Camera Gear: I use a Sony Alpha A6300 camera with an 18-105 mm lens and a 35 mm lens. My tripod is the MeFoto Backpacker Air and I loooooove it! I also use a DJI Mavic Air and a GoPro and which allow me to capture everything my regular camera can't.