The stretch of California's Highway 1 from Carmel to San Simeon is often lauded as one of the most beautiful coastline drives in the world. Filled to the brim with state parks and breathtaking view points, driving Big Sur is definitely not a part of your road trip that you'll want to sleep through.
For all of the natural beauty that a Big Sur road trip has to offer, though, it is important to note that you do not want to go into your adventure there unprepared. When my brother and I set off on our road trip from San Jose back to Illinois, we had done essentially no research on the section of Highway 1 that we would be driving on. We simply thought that it would be a nice little detour on our way to Route 66. That was our first mistake.
The spirit of Big Sur is perfectly relayed in the fact that there is absolutely no cell phone service throughout the entire drive. If you're a person who trusts Google Maps implicitly (like I do), you may want to come up with a second option beforehand (which I did not) for driving Big Sur. If you don't, you'll most likely be faced with extreme anxiety that you're going to get completely lost. Even though you already know you're going to be driving along the same road for the next 100 miles.
As long as you stick to Highway 1 and nearby attractions you should probably be fine. But it's, of course, better to be safe than sorry. So without further ado, here are a few tips and tricks for driving Big Sur that I had to learn from experience.
Tips for Driving Big Sur
PLAN TWICE AS MUCH TIME AS YOU THINK YOU'LL NEED
As everyone knows, road trips are so much more about the journey than they are about the destination. That mentality fits Big Sur completely.
There are scenic viewpoints off the side of the road what seems to be about every ten feet. And there are more state parks in one small area than any one person can even fathom. You could easily spend several days exploring the region.
You could certainly simply drive along, not stop, and still get beautiful coastline views. But you definitely wouldn't be grasping the full effect that way.
PLAN AHEAD
As I mentioned before, cell phone reception in Big Sur is completely nonexistent. Not only will you be unable to use Google Maps if you get lost, but you won't be able to use your phone to look up things to do along the way.
Take some time before you set off to look into what state parks and other attractions you'd be interesting in visiting. You'll be glad you did.
GET READY FOR WINDING ROADS
Highway 1 follows the Pacific coastline all the way from Washington to California. Thanks to the coast line, it's pretty well known for being especially winding. Big Sur is no exception to this rule. In fact, it may be one of the most winding sections of the road (at least out of the small bit of it that we drove).
If you're used to straight shots all the way to your destination (like I am), then this may be a bit of a shock to you.
Don't try to drive too fast here, especially if you're not comfortable. Safety comes first. And besides, you'll want to drive as slowly as you can to drink in the views anyways.
PACK THE ESSENTIALS
In the same vein as planning ahead, you're definitely going to want to pack everything you think you're going to need into your car before you head off. Big Sur is beautiful but practically uninhabited. And when you do find a shop along the side of the road it is likely to be extremely overpriced. So you're much better off buying all your stuff beforehand.
TAKE YOUR TIME Driving big Sur
Finally, I just want to reiterate how important it is to take your time. Big Sur is not the stretch of road where you want to make up time, but rather where you want to lose it. Go ahead and take it all in. You don't see this kind of beauty every day.
Top Things to do in Big Sur
Alright, so now that you know a little bit more about the best way to take a Big Sur road trip, you probably want to start planning your stops! Because we didn't plan very well, we actually didn't manage to do some of the top things to do in Big Sur – but I've still got some recommendations for you!
17 Mile Drive
While not technically a part of Big Sur, I highly recommend a detour onto the 17 Mile Drive at Pebble Beach. Located in Carmel by the Sea (the official starting point of Big Sur), this private stretch of road features rock beaches, the Lone Cypress Tree, and tons of wildlife.
Point Lobos State Natural Reserve
If you're looking for easy hikes with big rewards, then you can't go wrong with Point Lobos State Natural Reserve. This small park features easy trails along the cliffs with stunning views.
If you're a diver, there is also the opportunity for some killer diving! Breakwater Scuba runs guided trips.
Bixby Bridge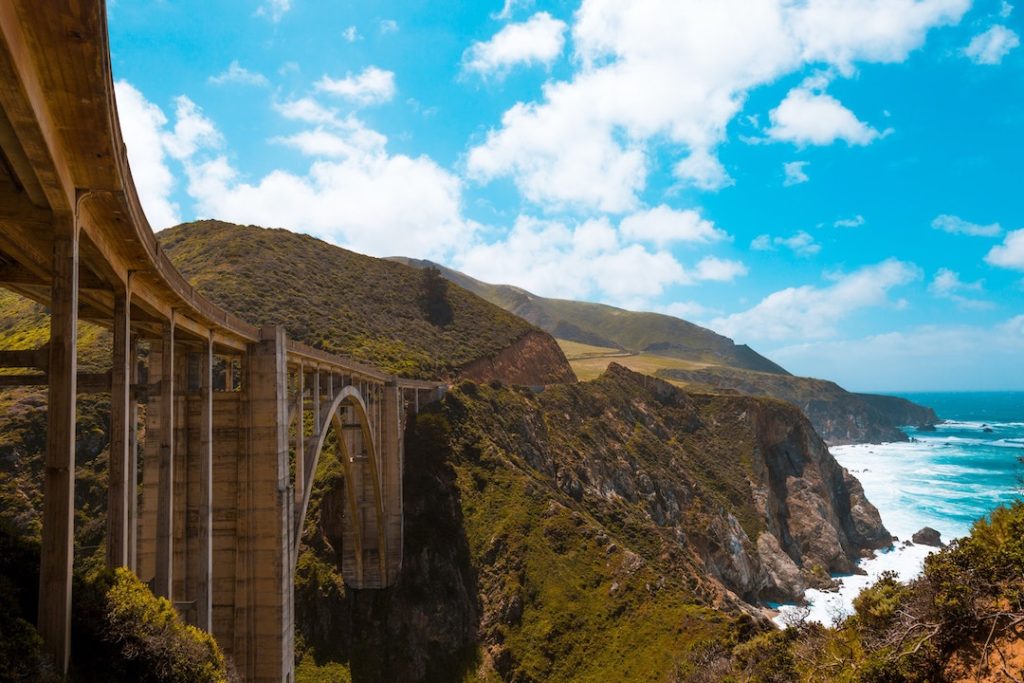 Bixby Bridge is one of the best spots to stop for amazing views while driving Big Sur. This isn't your regular old concrete bridge, either. The arching architecture makes it the perfect subject for photographers.
Nepenthe – the best lunch stop while driving big sur
If you're looking for a meal with a view, then you can't go wrong with Nepenthe. This stylish eatery is perched on the side of a foggy cliff and serves delicious burgers, sandwiches, soups, and salads.
McWay Falls
This is one of the top things to do in Big Sur that we actually missed. When I came across a picture of McWay Falls later on, though, I was absolutely crushed! This 80-foot waterfall drops DIRECTLY into the ocean and can really only be described in one word: stunning.
McWay Falls is located in Julia Pfeiffer Burns State Park and you can find a guide to hiking to the waterfall here.
Hearst Castle
Situated at the bottom end of Big Sur is Hearst Castle, the famous mansion of William Randolf Hearst. This quirky and elaborate castle was built between 1919 and 1947 and is a perfect stop for architecture lovers, history buffs, or the just plain curious.
There are also amazing views from the top of the hill!
Where to Stay While Driving Big Sur
Want to extend your Big Sur road trip by a few days? Here are some of the best places to stay in Big Sur.
Big Sur Camping
Kirk Creek Campground – An absolutely STUNNING campground perched on a cliff overlooking the ocean. Tent & RV sites (no hookups).
Julia Pfeiffer Burns State Park – Hike-in campgrounds with killer locations. Extremely popular so reserve in advance!
Ventana Campground – Tent camping at its most luxurious. Located among the redwoods near Ventana Big Sur hotel.
Big Sur Glamping
Ventana Glamping – Luxury safari-style glamping tents with allll the amenities in Ventana's redwood canyon.
Treebones Resort – Luxury yurts with comfy beds and ocean views.
Big Sur Airbnbs
Spectacular Carmel Coast – Wish you were in Big Little Lies? Yeah, this house'll do it. This absolutely STUNNING, modern house just south of Carmel-by-the-Sea features 180° views of the coast through huge windows.
HawksPerch Haven Studio – If you're looking for something a bit smaller, this cozy studio featuring canyon views will do just the trick.
Cliff House – For a charming stay located right on Highway 1 with killer views of the coast, check out this 2 bedroom cottage!
Big Sur Dream Home – If you're a fan of unique architecture, then this Airbnb is the one for you–it's almost like a hobbit hole mixed with a treehouse. There's a hot tub, too!
Big Sur Hotels
Ventana Big Sur – If you're looking for the ultimate in Big Sur Luxury, this is it. Ventana's website describes their hotel as "sophisticated, rustic luxury", with cozy, trendy rooms and a killer spa.
Glen Oaks Big Sur – A remodeled old motor lodge with a delicious on-site restaurant and all the amenities.
Post Ranch Inn – the perfect spot for romance and rejuvenation, this small luxury resort features unique guest rooms, a Wine Spectator Grand-Award winning restaurant, a spa, and yoga classes.
WHAT'S THE MOST BEAUTIFUL STRETCH OF ROAD YOU'VE EVER DRIVEN? LET ME KNOW IN THE COMMENTS DOWN BELOW!
Pin it for later!