Eating Our Way Through Eastern Market
Hey there! Travel looks a little different right now. Please be sure to follow local restrictions and double-check openings and guidelines for places you visit. And stay safe and wear a mask! Also, his blog post likely contains affiliate links, including Amazon Associates links. If you make a purchase through one of them I may receive a small commission at no extra cost to you.
---
Disclaimer: this post may contain affiliate links. If you make a purchase from one of them I will recieve a small commision at no extra cost to you, which allows me to keep this blog up and running!
---
Anyone who knows me knows I love a good dessert. Cupcakes, cookies, doughnuts… You name it, it's likely I'm in love with it. So when I saw that Free Tours by Foot offered a History and Desserts walking tour of the Eastern Market neighborhood in D.C., I knew I had found my calling as a future tour guide (I am also a huge history nerd).
Daniel and I signed up for their Saturday morning tour (this is the only time of the week they offer the tour, so plan your trip to DC around it — I promise it's worth it). The next morning, we eagerly made the nearly 1 and a half hour Metro ride (okay, maybe that part we weren't so eager about) when the time came.
Eastern Market History and Desserts Tour
We met our guide, Erin, just outside of the Eastern Market Metro station. While we waited for the rest of the group to show up, she told us a little bit about herself. By day, she rocked out as a fifth grade teacher. On the weekends, though? Well, she spends that precious free time showing people around one of her favourite parts of DC. And I couldn't be more grateful, because this tour truly was awesome.
The Food
We made four food stops on the two hour long tour — three at various sweet shops in the area and one finally at Eastern Market.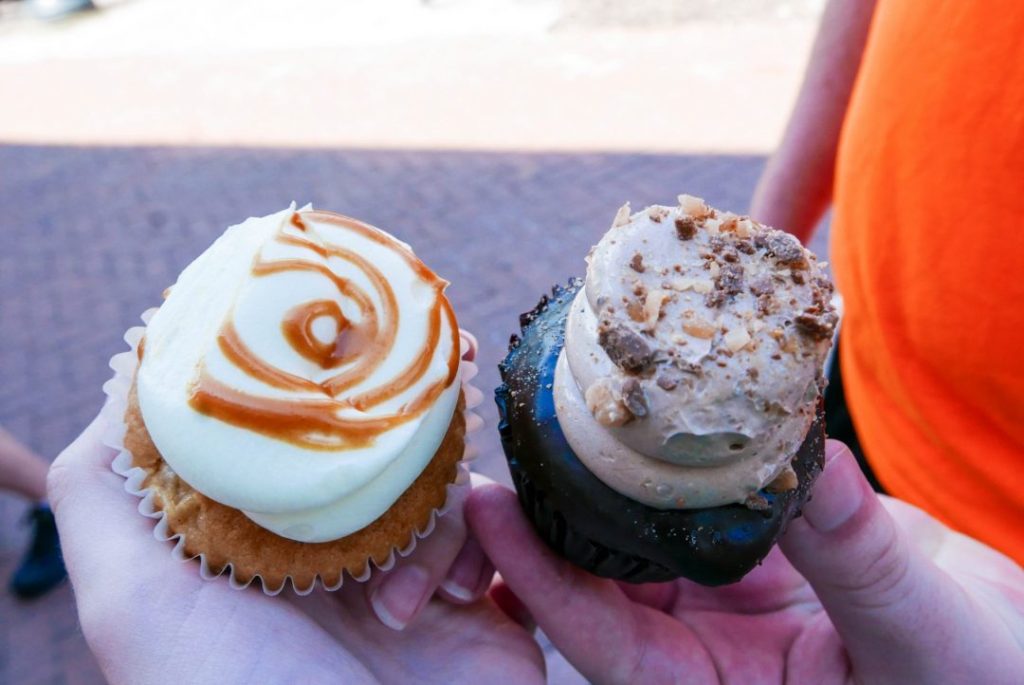 Since Free Tours by Foot is a free walking tour company (surprise, I bet you never would've guessed from their name), their History and Desserts tour operates on a pay-as-you-go basis. Instead of paying a single, flat fee up front (and not being able to choose what you eat), you order for yourself along the way. That way, you can spend (and eat) as much or as little as you like. As a traveller on a student budget, I seriously appreciated this.
Over the course of the two hour tour, Daniel and I devoured a cupcake each (mine was caramel apple, his was chocolate caramel crunch), shared the best lemon bar we've ever tasted, and topped it off with a vanilla bean glazed doughnut from the famous District Doughnuts. All before lunch.
Feeling mostly completely full (and ready to collapse for the metro ride back), we grabbed a baguette and some brie from Eastern Market proper for lunch — along with two freshly squeezed lemonades. This plan proved to be the perfect end to a deliciously perfect morning.
The History
Of course, our tour wasn't just about the food. Although not as famous as the history of the White House, per se, the neighborhood of Eastern Market is absolutely steeped with the stuff. We learned loads from Erin during our tour, and I'm nowhere near convinced that we learned even half of it.
I seriously loved walking around the neighborhood, learning about its history and satisfying my sweet tooth as we went. I can't think of a better way to experience Eastern Market.
If You Go
Free Tours by Foot's History and Desserts tour of Eastern Market leaves every Saturday at 11am from the Eastern Market metro station. You'll need to make a reservation ahead of time.
Like all of Free Tours by Foot's tours, the History and Desserts tour is free — but tipping your guide is more than encouraged! And let me tell you, after having such a fantastic time, we had no trouble coughing up some cash.
What's the best tour you've ever taken? Tell me about it in the comments down below!
ADD_THIS_TEXT
Like what you read? Pin it!
MY FAVORITE TRAVEL TIPS & RESOURCES
Booking Flights: The first place I turn when I'm searching for flights is actually just Google Flights - it's great to figure out what sort of routes are available. Then, I check Skyscanner and Kiwi for deals. I also love Kiwi for its destination: anywhere feature!
Transportation: I love Omio for figuring out the cheapest way to get from one place to another, and Trainline for booking train tickets within Europe.
Accommodations: I absolutely love Booking.com for finding great hotel deals. After you stay a certain number of nights, you get Genius discounts! For hostels, Hostelworld is my go-to, and I use Airbnb occasionally as well (click here for $40 off your first booking!)
Travel Insurance: I knew that I shouldn't travel without insurance for the longest time, but I really learned my lesson when I got an infected cut in Bali. Thank goodness I had travel insurance! I use and love World Nomads for their extremely comprehensive coverage.
Travel Insurance: I knew that I shouldn't travel without insurance for the longest time, but I really learned my lesson when I got an infected cut in Bali. Thank goodness I had travel insurance! I use and love World Nomads for their extremely comprehensive coverage.
Tours: I always check Urban Adventures for great day tours of cities first–I'm obsessed with them! GetYourGuide and Viator are also great options. For multi-day tours, I highly recommend Intrepid.
Camera Gear: I use a Sony Alpha A6300 camera with an 18-105 mm lens and a 35 mm lens. My tripod is the MeFoto Backpacker Air and I loooooove it! I also use a DJI Mavic Air and a GoPro and which allow me to capture everything my regular camera can't.