21 Best Spring Break Destinations in the US
Hey there! Travel looks a little different right now. Please be sure to follow local restrictions and double-check openings and guidelines for places you visit. And stay safe and wear a mask! Also, his blog post likely contains affiliate links, including Amazon Associates links. If you make a purchase through one of them I may receive a small commission at no extra cost to you.
---
Ah, spring break… Whether you're a family searching for some of the best spring break destinations in the US for kids, or a student or young adult ready for some adventure, spring break is one of the best times to travel, and these 21 places will have you itching to buy your plane tickets ASAP!
BEST SPRING BREAK DESTINATIONS IN THE US // THE NORTHEAST
New York City, New York
Suggested by Me!
If you're looking for the perfect time to experience New York City, springtime might just be it.
While there's never really a low season in New York, you'll certainly find fewer people in the spring than in the summer–and the weather will be a lot better, too! Yes, there might be a few rainy days, but in general you'll have sun and 60 or 70 degrees Fahrenheit, so you really can't complain.
What makes New York City one of the best spring break destinations in the US, though, is just how beautiful the city becomes in the season. With the end of winter, people are out and about, and the flowers are blooming in popular nature spots like Central Park and the High Line.
With even just a few days in New York City, you can fit a lot in, including some of the top museums like the National History Museum and the Met.
And of course, you can't forget to get a birds-eye view of the city! The Empire State Building is a classic, but from Top of the Rock you can see Central Park and the Empire State Building, which makes it the perfect picture taking spot. Head there a little before sunset for the best views!
Washington, D.C.
Suggested by Susan of Gen X Traveler
As the nation's capital, Washington DC is one of the most iconic places in the country. And certainly, one of the best spring break destinations in the US.
Every year around late March or early April the city becomes awash in tiny pink blossoms adorning well over 3000 cherry trees. The actual dates for peak season change every year and are dependent on the weather. Check Cherry Blossom Watch for the projected Peak bloom dates. The peak season lasts only 3 to 4 days, but the range of dates begins 4 to 6 days before the peak and can continue for up to 2 weeks after.
This awesome site is largely courtesy of the Japanese government. The cherry trees that line the Potomac River and surround the tidal basin were a gift to the United States from the Japanese. The original gift was 2000 trees and reached the US in 1910. However, when they arrived they were discovered to be diseased and needed to be destroyed. When the Japanese learned of this awful event they vowed to send more.
On March 27, 1912, First Lady, Helen Taft and the wife of the Japanese Ambassador, Viscountess Chinda planted two Yoshino cherry trees on the northern bank of the Tidal Basin. The two original trees still stand approximately 30 yards south of what is now Independence Avenue, SW. The trees are marked with a large bronze plaque commemorating the occasion.
This quiet ceremony has become what is today the National Cherry Blossom Festival. And the Cherry Blossom Festival has grown to a two-week event, including live entertainment, a kite festival, a parade and more. You can find the full schedule and ticketing information here.
Plan your visit during the week you can avoid some of the crowds.
BEST SPRING BREAK DESTINATIONS IN THE US // THE SOUTHEAST
Key West, Florida
Suggested by Zach and Julie of Ruhls of the Road
Key West is one of the most unique places to visit in the entire United States, and makes for an absolutely perfect Spring Break destination. In Key West, you'll have the chance to have the time of our life on Duval Street, relax on the beach, adventure on the ocean, and even soak up some of the awesome local culture!
Duval Street is known as being one of the premiere partying destinations in the US, and it will absolutely not disappoint. There are great bars and restaurants up and down the entire street, with family friendly and adult only options, so everyone will have a good place to go. If you have a bit too much to drink, then the next morning you can relax on the beach and soak up the beautiful Florida sun! There are many beaches surrounding the entire island of Key West, so you'll never be more than a few miles from rest and relaxation.
The Key West water is absolutely unreal, the color is bright crystal blue and doesn't appear to be real. On top of that, the water is warm enough to cannonball right in for a swim! If you'd like to, you can take an excursion out to the incredible coral reef around the island and a few awesome snorkeling destinations. If you're a little more daring, you can even try jet skiing or parasailing! After a day of adventure, soak up some Key West culture, and do a tour of the Hemingway House, Fort Zachary Taylor, or one of the awesome museums close by.
Without a doubt, you'll have the adventure of a lifetime in Key West. Duval Street, the beaches, the water, and the culture make this one of the best Spring Break destinations in the US.
Mobile, Alabama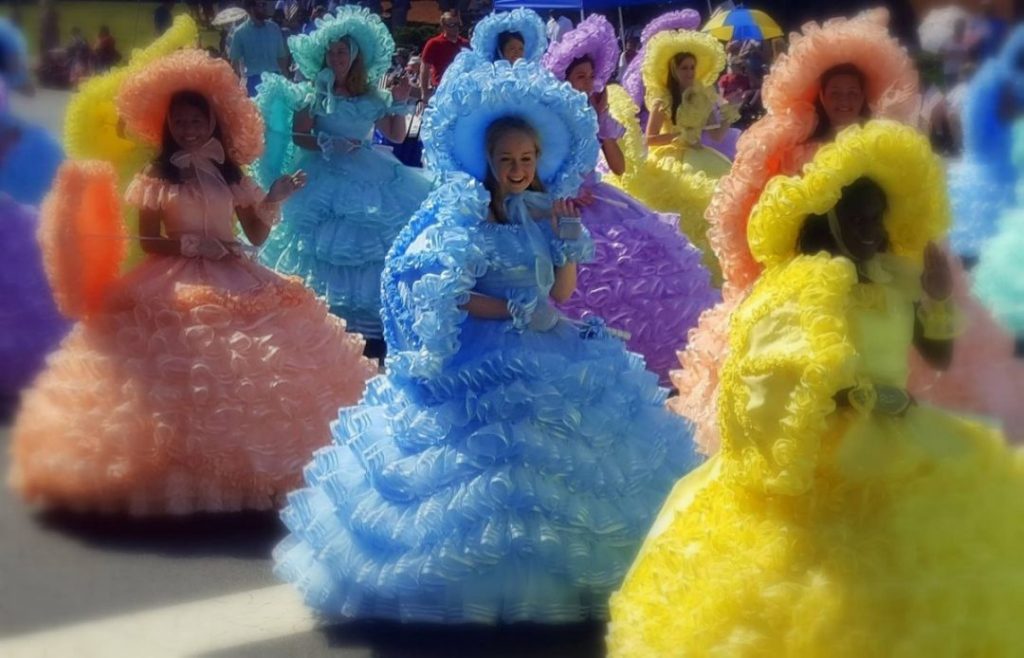 Suggested by Wendy of The Nomadic Vegan
If you want to experience a local spring festival that's full of color and tradition, Mobile, Alabama is one of the best spring break destinations in the US. This small southern city often gets bypassed in favor of New Orleans, its more famous neighbor that lies a bit further west along the Gulf Coast. But if you're not into the wild party scene and are looking for a more low-key spring break, Mobile could be the perfect place for you.
It actually has a lot in common with New Orleans, as both cities were founded by the French at the beginning of the 18th century. So, you'll see similarities in the architecture and in some of the local traditions. For example, both have huge Mardi Gras celebrations in late February or early March, and citizens of Mobile will be quick to point out that theirs started first and is the oldest Mardi Gras celebration in the United States!
Another local celebration that's unique to Mobile, though, is the Azalea Trail Festival. This takes place for a couple of weeks in March, when the azalea bushes that you'll see in front of many houses start to bloom with white and pink flowers. Local high school girls, known as Azalea Trail Maids, dress up in frilly, pastel-colored hoop skirts to play the part of Southern belles welcoming visitors with their famous Southern hospitality. Several of the historic antebellum mansions are open to the public for special events during the festival as well.
Combine this local festival with Mobile's great restaurant scene and white sandy beaches a short drive out of town, and you've got the perfect spring break!
Nashville, Tennessee
Suggested by Me!
Whether you're a fan of country music or not, it's likely you'll fall in love with Nashville. As one of the best spring break destinations in the US, it has a little something for everyone!
Of course, there's the classic country stops. The Country Music Hall of Fame is a must, with its fascinating displays about the history of country music. The Grand Ol' Opry is another can't-miss, with shows on most nights. With just one day in Nashville, these are the top things to do.
Nashville has a surprising Indie scene as well, so why not check out some alternative shows?
Foodies will absolutely fall in love with the city as well. Be sure to stop by Hattie B's for some hot chicken and the Goo Goo Bar to taste some famous Goo Goo Clusters!
If you're in the city with an older group, then why not try one of the pedal taverns? They're a staple in the downtown area.
For an escape from the craziness, head out to Centennial Park to check out the life-size replica of the Parthenon.
Savannah, Georgia
Suggested by Sara of Mindful Travel
Savannah, Georgia is one of the best spring break destinations in the US. Why? There is mild weather during spring months, flowers blooming everywhere and there are lots of fun things to do in Savannah between March and June.
Don't forget to explore Savannah's beautiful streets and squares. The architecture in Savannah is totally unique!
During this time of the year, St. Patrick's Day is the most popular celebration with green fountains and downtown celebrations.
The best thing about a city like Savannah is getting lost in its streets, enjoying the atmosphere and its vibrant art scene, going inside its unique shops, strolling through Forsyth Park and and sleepy Bonaventure Cemetery full of flowers in spring time, and enjoying its fascinating history and delicious cuisine. Besides, Savannah's nightlife is one of the main attractions of the city, specially along River Street.
If you are looking for a beach destination during spring break, Tybee Island is a must if you visit Savannah. There are lots of adventure and water activities to do there, such as kayaking or jet skiing. While you're there, don't miss the beautiful and historic lighthouse as well.
BEST SPRING BREAK DESTINATIONS IN THE US // THE MIDWEST
Chicago, Illinois
Suggested by Me!
If you're looking for a city break for your spring break in the US, then you really can't go wrong with Chicago. This oft-overlooked big city in the Midwest is completely full of surprises, and is a strong contender for my favorite city in the world.
Start your trip off with a wander around Millennium Park, where you can take a selfie with the famous Bean sculpture. Then, check out some of the city's best museums: The Field Museum, The Museum of Science and Industry, and The Art Institute of Chicago are all great choices.
While you're in Chicago, you can't go without trying some absolutely delicious deep dish pizza. And if you have only one day in Chicago, then it's a must for lunch.
If you're looking for great views over the city, then the John Hancock tower is the place to go.
Finally, you might be surprised by the awesome theatre scene in the city. From the famous improv group Second City to Broadway in Chicago, there's a little something for everyone!
Mackinac Island, Michigan
Suggested by Me!
Looking for an adorable little island where cars aren't allowed and fudge reigns supreme? Mackinac Island is by far one of the best spring break destinations in the US!
This little island in Lake Huron sits between Michigan's Lower and Upper Peninsulas and is the perfect place to head once the weather gets warmer. Take the ferry over from the mainland and once you're there, a horse and carriage taxi will take you and your luggage to your hotel.
Rent a bike for a few hours and pedal around the whole island, and once you're done grab some ice cream or retire to the longest front porch in the world at the Grand Hotel (non-guests can pay $10 to wander the premises).
For a bit of history, head to Fort Mackinac. There's also an amazing view over the island!
Wisconsin
Suggested by Paulina of Paulina on the Road
If you are looking for an off-the-beaten-track destination to visit during spring, I highly recommend heading to Wisconsin! Why? Because the Dairy State boasts some of the most scenic hiking trails in the Midwest.
After a cold and long winter, the gorgeous nature of Wisconsin awakens and it is about time to explore the state's gorgeous scenery via its hiking trails.
One of the best hiking trails in Wisconsin is definitely the Ice Age Trail. Split up in several parts, it takes you to the most scenic places in Wisconsin. My favorite part is the one that takes you to the breathtaking sceneries of the Devil's Lake. Expect some amazing rock formations around the lake itself, beautiful Baraboo range forest and plenty of wildlife.
In all, if you are a nature lover, you should definitely put Wisconsin on your list of the best spring break destinations in the US.
BEST SPRING BREAK DESTINATIONS IN THE US // THE NORTHWEST
Fairbanks, Alaska
Suggested by Louisa of La Passion Voutee
If you're looking for an out-of-the-box place to visit in the US, look no further than Fairbanks, Alaska. Known as the Last Frontier and the premier place in Alaska to see the awe-inspiring Northern Lights, Fairbanks has so much to offer to the travel wanderlusters.
There are many unique things to see and do in the area and lots to offer adventure seekers. The landscape, the people, and the plethora of unique activities makes Fairbanks the best spring break destination in the US for vacationers.
It's no surprise that a 3-night vacation in Fairbanks increases your chances of seeing the Northern Lights by up to 90%. Springtime offers milder temperatures and clearer skies for the perfect Northern Lights views.
And when you're done enjoying this natural wonder, make a quick trip to North Pole to check out Santaland, Santa's residence. Yes, we have real-life Mr and Mrs. Claus! On arrival at Santaland, you'll be greeted by a supersized sculpture of Santa. Head into the quaint building to load up on unique gifts, and snap a photo with Santa and Mrs. Claus.
Next, explore the history of Fairbanks at Pioneer Park and Morris Thompson Cultural Center, then go for a dip at Chena Hot Springs. Need to be one with nature? Take in all nature has to give as waterfowls travel through Creamer's Field Refuge on their migratory route. These are just a few unique things to see and do in Alaska!
BEST SPRING BREAK DESTINATIONS IN THE US // THE SOUTHWEST
Grand Canyon National Park, Arizona
Suggested by Me!
If you're looking to check something major off your bucket list this spring break, then you HAVE to head to the Grand Canyon. Whether you make it the purpose of your whole trip, or stop by for a day during a Route 66 road trip, it's an absolute must.
Once you enter the park, head to Mather Point for your first view of the canyon. Your jaw is pretty much guaranteed to drop–as are the jaws of the other 1,000 people there.
To get away from the crowds, hop back in your car and drive to some of the viewpoints further away from the visitor's centre. Desert View Watchtower is a personal favorite.
If you're really looking to experience the Grand Canyon the right way, though, then you have to go beneath the rim. Walking along the trails is something you'll never forget! But don't worry, you don't have to do the whole thing. A simple mile-long hike along the South Kaibab Trail is plenty 😉
San Antonio, Texas
Suggested by Lee and Stacey of One Trip at a Time
If you are planning a getaway in the spring, we think one of the best spring break destinations in the United States is to head south to San Antonio, Texas.
Being in Texas, this is one very hot city for most of the year but for a few weeks in the spring you can enjoy great weather to get outside and explore its colourful history, great attractions, and indulge in delicious food!
The main attractions of the city are in a compact area which makes it a great destination for a weekend getaway. It is also a surprisingly walkable city, especially along the city's main attraction, the River Walk, where you'll find plenty of things to see and places to shop and dine.
We think there are a few 'must-do' things for your visit to San Antonio. The first is, of course, to visit the Alamo but then also follow the whole mission trail to visit the other four missions that, combined, make up the only UNESCO site in Texas.
The second would be to take in a view of the city from the Tower of the Americas by taking the glass elevator to the top of the 750 ft tower in less than a minute. After you've taken in the great views, stay for dinner and see the whole city as the restaurant makes one revolution an hour.
And finally, leave plenty of time for the River Walk which is a set of cobblestone and flagstone paths that follow about 20 blocks around the San Antonio River below street level. In addition to strolling along, which is extra lovely at night, we recommend taking one of cruises they offer. The guides are full of information and stories about the city and the main landmarks you'll cruise by making this a wonderful way to learn about this fascinating city.
Scottsdale, Arizona
Suggested by Maggie of The World Was Here First
If you're on the hunt for the best spring break destination in the US, then you absolutely cannot go wrong with beautiful Scottsdale, AZ. While much of the United States is going to still be in the midst of cold and grey weather, springtime is the best time to visit Scottsdale either as a stand-alone destination or as part of a Southwest road trip. The weather in spring is close to perfect and there are so many great things to do in the city.
If you're an active person, then make sure to hit one of the Phoenix valley's many hiking trails — the Echo Canyon and Cholla trails on Camelback Mountain are always popular options, as is summiting Piestewa Peak. If you would rather experience the desert from a paved path, then head to the incredible Desert Botanical Garden. If you would rather head to the shops, then make sure to head to Old Town Scottsdale or to the Scottsdale Fashion Square mall where you can find some high-end boutiques and department stores.
If you're a baseball fan, then spring time is when numerous MLB teams come to the Phoenix area for Spring Training, so if you're lucky, you can catch a pre-season game in Scottsdale and cheer on your team!
All in all, there are countless things to do in Scottsdale making it the ideal place to visit for spring break.
BEST SPRING BREAK DESTINATIONS IN CALIFORNIA
Coachella Valley, California
Suggested by Kay of The Awkward Traveller
If California isn't already at the top of your list for one of the best spring break destinations in the US, then it NEEDS TO BE. While most Californian spring breaks lead you to Los Angeles, San Diego, San Francisco, and Yosemite, you probably want something a bit more off-the-beaten track, right? Head to the desert. Specifically, Coachella Valley.
The first stop you'll hit is Palm Springs, and while that is a fantastic destination all on its own, GO DEEPER. Coachella Valley is the art capital of California! There's so much more to the Valley than good tacos and pool parties (though those are easily found as well!). Coachella Valley is full of note-worthy events and activities in Spring, including Mid-Century Modernism Week, Desert X, and Native American Film Festivals and Fashion Weeks.
Spring is also prime time for Southern California's superbloom season, when hundreds of thousands of poppies and wildflowers painting the landscape. The region also kicks off festival season in the United States with Coachella Music Festival, a pop culture icon of our generation.
But if activities, festivals, and events aren't your style, you can also get away into the desert with multiple trails and parks like the Imperial Sand Dunes to the south and the Anza-Borrego Desert State Park, known for its giant whimsical metal sculptures.
And when you want to really lose yourself in the desert, head to Slab City, aka the last free place on Earth, and stand before the majestic Salvation Mountain and East Jesus, two incredible art instillation that bring life and love to the desert.
Joshua Tree National Park, California
Suggested by Michelle of The Wandering Queen
One of the best spring break destinations in the USA is Joshua Tree National Park. Joshua Tree is an extraordinary place to visit in the Spring. The weather is fantastic, the wildflowers are blooming, and it is a splendid time to rock climb. Because of its hot climate, Joshua Tree can be challenging to visit in the Summer. That is why Spring is a perfect time to experience this one of a kind national park.
There are so many things you can do at Joshua Tree. One of the most popular things to do is to go on some hiking trails. Some of the more popular trails include Arch Rock Nature Trail, Hidden Valley Nature Trail, and Skull Rock Nature Trail. Another fantastic activity is rock climbing. People from all over the world travel to Joshua Tree to experience its crack, slab, and steep face climbing.
If all this sounds too strenuous for you, don't worry, there is plenty more to do. What I loved most about Joshua Tree was stopping at many points off the highway and taking pictures. There are so many spots where you can explore the unique trees and boulders. This includes the Cholla Gardens, which was one of my favorite places.
Many people even take advantage of the solidarity of this national park and take some astrophotography. Joshua Tree is known for its stargazing, so when you are camping, make sure to look up at the stars. It is breathtaking.
Palm Springs, California
Suggested by Dhara of It's Not About the Miles
Palm Springs, California, is one of the best spring break destinations in the USA. The desert city is known for being the cool getaway destination to the stars and celebrities of Hollywood, and, with its many resorts, spas, and restaurants, it's perfect for anyone looking to have a great time. No matter whether you want an active break or you are just looking to relax, you'll find plenty of things to do in Palm Springs!
While downtown Palm Springs is a fabulous place to hang out in the evenings, you can go hiking in nearby canyons during the day, or take a trip to explore Joshua Tree National Park. With its massive boulders, perfect for climbing, or its hikes, it's a fascinating place to explore. You can also do a Hummer tour of the desert: the San Andreas Fault is nearby and you can view it up close with an off-road tour.
In Desert Hot Springs, find a resort where you can take a relaxing dip in one of the area's mineral hot springs. In Palm Desert, take a drive up to the Coachella Valley viewpoint, to take in fabulous views of the entire valley. If you love street art, you are in for a treat, because each of the desert communities contains multiple public art works that make for great Instagram photos.
In Palm Springs, pick one of the upscale spas for a splurge on a pampering treatment. Lounge by the pool and sample the delicious cuisine on offer at restaurants along Palm Canyon Drive, or in one of the resorts in town.
However you choose to enjoy your spring break, you'll have a wonderful time in the vacation city of Palm Springs.
San Diego, California
Suggested by Gina of Evergreen and Salt
San Diego, California is one of the best spring break destinations in the US thanks to having some of the most gorgeous year-round weather in all of North America. Despite the warm weather, you'll find that the beaches are typically less crowded than in summer since the locals don't usually flock to the beach until the water warms up and the marine layer is fully gone.
Speaking of the marine layer – beware of May Gray, which can cause the sun not to shine until the marine layer dissipates in the afternoon. March and April are usually temperate and sunshine filled.
If you need to find some non-beach San Diego activities due to unexpected gray skies, you'll have no shortage of things to do during your spring break vacation. Visit Legoland California, the San Diego Zoo, or the San Diego Safari Park for animal and amusement park fun. Rent a standup paddleboard and go paddling on the Carlsbad Lagoon or Mission Bay.
In the city's vibrant Gaslamp Quarter, get some fresh seafood or walk along the harbor front to Seaport Village for a drink with a water view and quick access to the USS Midway, a huge aircraft carrier that is one of the top attractions in San Diego.
Beer enthusiasts will also enjoy the many craft breweries located around San Diego County, many of which often have a food truck parked right outside for some delicious grub alongside your beer.
Whether you're more focused on the beach or the attractions, San Diego makes for an unforgettable spring break.
Sonoma, CA
Suggested by Sierra of Free to Travel Mama
Sonoma, California is one of the best spring break destinations in the US due to its mild climate, gorgeous landscape, endless wineries, and tasty farm to table restaurants. Mustard fields fill the rows between vineyards and line the highways turning the whole county into a sea of bright yellow. Hundreds of venues for delicious wine tasting are available with a few of our favorites being Ledson Winery in Kenwood and Ferrari Carrano Winery in Healdsburg. If it is a beautiful day, pack a picnic, and consider making a day of stopping at whichever sweet spots catch your eye.
Nature lovers will love the misty, majestic Armstrong Redwoods Nature Reserve with both its smooth walkways and more challenging inclined hikes. The pure height of these gorgeous trees will take your breath away! Watch your weather app and choose the clearest day to head to Bodega Bay and see the crashing waves along the coastline. It will likely be pretty cold on the beach, but you'll find the best place to warm up at Spud Point Clam Chowder for lunch. Don't miss Patrick's Salt Water Taffy for dessert!
History buffs will enjoy a tour of General Vallejo's home, the Sonoma Mission, historic Fort Ross, or Jack London State Park. The Charles M. Schulz Museum is a perfect spot to spend a rainy day learning more about the Peanuts' creator and his creative cartoon characters. Sonoma County is known for its high-quality restaurants and fresh local ingredients. Locals love Girl and the Fig, Bird in a Bottle, Willi's Wine Bar, and Costeaux Bakery, just to name a few.
Average temperatures in March and April are in the mid to high 60s with chilly mornings and evenings, so wear layers and soak up the spring sunshine enjoying many of the things to do in beautiful Sonoma County.
BEST SPRING BREAK DESTINATIONS IN HAWAII
Kauai, Hawaii
Suggested by Dani of Diapers in Paradise
Kauai, the northernmost Hawaiian island, is easily one of the best spring break destinations in the US. If you want to spend your spring break on the beach, Kauai has several amazing ones. If you're outdoorsy, you can't beat the hiking on Kauai. For the adventurous traveler, Kauai offers exhilarating extreme sports. If you prefer to immerse yourself in the lush greenery of the rainforest, Kauai has got you covered. It's not called the Garden Isle for nothing.
Whether you are looking for the high end resort feel of Princeville at the north of the island, the laid-back chill vibe of Kapaa on the east coast, or the family-friendly amenities down south in Poipu, you will find what you're looking for on Kauai. That is, unless you are looking for a big city or a hot nightlife scene. Kauai moves at a slower pace than some of the other islands, and that's what makes it so great.
While temperatures on Kauai are pretty stable (and glorious) year-round, Spring is arguably the best time to visit Kauai. The heaviest rains have subsided, the sun is shining, but the tourist season hasn't yet started, so you can still get decent off-season rates.
The Garden Isle is an ideal spring break destination, whether you are visiting solo, as a couple, or are looking to explore Kauai with a baby or kids.
Kona, Hawaii
Suggested by Constance of The Adventures of Panda Bear
Located on the Big Island of Hawaii, Kona, is one of the best spring break destinations in the United States. Even though it's nestled in the middle of the Pacific Ocean, a few days in Kona is the perfect amount of time to get some delicious eats, Hawaiian history, and relaxation.
Kona is best known for its coffee. Be sure to visit a coffee farm in Kona and you'll be treated to some of the smoothest, silkiest coffee you've had in your life. Kona's unique climate with its sunny mornings and cloudy afternoon makes it the best place to grow these perfect coffee beans.
The Kona area is also home to some of the most historical parts of the Hawaiian islands. Check out Kaloko-Honokohau National Historical Park for sandy coastal trails to ancient Hawaiian fish ponds and green sea turtles. Here you'll also find trails leading to native Hawaiian petroglyphs.
For more historical sights, Pu'uhonua O Honaunau National Historical Park, this was once the "Place of Refuge" for ancient Hawaiians and the National Park Service has rebuilt a traditional Hawaiian temple (heiau) and various boat shelters.
Just north of the Kona International Airport is Makalawena Beach, one of the most beautiful beaches on the Big Island. This beach is a bit of a trek as it requires driving down an unpaved road to the trailhead where you'll need to hike approximately 1 mile across lava fields to get there. However the white sand beaches are absolutely worth the hike! It is beautiful and secluded, the perfect place to spend a relaxing day at the beach.
Don't sleep on Kona, it's a great place to visit for spring break!
Oahu, Hawaii
Suggested by Noel of Travel Photo Discovery
For a fantastic stay in the US with warm tropical vibes, consider flying to Oahu in Hawaii. The main hub in Hawaii, Honolulu is the perfect starting off point with Waikiki the key tourism zone with hotels, restaurants, shops and tourist venues to enjoy in a compact and easily walkable area.
You can enjoy Waikiki beach, the gorgeous shops and restaurants on Kalakaua Boulevard, hike to the top of Diamond head to see spectacular views of the areas and views of the coastline and downtown.
For adventure lovers, there's surfing, snorkeling, sailing, hiking and so many outdoor fun activities that you can do close to town and just outside to explore the gorgeous tropical landscape surrounding the capital city.
Or if you are into historic and cultural treasures, check out the historic Pearl Harbor and USS Arizona and Missouri memorial, a real palace, Chinatown or the historic buildings around downtown Honolulu that you can easily walk around to see the main sites. Check out the top things to do in Honolulu for more inspiration to planning your next spring getaway to Hawaii.
Pin it for later!
MY FAVORITE TRAVEL TIPS & RESOURCES
Booking Flights: The first place I turn when I'm searching for flights is actually just Google Flights - it's great to figure out what sort of routes are available. Then, I check Skyscanner and Kiwi for deals. I also love Kiwi for its destination: anywhere feature!
Transportation: I love Omio for figuring out the cheapest way to get from one place to another, and Trainline for booking train tickets within Europe.
Accommodations: I absolutely love Booking.com for finding great hotel deals. After you stay a certain number of nights, you get Genius discounts! For hostels, Hostelworld is my go-to, and I use Airbnb occasionally as well (click here for $40 off your first booking!)
Travel Insurance: I knew that I shouldn't travel without insurance for the longest time, but I really learned my lesson when I got an infected cut in Bali. Thank goodness I had travel insurance! I use and love World Nomads for their extremely comprehensive coverage.
Travel Insurance: I knew that I shouldn't travel without insurance for the longest time, but I really learned my lesson when I got an infected cut in Bali. Thank goodness I had travel insurance! I use and love World Nomads for their extremely comprehensive coverage.
Tours: I always check Urban Adventures for great day tours of cities first–I'm obsessed with them! GetYourGuide and Viator are also great options. For multi-day tours, I highly recommend Intrepid.
Camera Gear: I use a Sony Alpha A6300 camera with an 18-105 mm lens and a 35 mm lens. My tripod is the MeFoto Backpacker Air and I loooooove it! I also use a DJI Mavic Air and a GoPro and which allow me to capture everything my regular camera can't.