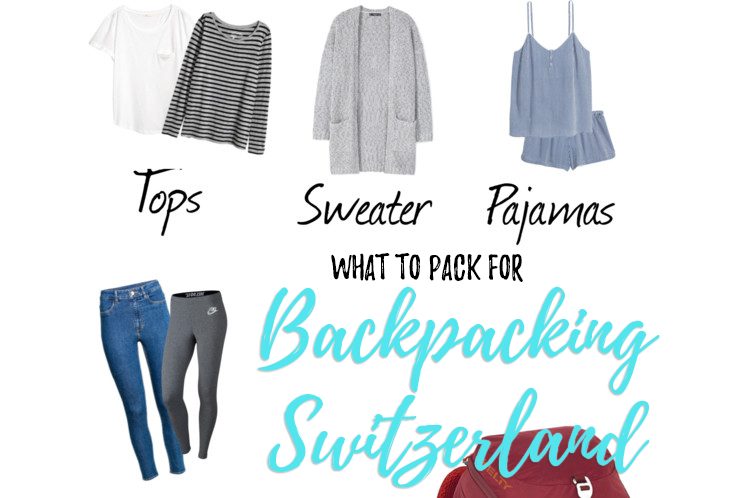 The Ultimate Packing List for Backpacking Switzerland in Spring
Hey there! Travel looks a little different right now. Please be sure to follow local restrictions and double-check openings and guidelines for places you visit. And stay safe and wear a mask! Also, his blog post likely contains affiliate links, including Amazon Associates links. If you make a purchase through one of them I may receive a small commission at no extra cost to you.
---
Disclaimer: this post may contain affiliate links. If you make a purchase from one of them I will recieve a small commision at no extra cost to you, which allows me to keep this blog up and running!
---
Switzerland might not be the most popular backpacking destination in the world, but hopefully since my post on how to travel Switzerland on a budget went live I've inspired at least a few people to take the leap and explore this beautiful country.
If you've already got your trip booked, you might be wondering what to pack. That's where I come in! After spending my spring break Eurailing around Switzerland, I thought I'd share my own Switzerland packing list to give you some help in deciding what you should bring along.
Some Tips and Tricks before we start:
Layers, layers, layers – Weather in Switzerland in spring is temperamental. Pack and wear more than one layer so that you can take things off or put things on as it gets colder or warmer!
Utilize packing cubes – There's nothing like disorganized luggage to stress a person out (or maybe that's just me). It's even worse with a backpack, so definitely utilize packing cubes to keep yourself organized and stress free.
Stick to one color palette – When you're packing lightly (like when you're backpacking), it's always a good idea to stick to one general color palette so that all of your clothes go together and you can mix and match.
Don't bring anything you don't wear on a regular basis while you're at home – When you're backpacking, you only have room for a limited amount of stuff. And chances are, if you don't wear something at home, you're not going to wear it while you're traveling. So save yourself some back pain and only bring stuff you know you're going to wear – even if every packing list blog post you read tells you that something is an absolutely necessary item!
Pack everything you think you need and then get rid of half of it – This is especially useful when it comes to clothes. Chances are, you're going to be able to do laundry while you're in Switzerland – especially if you're staying in hostels. You'll be much happier with a lighter load on your back than with that extra shirt you might have only worn once, trust me.
Switzerland Packing List
Clothes
Tops
2-3 Long sleeve shirts, sweaters, etc – for colder days
2-3 short sleeve shirts – for warmer days or layering
1 Cardigan – for layering and colder days
1 Pajama top
Bottoms
2-3 Pairs of Jeans
1 Pair Leggings or Hiking Pants – For hiking, which you'll definitely be doing at least once in Switzerland. I'd suggest leggings just because they're a bit more versatile.
1 Pair Pajama Bottoms – Your leggings could also double as this if you're not going to be doing too much hiking (See? Versatile!)
Outerwear
1 Warm but Lightweight Jacket – for colder days or being up in the mountains
1 Raincoat – Switzerland in the spring means unexpected showers! I particularly love this jacket because I can ball it up really small and stick it in my purse.
Shoes
1 Pair of Comfortable Walking Shoes – I wore ankle boots whenever I was walking around the cities and they worked fine for me, but you might prefer something different.
1 Pair of Hiking Boots or Sneakers – I definitely suggest bringing along your hiking boots if you have them. If not, a pair of sneakers should probably be fine for most trails in Switzerland.
Accessories
Cross Body Bag – For walking around the cities
Lightweight Packable Travel Backpack – Takes up barely any room at all and is perfect for hiking.
1 Pair of Gloves – There's still plenty of snow up on the mountains in the spring time, so you'll be happy to have some warm clothes around.
1 Pair of Sunglasses – The sun is bright up on the mountains!
Undergarments
Socks and underwear – be sure to have at least one pair of hiking socks. You probably don't need to bring enough to last your entire trip because you'll be able to do laundry.
2 Bras – 1 black, 1 white/nude
1 Sports Bra – for hiking or other adventures
Toiletries
Shower supplies – shampoo, conditioner, etc.
Makeup – Not your whole makeup bag, just what you wear on a daily basis!
Medications – Any prescriptions that you have, plus a few pain killers are always a good idea to have on hand. If you're only traveling for a short time and don't want to bring the entire bottle, you might want to consider bringing a pill organizer like this one that will allow you to bring just what you actually need.
Toothbrush & Toothpaste
Deodorant
Hairbrush, hairties, etc.
Electronics
Phone – You definitely don't want to leave home without this!
Camera – For capturing all your memories
Headphones – For listening to music, audiobooks, etc. or drowning out loud hostel dorm mates.
Chargers for everything you bring
Portable charger – to make sure your phone doesn't die while out and about
Miscellaneous
Travel Towel

– every hostel in Switzerland I've been to does not provide towels, so this is definitely a good thing to pack!

Travel Sheets – less common than not providing towels, but I did encounter one or two hostels where I had to rent sheets for an extra charge.
Lock – for locking up your valuables in hostel dorms
Like what you read? Pin it!
Disclaimer: This page contains affiliate links. If you make a purchase from one of these links, I get a small amount of money which will allow me to continue producing this sort of content at no additional cost to you.
MY FAVORITE TRAVEL TIPS & RESOURCES
Booking Flights: The first place I turn when I'm searching for flights is actually just Google Flights - it's great to figure out what sort of routes are available. Then, I check Skyscanner and Kiwi for deals. I also love Kiwi for its destination: anywhere feature!
Transportation: I love Omio for figuring out the cheapest way to get from one place to another, and Trainline for booking train tickets within Europe.
Accommodations: I absolutely love Booking.com for finding great hotel deals. After you stay a certain number of nights, you get Genius discounts! For hostels, Hostelworld is my go-to, and I use Airbnb occasionally as well (click here for $40 off your first booking!)
Travel Insurance: I knew that I shouldn't travel without insurance for the longest time, but I really learned my lesson when I got an infected cut in Bali. Thank goodness I had travel insurance! I use and love World Nomads for their extremely comprehensive coverage.
Travel Insurance: I knew that I shouldn't travel without insurance for the longest time, but I really learned my lesson when I got an infected cut in Bali. Thank goodness I had travel insurance! I use and love World Nomads for their extremely comprehensive coverage.
Tours: I always check Urban Adventures for great day tours of cities first–I'm obsessed with them! GetYourGuide and Viator are also great options. For multi-day tours, I highly recommend Intrepid.
Camera Gear: I use a Sony Alpha A6300 camera with an 18-105 mm lens and a 35 mm lens. My tripod is the MeFoto Backpacker Air and I loooooove it! I also use a DJI Mavic Air and a GoPro and which allow me to capture everything my regular camera can't.