This blog post likely contains affiliate links, including Amazon Associates links. If you make a purchase through one of them I may receive a small commission at no extra cost to you.
---
Disclaimer: this post may contain affiliate links. If you make a purchase from one of them I will recieve a small commision at no extra cost to you, which allows me to keep this blog up and running!
---
The morning after my brother and I visited the Grand Canyon and stayed the night in Flagstaff, we knew that we wanted to check out some more of the red rock formations that Arizona is so famous for. Without much of a plan in mind at all, we looked up state parks near Sedona, came across Slide Rock, and then set off.
First Impressions of Slide Rock State Park
Despite my affinity for planning things, I have to admit that oftentimes my favorite experiences come out of things done on a whim. It is so much easier to be sucked into a location when I haven't seen it all before in pictures. As we walked down to the river I felt a certain sense of anticipation and excitement building up in me because, well, I had absolutely no idea what to expect.
On first sight of the river and the red rock formations rising up around it, I was absolutely blown away. I probably sat for a good fifteen minutes on the little bridge crossing the river just admiring it all, and another few minutes mesmerized by the flow of the river. That little bridge also just so happened to be a perfect picture taking spot, so I also spent a fair amount of time doing just that.
Hiking Slide Rock State Park
After I was finally dragged away from my little bridge, reminded that there was still plenty more to explore, we walked along the riverbanks for a fair way. Just as we started to make a little bit of ground, people started flowing in, and we thanked our lucky stars that we had managed to get there 20 minutes earlier than everyone else so we could have the place relatively to ourselves as we hiked.
One of my favorite things about the river was all of the twists and turns that it made thanks to rocks jutting out from the shore and even a few rock islands which created the slides that the park is so well known for. When it comes to photographs of rivers and roads and all of that stuff, it always really irks me when I'm unable to get shots straight down the middle. Thanks to all of these rocks, though, that was nowhere near a problem this time around.
We hiked onwards and found this cute little brick house on the side of the river, and we couldn't help but wonder what it was. Upon venturing inside all we found was a flat floor, so the hunch that it was a rundown outhouse was out. I still have no idea what the house was all about, but it certainly makes for an adorable addition among the towering cliffs it sits under.
Heading Back
After our little house sighting, we worked to cross the river by way of a bunch of rocks that were almost close enough for us to walk over. Having definitely not worn the shoes for climbing slippery rocks, I was incredibly proud of myself for not falling in – and for having purchased waterproofing spray while I was living in London.
The walk back along the other side of the river was surprisingly much woodier and less traversed by the average visitor to the park. We did come across a cactus with a smiley face carved into one of its leaves, though, so obviously we weren't about to make any Lewis and Clark caliber discoveries or anything.
Getting a Bird's Eye View
The final portion of our trip involved climbing up to the top of the cliffs and taking the short trail overlooking the river. By that time, plenty of people looking to freeze their butts off had arrived to swim among the natural slides, so we got to watch them from a bird's eye view, which was pretty fun.
Finally, we walked past one of the cliffs which could be seen from the river, which seemed a fair bit smaller than it had from farther below, but was still a fair bit taller than me.
Slide Rock State Park is easily the place that confirmed how much I had fallen in love with Arizona over the two days that I was there. The state is a kind of beautiful that I never expected it to be, and I can't wait for my next chance to explore it even more.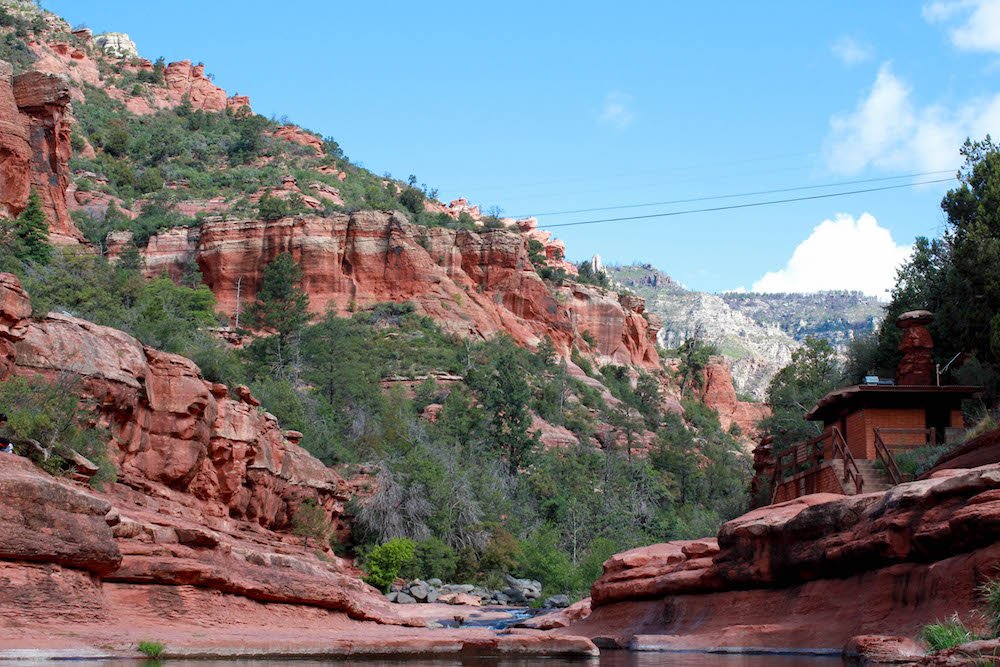 MY FAVORITE TRAVEL TIPS & RESOURCES
Booking Flights: The first place I turn when I'm searching for flights is actually just Google Flights - it's great to figure out what sort of routes are available. Then, I check Skyscanner and Kiwi for deals. I also love Kiwi for its destination: anywhere feature!
Transportation: I love Omio for figuring out the cheapest way to get from one place to another, and Trainline for booking train tickets within Europe.
Accommodations: I absolutely love Booking.com for finding great hotel deals. After you stay a certain number of nights, you get Genius discounts! For hostels, Hostelworld is my go-to, and I use Airbnb occasionally as well (click here for $40 off your first booking!)
Travel Insurance: I knew that I shouldn't travel without insurance for the longest time, but I really learned my lesson when I got an infected cut in Bali. Thank goodness I had travel insurance! I use and love World Nomads for their extremely comprehensive coverage.
Travel Insurance: I knew that I shouldn't travel without insurance for the longest time, but I really learned my lesson when I got an infected cut in Bali. Thank goodness I had travel insurance! I use and love World Nomads for their extremely comprehensive coverage.
Tours: I always check Urban Adventures for great day tours of cities first–I'm obsessed with them! GetYourGuide and Viator are also great options. For multi-day tours, I highly recommend Intrepid.
Camera Gear: I use a Sony Alpha A6300 camera with an 18-105 mm lens and a 35 mm lens. My tripod is the MeFoto Backpacker Air and I loooooove it! I also use a DJI Mavic Air and a GoPro and which allow me to capture everything my regular camera can't.