How I've Been Prioritizing Self Care in Quarantine [Girls Go Abroad Episode 014]
Hey there! Travel looks a little different right now. Please be sure to follow local restrictions and double-check openings and guidelines for places you visit. And stay safe and wear a mask! Also, his blog post likely contains affiliate links, including Amazon Associates links. If you make a purchase through one of them I may receive a small commission at no extra cost to you.
---
This week on the Girls Go Abroad podcast, I'm talking all about how I've been prioritizing self-care while in quarantine.
Now, self-care is always important, but while we're currently in the midst of a global pandemic and are adapting to yes, unprecedented times, self-care is more important than ever.
Flight attendants say it best when they say you should put your own face mask on first before helping others.
So that's what I've been doing while I've been staying safe at home, and it has helped my mental health in ways that I honestly couldn't even imagine.
So I wanted to take a moment to share what I've been doing to prioritize my self-care. So let's dive right in!
The Self-Care Mini Bundle
This episode is brought to you by Ultimate Bundle's Self Care Mini Bundle, which inspired this episode and is currently on sale! The bundle features 22 killer self-care products at a discount of over 97%.
The resources in the bundle will help you:
Manage your mood and emotions
DIY luxurious face masks and beauty products
Learn more about your body
Build your confidence and gratitude
Organize your life and create a self-growth plan
& more!
Plus there are a few physical bonuses like facial toner and Vitamin C serum that I'm soooo freaking pumped for.
Miracle Morning
One of the biggest changes I've made in my self-care practice during quarantine has been starting to practice the Miracle Morning.
Now, if you haven't heard of the Miracle Morning before, it's basically this concept that was come up with by Hal Elrod where you spend an hour, first thing in the morning, doing 6 things that are proven to improve your life and your day.
Hal calls them the life "S.A.V.E.R.S.", with S standing for silence, A for affirmations, V for visualization, E for exercise, R for reading, and S for scribing, aka journaling.
I'd been hearing about the Miracle Morning for a long time before I actually implemented it, and one of the big things that held me back was feeling like I didn't have time. In quarantine, though, I've had nothing but time, so it felt like the perfect time to start.
And now that I've gotten into the routine and seen the benefits that it's had on my mental health and motivation during this crazy season, I know I'm going to make a point to keep doing it even after everything is back to "normal".
Now, I want to explore each different aspect of the Miracle Morning and how I've set it up to work the best for me.
After reading Hal Elrod's book all about the Miracle Morning, I followed his advice to allot time for each component as I saw fit and really make it my own, which is exactly what I've started to do.
1. Meditation
So first up on the list of the life S.A.V.E.R.S. is S-silence. I've been embracing silence during my miracle morning by mediating. Although this was something I'd tried once or twice before, it was never a regular practice for me before this, so I turned to the amazing app Headspace for help.
Headspace features a huge collection of guided meditations, videos about meditation techniques, sleep sounds, and even courses on all sorts of different topics like anxiety, sadness, anger, and stress.
I started out with their 10 day "Basics" course, which is completely free and leads you through short 3-10 minute meditations. Then, I moved on to Basics 2, and I'm now working through Basics 3, which has brought me up to 10 minute meditations.
Starting out my morning with a bit of silence and focusing the mind has absolutely made a difference in how my mind is functioning right now and has meant that I've moved through this season with a lot more awareness than I might have otherwise.
If you're looking for an easy way to get into meditation, then I highly recommend the Headspace app. In addition to the free basics course, they also have free daily meditations, or you can go for the Headspace Plus subscription which is $69.99/year or $12.99/month, and gives you access to all of their courses, meditations, mindfulness exercises, and sleep sounds.
They're also currently giving a full year of Headspace Plus to anyone who is unemployed, which I love.
2. Affirmations
The second piece of my Miracle Morning routine is affirmations. Now affirmations are basically just positive sayings that you repeat to yourself out loud.
I started with the affirmations for success that are provided as a part of the Miracle Morning book, and now for the month of June, I've curated my own set of affirmations focusing on love and romance, because I feel like that's something that I need to work on at this current moment.
Before this, I always thought that affirmations were super woo-woo and silly, but I've actually really been enjoying staying positive things to myself every morning. It makes me feel so motivated and excited for the day, and is the perfect follow-up to sitting in silence for a while during mediation.
3. Visualization
Next up in my Miracle Morning routine is visualization. Now, I have to admit that this is the piece of the puzzle that I've been struggling with the most because, honestly, I just don't know how to do it.
Up until this point, I've actually mostly just been using the 5 minutes I've allotted for visualization to writing down my to-do list for the day and then closing my eyes and imagining myself successfully doing all those things. Which is certainly useful, but I don't think is quite what I'm supposed to be doing.
So my plan for the month of June is to work to put together a killer vision board, following this great blog post I found about how to put together an effective vision board which I'll link to in the shownotes. I'll probably put it into my bullet journal, which I'll talk about in a second.
And then, during my visualization time, I'll look at the vision board and use it to visualize all of those things that I really want in life.
I definitely work the best when I have concrete steps to take, so hopefully this will help with my visualization practice moving forward.
4. Reading
Next up is reading, which is probably one of my favorite parts of the Miracle Morning routine simply because I've always loved reading, but have found it hard to dedicate time for reading anything other than academic readings for a long time.
During these 15-20 minutes, I read a chapter or two of whatever personal development/self-help book I'm currently working through. Although I'd read a few of these types of books in the past, they were never really the first thing I turned to, but now that I've read several I'm really starting to enjoy them and they've definitely helped shape the way I think!
So far I've read Girl, Wash Your Face by Rachel Hollis, Everything is Figureoutable by Marie Forleo, and parts of You Are a Badass at Making Money by Jen Sincero and The Highly Sensitive Person by Elaine Aron. Each one has focused on something different that I've wanted to work on about myself, so I've really enjoyed reading them.
For the month of June, since my theme is romance and love, I'm hoping to read a few different books on this topic during my Miracle Morning, starting with The 5 Love Languages by Gary Chapman.
5. Journaling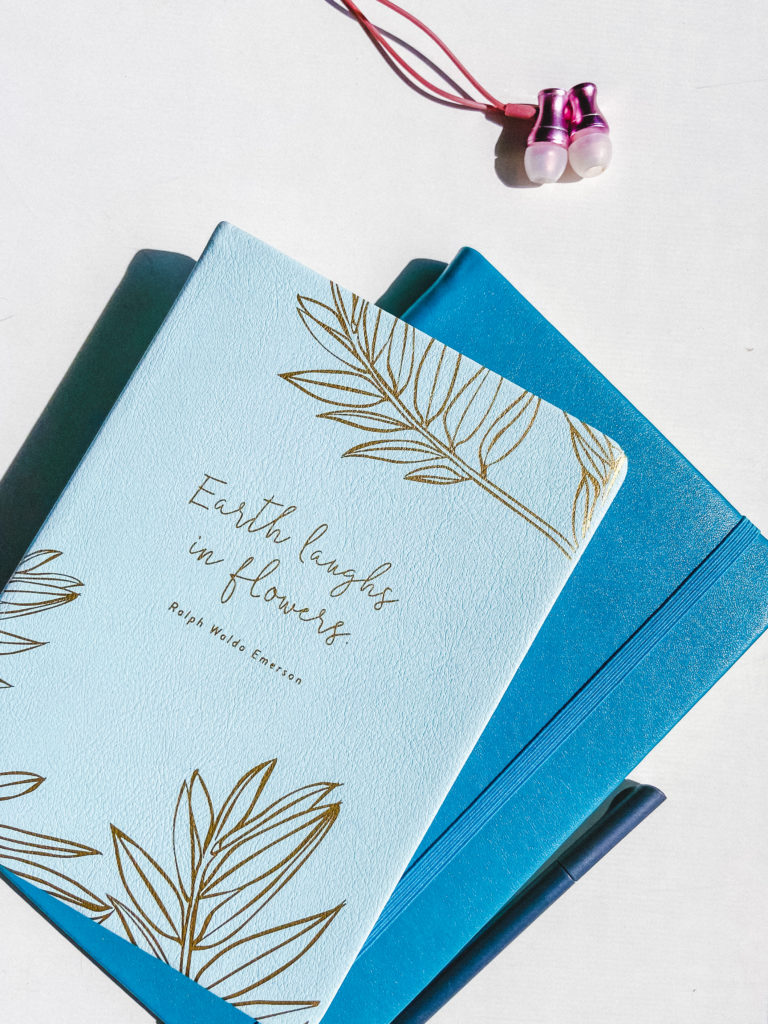 Next up on the list is scribing or journalling. Sometimes I do this step before reading, but usually I do it after, spending 5 minutes just writing about whatever I feel like.
Lately, I've been using an awesome resource called the 31 Day Gratitude Journal, which is actually included as a part of the Self Care Mini Bundle, and I've been loving the different prompts it's provided me with.
From things like writing down all of the people that I'm thankful for or things that I love about my body, to thinking about the lessons I've learned in life, it's definitely helped me become a lot more grateful-something which has been really hard for me in this season.
6. Yoga
Finally, the last step of my Miracle Morning is to exercise! I have always LOVED yoga for how it makes me feel, and actually had been making a point to try to practice every day during quarantine even before I started doing the Miracle Morning, so this was a really natural fit for me.
Depending on the day and how I'm feeling, I'll either use the dedicated 15-20 minutes that are part of my hour-long Miracle Morning to do a short and simple practice, or I'll take a little bit more time for myself and do a longer, full yoga practice.
I've mostly been using Yoga with Adrienne, who I am totally obsessed with (and I'm even more obsessed with her dog Benji). She is so good and making her classes for all levels and really just making you feel so good about yourself and taking the time out of your day to do something for yourself. And best of all, her videos are free!
I've also taken a few classes from my favorite yoga studio in Bali, who have started doing virtual classes in the midst of all of this craziness. Those have made me feel connected to the outside world and also get me sweating, which is fun from time to time.
And that's it for my Miracle Morning! While there are some days where it's a struggle to get myself up and going, or where things seem to just drag on and take way longer than they should because I keep getting up to do other things, making this a habit has been the #1 most important and effective thing I've done for my self-care while in Quarantine.
Bullet Journaling
Alright, now in addition to my Miracle Morning routine, there are a few more things that I've been doing to prioritize self-care while in quarantine, and bullet journaling has been one of them.
This is actually a practice that I picked up about a year ago, but I've gotten a lot more creative with it over the last few weeks. I got fancy pens, stencils, cool galaxy washi tape, and all the stuff you need to make a super cute bullet journal and have been spending plenty of time, usually just while watching TV (I've been binging The Circle recently and am obsessed) putting together fun spreads and planning out my days and weeks.
I've also used my bullet journal to write down my affirmations, track habits I want to keep (like my Miracle Morning routine) and I recently did a cute little page with a map of Virginia where I'm planning to track my travels around my new adopted state once we're able to leave our homes safely again.
If you're interested in getting into bullet journaling, here's a great getting started guide and here's a guide to bullet journal supplies on a budget!
Skincare
Alright, now I know I'm not the only person who has gotten really into skincare while I've been locked away. While I haven't been putting on makeup basically at all, I have been spending a fair amount of time putting together a detailed skincare routine and doing it every morning and evening.
Right now, my morning routine involves a cleansing oil, washing my face, toner, Vitamin C serum, brightening eye-roller, spot cream, moisturizer, and sunscreen.
My evening routine is cleansing oil, face wash, toner, vitamin A serum, eye cream, spot cream, and retinol moisturizer.
I've definitely seen a change in my skin following this routine – it's so smooth and soft!
Two of the bonuses for the Self Care Mini Bundle I've been talking about are actually skincare related: a Vitamin A serum from DeRose Health and a Rose facial toner from Puro Co. I got them in the mail a few days ago and integrated them into my routine and so far have been absolutely loving them!
Avoiding the News/Seeking Out Good News
I used to be a major news consumer. I'd listen to the New York Times' The Daily podcast every single day, I'd get morning briefings to my inbox, and I really focused on keeping myself informed.
Now, though, keeping updated on the news honestly just gives me serious anxiety. So while I do pay a little bit of attention to the major updates like what the current order from my state government is, I've made a really conscious choice to not pay as much attention to the news as I normally do. And this has been a big help to my mental health.
The one sort of news I have been actively seeking out, though, is good news. Things like Some Good News with John Krazinski have made me so happy and hopeful for the world. Which is why I was so excited to see that a year of GoodNewsPaper digital subscription is included in the Self Care Mini Bundle as one of the bonuses.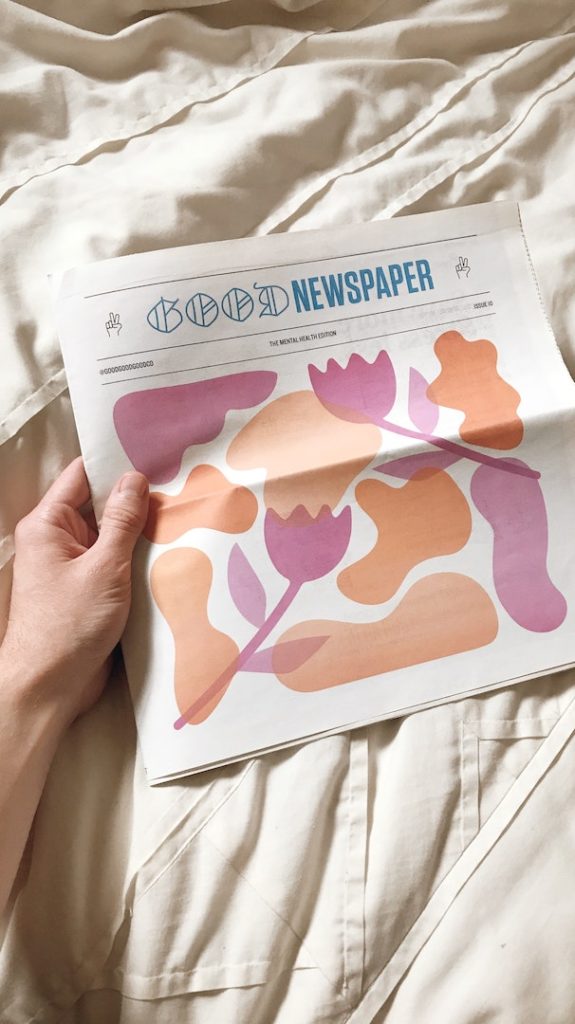 Each issue of the GoodNewsPaper is filled with reminders that there is a lot of good in the world, and practical guides on how to get involved and become the good in the world as well. I absolutely love it!
Spending Conscious Time With People
And the final thing I've been doing to prioritize my self-care while in quarantine is spending conscious time with people. Because yes, I'm with my boyfriend and his family 24 hours a day, but that doesn't mean that we're honestly spending time with each other.
The biggest thing we've done is simply making family dinners a regular, daily thing, where we just talk to each other.
Daniel and I have also had little picnic lunch dates a few times and are currently planning a backyard campout. This has been really good to just spend time with each other in a way that focuses on us.
If you haven't been spending conscious time with the people you're with, then I highly suggest making a plan for doing that, because it's really helpful!
And of course, don't forget to grab your copy of the Self Care Mini Bundle 🙂
Pin it for Later
MY FAVORITE TRAVEL TIPS & RESOURCES
Booking Flights: The first place I turn when I'm searching for flights is actually just Google Flights - it's great to figure out what sort of routes are available. Then, I check Skyscanner and Kiwi for deals. I also love Kiwi for its destination: anywhere feature!
Transportation: I love Omio for figuring out the cheapest way to get from one place to another, and Trainline for booking train tickets within Europe.
Accommodations: I absolutely love Booking.com for finding great hotel deals. After you stay a certain number of nights, you get Genius discounts! For hostels, Hostelworld is my go-to, and I use Airbnb occasionally as well (click here for $40 off your first booking!)
Travel Insurance: I knew that I shouldn't travel without insurance for the longest time, but I really learned my lesson when I got an infected cut in Bali. Thank goodness I had travel insurance! I use and love World Nomads for their extremely comprehensive coverage.
Travel Insurance: I knew that I shouldn't travel without insurance for the longest time, but I really learned my lesson when I got an infected cut in Bali. Thank goodness I had travel insurance! I use and love World Nomads for their extremely comprehensive coverage.
Tours: I always check Urban Adventures for great day tours of cities first–I'm obsessed with them! GetYourGuide and Viator are also great options. For multi-day tours, I highly recommend Intrepid.
Camera Gear: I use a Sony Alpha A6300 camera with an 18-105 mm lens and a 35 mm lens. My tripod is the MeFoto Backpacker Air and I loooooove it! I also use a DJI Mavic Air and a GoPro and which allow me to capture everything my regular camera can't.