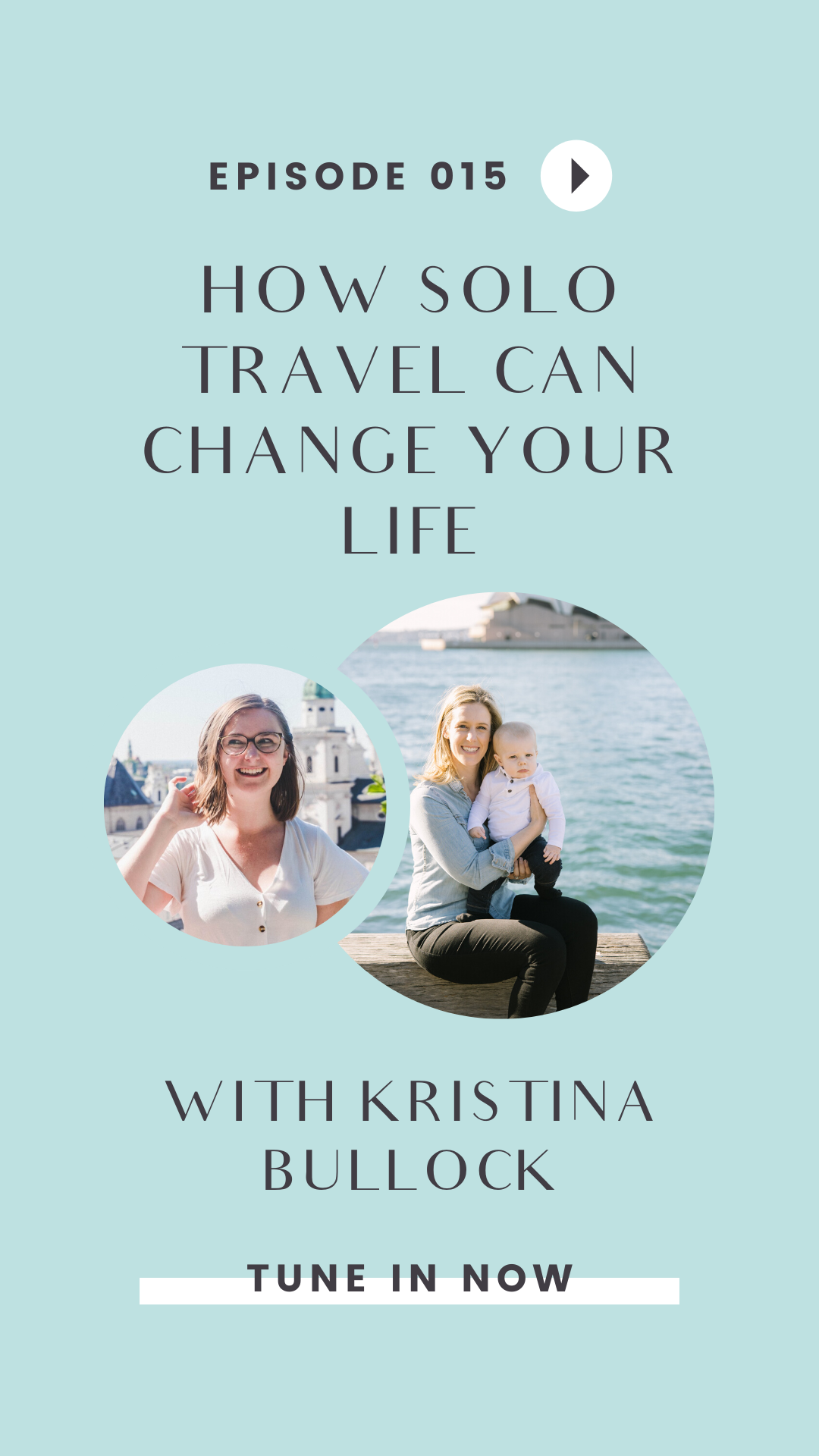 How Solo Travel Can Change Your Life with Kristina Bullock [Girls Go Abroad Episode 015]
Hey there! Travel looks a little different right now. Please be sure to follow local restrictions and double-check openings and guidelines for places you visit. And stay safe and wear a mask! Also, his blog post likely contains affiliate links, including Amazon Associates links. If you make a purchase through one of them I may receive a small commission at no extra cost to you.
---
By far one of the best parts of solo travel is just how much of an impact it can have on your life. For Kristina Bullock, it completely changed not just her outlook, but the entire trajectory of her life!
Kristina is a family travel blogger at Million Miler Mom. After catching the travel bug in college studying abroad in Australia and South Africa, she spent most of her twenties solo traveling the globe and exploring all seven continents. In 2010, she met her husband in Jordan and they now have three children.
Having kids has not slowed down this family and they aim for at least 4 trips per year. When she is not traveling, Kristina works full-time as an HR professional in the tech sector. She and her family reside in San Jose, California.
Studying Abroad & Traveling Solo
The travel bug first bit Kristina when she went on a 2-week travel study program to Australia over winter break. Just a week after getting back, she started planning a proper study abroad experience.
She chose South Africa because she wanted something non-traditional, and loved how the program let her learn about history by actually going to the places that she was studying.
Throughout college, she went on several more trips with family and friends, and it wasn't until she was 21 that she took her first HUGE solo trip. She had won a raffle and was lucky enough to go on a 10-day cruise to Antarctica. Meaning that by 21, she had already set foot on all 7 continents.
After college, Kristina started working at a place where he boss was super supportive of her travels and she was able to travel at least once a quarter. She went all over the place and had some of the craziest adventures – which she talks all about in the podcast episode!
It All Changed in Jordan
Have you ever had a life-changing experience almost completely by chance? Well, that's what happened to Kristina when she went to Jordan.
She picked the destination completely randomly when she was talking to a few coworkers and they realized that Petra was the only one of the New 7 Wonders of the World that she hadn't been to yet.
So she picked a random group tour and signed up. And on the trip was cute British guy about her age. They hung out on the trip, but it wasn't until she was on the plane home that Kristina realized she might just really like him.
So Mike (the cute British guy) came out to California and it was totally wonderful. After that, they met up every few months in a new place to see each other, exploring the world together.
Since then, Mike has moved to the US, they got married, and they now have 3 kids!
Traveling with Kids
Of course, things can't stay completely the same when it comes to traveling once you have kids. For one, it involves a lot more stuff!
Being such an avid traveler has definitely informed how Kristina parents, though. She knew from the start that she wanted her kids to be travelers, and they all get their passports when they're still babies!
The family travels together regularly, and now that some of the kids are a bit older they've started incorporating them into the planning process, asking them where the want to go and planning trips based around what they've been learning in school.
Of course, Kristina still loves to solo travel – mostly for business, but she hopes to go on an amazing women's retreat as soon as she can!
You can follow Kristina on Instagram at @millionmilermom and read her blog, Million Miler Mom.
Be sure to hit play on this episode to tune in and hear all of Kristina's wisdom about solo travel!
MY FAVORITE TRAVEL TIPS & RESOURCES
Booking Flights: The first place I turn when I'm searching for flights is actually just Google Flights - it's great to figure out what sort of routes are available. Then, I check Skyscanner and Kiwi for deals. I also love Kiwi for its destination: anywhere feature!
Transportation: I love Omio for figuring out the cheapest way to get from one place to another, and Trainline for booking train tickets within Europe.
Accommodations: I absolutely love Booking.com for finding great hotel deals. After you stay a certain number of nights, you get Genius discounts! For hostels, Hostelworld is my go-to, and I use Airbnb occasionally as well (click here for $40 off your first booking!)
Travel Insurance: I knew that I shouldn't travel without insurance for the longest time, but I really learned my lesson when I got an infected cut in Bali. Thank goodness I had travel insurance! I use and love World Nomads for their extremely comprehensive coverage.
Travel Insurance: I knew that I shouldn't travel without insurance for the longest time, but I really learned my lesson when I got an infected cut in Bali. Thank goodness I had travel insurance! I use and love World Nomads for their extremely comprehensive coverage.
Tours: I always check Urban Adventures for great day tours of cities first–I'm obsessed with them! GetYourGuide and Viator are also great options. For multi-day tours, I highly recommend Intrepid.
Camera Gear: I use a Sony Alpha A6300 camera with an 18-105 mm lens and a 35 mm lens. My tripod is the MeFoto Backpacker Air and I loooooove it! I also use a DJI Mavic Air and a GoPro and which allow me to capture everything my regular camera can't.